macOS Catalina Beta Problems: 5 Things You Need to Know
The first macOS 10.15 beta brings problems to MacBook, MacBook Pro and iMac users. Some problems are small and others are bigger and potentially a reason not to install on your only Mac.
Apple rolled out the developer macOS Catalina beta today after the WWDC 2019 Keynote and users can sign up for the public macOS 10.15 beta that arrives later this month.
Catalina includes a host of new features for your Mac and new ways for you to use it with the Apple Watch running watchOS 6 as well as the iPad Pro running iOS 13.
A beta is unfinished software that by definition comes with bugs, problems and even performance issues. This is par for the course with a beta and it's the reason for the beta. Apple uses these releases not only to let developers prepare apps for the fall release, but to find the kinds of issues and problems that only show up during wide scale use.
If you are interested in trying the beta, you need to fully understand what you are getting into with a beta before you dive in. If you are already on the macOS beta, you can use this guide to find fixes to problems, feedback from other users and user reviews about each of the betas.
We'll walk you through the current macOS Catalina beta problems. This guide will also point you to the resources that will help you if you run into problems while you are using this beta.
macOS Catalina Beta Problems
This is the first macOS 10.15 beta, and with it Apple calls attention to many small problems. These are known issues that aren't completely ironed out or that need additional testing. Some are small issues, while others are a little more impactful to day to day use.
The biggest issue that some users are running into is an installation problem. Thankfully a restart and retry may fix the problem and slow macOS beta downloads should resolve within a day. Apple outlines a plethora of macOS Catalina problems that you may run into from the installation up through using new macOS features.
Other issues include complaints about battery life, crashes, lag or performance issues and even connectivity issues with WiFi and Bluetooth. The good news is that these are not widespread.
If you are learning about potential problems that you may run into, you can use this guide on what to do before you install the macOS 10.15 beta to make sure you are prepared for what you run into.
Our macOS 10.15 beta installation guide can also help you install the beta on a separate partition or volume so you can easily switch back and forth between Catalina and Mojave.
Where to Look for Feedback
Feedback from other users is the best way to understand what is happening and what beta problems are frustrating users. The information you get from other users can help you understand what you are getting into and even let you know what's working right.
If you're using an older Mac, you definitely need to look into the feedback from users on the same Mac to see if they are having issues and what is working right.
YouTube and Twitter are great places to look for macOS Catalina beta problems, feedback and fixes. The MacRumors forums are also an excellent place to look for feedback from other users and learn how to fix problems.
How to Fix macOS Catalina Beta Problems
The good news is that you can fix some macOS 10.15 beta problems on your own. Other problems will require you to wait for Apple to offer a fix in a future macOS Catalina beta.
Here's our guide on how to fix macOS Catalina beta problems, which we will keep updated as we learn about new problems and how to fix them.
If your macOS Catalina beta install will not go through, you should try restarting. If that fails, you can try installing the macOS 10.15 beta in Safe Mode.Check this listing of the workarounds for macOS Catalina problems.
We're working on a full roundup of fixes specifically to the macOS 10.15 beta, but right now you can use this guide to fix many beta issues.
You can ask Apple for help on their website or on Twitter, but they may not offer as much help as if you were on a public release. Thankfully you can go back to Mojave.
You can Downgrade from the macOS Catalina Beta
If the macOS Catalina beta problems are too much to handle, you can go back to macOS Mojave. If you take this path you lose access to the new features, but you will go back to what was working.
The fastest way to downgrade is to restore a Time Machine Backup. This allows you to get back to where you were right before installing the beta.
Here's a guide on how to downgrade from macOS Catalina to macOS Mojave.
What's Next
You can count on Apple to release new macOS 10.15 betas over the next few months. The betas will fix some of the problems and bring other problems with them.
During the beta period Apple will release a new beta every two weeks, and when the full release is closer we'll see a Gold Master which is as close to the final release as we'll get until the final release arrives. Apple typically releases the new beta early in the week and does so at 10 AM Pacific, 1 PM Eastern.
The full macOS Catalina update is expected this fall, likely around the iOS 13 release date.
6 Reasons Not To Install the macOS Catalina Beta & 7 Reasons You Should
Install macOS Catalina Beta for New Features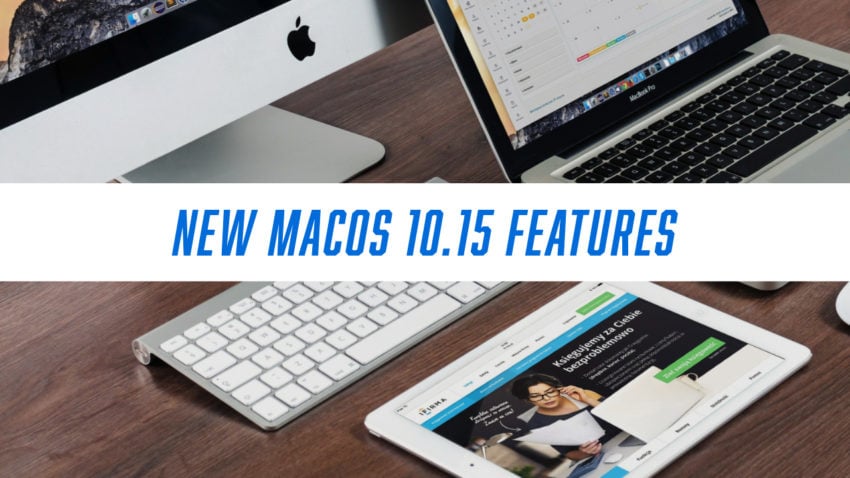 One of the biggest reasons to install the macOS Catalina beta is to test out all of the new macOS features that Apple is adding into this update.
There are a lot of upgrades that we dive into deeper with some of the specific reasons below, but as an overview, there are a range of new features coming to the Mac.
Some of these are in this beta and others will come in the next few betas. Some of our favorite new macOS Catalina features include;

Using the iPad as an External Display
Siri Shortcuts
Window Snapping
Apple also adds in cross-platform support for iPad apps, which will allow developers to offer their iPad apps on the Mac. This feature won't fully materialize until this fall, but we could see some limited opportunities for testing from developers looking for feedback.

This article may contain affiliate links. Click here for more details.