Madden 18 Review: Is Madden 18 Worth Buying?
There's some truth to EA sports calling Madden 18 the G.M.O.A.T. (Greatest Madden of All Time) with revamped graphics and a new story mode, but this game is about more than a cinematic entry into the NFL. By simplifying the ability to get into a Franchise mode and removing many of the stumbling blocks that made Madden Ultimate Team hard for casual players to get into EA comes up on top again.
This is our Madden 18 review in progress, which will be updated as we play Madden 18 online, dive deeper into the Longshot story mode and test out the new 3 vs 3 MUT Squads gameplay in depth. Here's why we think Madden 18 is worth buying.
[letsreview]
The bottom line is Madden 18 is worth buying for the new game styles, the upgrades to AI and gameplay and for positive changes in franchise mode and Ultimate Team. It's not perfect, but it is a large step forward from Madden 17.
Madden 18 Longshots
EA is making a major play for a cinematic football story, that could almost be Varsity Blues if you add in Billy Bob and a Pig. You can make two or three choices when you are playing the game, each of which will effect the outcome of the story and can impact your rating in the eyes of NFL scouts.
Throughout the story you will be tasked with making decisions that effect your rating, and that can effect your friend's rating. Doing so will change who is drafted and the overall outcome.
So far this feels much more controlled than The Journey in FIFA 17, and it's also evident that this is a shorter experience once you complete the first story arc and are 12% done with the story. It's a good start, and we're looking forward to what EA can do with this tech in 2018.
You can fail challenges in Longshot, but you'll just repeat them, since you will need to continue the story. Ultimately this is an interesting mode and one that we plan to complete a few time to unlock the Longshot MUT Cards and to bring Devin Wade and Colt Cruise into the new Franchise mode.
So far Longshot isn't a standalone reason to buy Madden 18, but it does deliver a new way to play and adds a new dynamic. If you are OK with less control than in FIFA, you'll have fun here. EA Access only allows you to play the first part of this, game, so we will be updating this section next week with more on the mode.
Madden 18 Connected Franchise Mode
I always have trouble getting into the connected franchise mode in Madden 18, gravitating towards Madden Ultimate Team where it is easier to manage a team and pick challenges.
With Madden 18, the new Franchise options allow you to choose what you control as you play a franchise. You can go full on GM, or you can choose an easier approach like I did and ease in with the CPU handling many of the tasks I find boring. These new settings may anger some traditional franchise players, but the best part is they can keep playing as they always have while more people can enjoy Madden 18 franchise mode.
We really enjoy the goals that appear for the drive and the weekly goals that you can complete during the game. It's a fun way to stay engaged even if you are down. Keep in mind you still don't get the same freedoms as we see in NBA 2K games. That means you can't change logos, uniforms and make other branding choices in franchise mode. We don't even get this in Ultimate Team either.
So far the Madden 18 franchise mode has converted us and we are looking forward to exploring this mode more.
Madden 18 Ultimate Team
We spent the bulk of our time in Madden Ultimate Team so far, as it's our go to way to play. We can take control of our favorite team and load it up with a fantasy roster. As a Miami Dolphins fan, this is perhaps the best way for me to play Madden 18. I'm looking at you Jay Cutler.
EA really tightened up the Ultimate Team experience with faster switching between modes and it's much easier to understand how to use sets to level up players and unlock new players.
In Madden Ultimate Team there is now XP, which unlocks new pack levels for you to build your team up. You earn MUT XP when you complete challenges, Solos and other actions that let you get bonus XP and even bonus coins.
We're waiting for our Madden 18 G.O.A.T. edition to arrive to make a full review of Madden 18 Ultimate Team. We're waiting for enough friends to get on to fully test MUT squads, so that portion of the review is still forthcoming.
Madden 18 Gameplay & Graphics
The overall Madden 18 gameplay is solid. There are still some hiccups like a PA Bubble that results in offensive pass interference anytime it is called or odd officiating calls and weird commentary when there is a turnover and a penalty — but for the most part Madden 18 is a good step forward.
The new Madden 18 Target Passing is really rough. You can start this by pressing Left Trigger or L2 and then you must move the target where you want to throw the ball. This allows you to throw the ball away from a route, but still catchable. That's great in theory, but you simply don't have that much time in the pocket on most plays, and when you are moving the target you are basically stationary in the pocket. That's asking to be sacked if you are playing against most online opponents.
I love the new Madden 18 gameplay styles that let you choose what style you want to play. Arcade is great for a casual game, and it's actually the default in MUT. It includes more outlandish catches and as the name implies more arcade-like fun. The Simulation mode is true to the NFL when it comes to ratings and rules. This is a more down to earth way to play and it's how we're playing franchise mode. If you want to get ready for online play, go with Competitive, where you will need to master Stick Skills to win the game. This is a mode for hardcore Madden players.
Madden 18 looks better than Madden 17, especially when it comes to player faces and to the environment. That said, it feels like EA is just scraping the surface of what Frostbit can do. This is the first year, and there is an update coming so we could see EA deliver some fixes in September and we're hopeful for what Frostbite can deliver in Madden 19. Expect to see some odd looking collisions during a game, but overall the graphics are an upgrade.
I feel like the pace of the game and the running capabilities are much closer to perfect than in previous years. It's slightly easier to identify the right holes in the line and hit it perfectly. We're also able to use running moves with much greater success, as if the timing was tightened up just right. Overall ratings make a bigger difference than in previous years. EA made a big deal about this in Madden 17, and it's even more evident in Madden 18. When you are using a player with good ratings you will see more aptitude in those areas from QB and HB to playing the D Line or grabbing a linebacker. The AI is also smarter this year, making the right blocks with better frequency — as long as you run the play right.
The Madden 18 commentary is better than last year, and you'll even hear specific mentions in Franchise mode that line up with player milestones and events. We're not in the repetitive territory yet, but that's something we are worried about in Ultimate Team where there are many quick solo challenges to play. The Madden 18 soundtrack is very good this year.
Madden 18 vs Madden 17: 11 Exciting New Madden 18 Features
Madden 18 Graphics Upgrades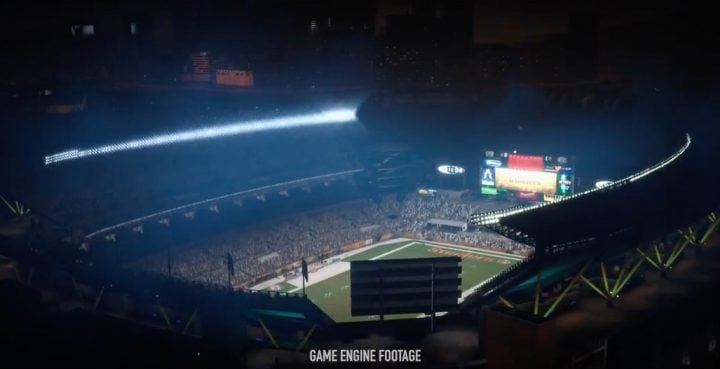 You can count on Madden 18 graphics upgrades thanks to the switch to the Frostbite engine. EA switched FIFA to Frostbite last year and this year it's time to upgrade Madden.
We get to see game engine footage in the Madden 18 teaser trailer below, but we don't see any head to head gameplay that reveal the changes you will see when you play.
The Madden 18 graphics upgrades we know about include better-looking stadiums inside and out. With Frostbite we will see city skylines and stadium exteriors. EA promises that you can, "watch the spectacle of NFL game day come to life in our most photorealistic game to date." Frostbite can deliver better-looking player faces as well. This is one of the places where FIFA upgrades were most noticeable.
EA promises more to come, but specifically, calls out the fireworks that you see in the video above, player runouts and "stunning" weather elements. Frostbite delivers impressive weather in Battlefield 1, and we hope that this means we will see more realistic weather elements in Madden 18.

As an Amazon Associate I earn from qualifying purchases.