Madden 18 Longshot: 5 Things Players Need to Know
One of the biggest new Madden 18 features is Longshot, which is a story mode inside of Madden 18 that allows you to control a player as he works towards getting in the NFL. This is similar to The Journey in FIFA 17 and FIFA 18, but it doesn't go quite as far this year, which could leave you hanging. This is what you need to know about Longshot in Madden 18.
The new Frostbite graphics engine supports more than just on the field scenes, which is what allows you to take over the role of Devon Wade as he struggles to make it to the NFL in Longshot. The Madden 18 team is hoping to deliver a cinematic experience where you control Wade's future in the NFL and with his friends.
What is Longshot?
The Madden 18 Longshot mode is a story style mode where you control Devon Wade on the field and his decisions throughout his attempts to get into the NFL. This is a first for Madden, and it includes a range of new features that we have not see inside an EA football game before.
You will interact with friends and with coaches on and off the field. You will need to perform on the field as a college player and deal with the complexities of personal relationships as you rise to get your chance in the NFL.
You start to get a sense of what you'll do in Madden 18 Longshot in the trailer above, but EA is keeping many of the details under wraps until the game arrives this week for an early Madden 18 release date.
Expect to Play College Football
We know that you will play through a variety of situations in Longshot this year. Uproxx spoke with Madden 18 Executive Producer Sean Graddy about what you can expect and Graddy explained, "you are gonna get dropped into traditional Madden experiences. 11 v 11 football and some of the high school background of Devon Wade, but also some unique things that we haven't had in Madden in some time or ever. You're gonna play some 7 v 7. You're gonna play some kind of mini passing games where you're targeting areas on the field and throwing the ball at targets and things of that nature. You're gonna call plays, call like an NFL quarterback."
We know that you will not play in the NFL during this season of Longshot, which is a surprise to many users, but you will be playing football as you progress through Lognshot. In the trailer you see Oregon and Texas play, and we could see some others. While there is no NCAA 18, due to licensing issues and payment problems, EA is able to license college logos. That's how you will be able to play as Devon Wade in college football games.
Longshot Includes Choices
The key to this cinematic experience is that you will be able to make choices that impact the game. Many of these will change your relationship with your best friend Colt or with coaches.
Graddy explains, "We did that through branching dialogue that has a bit of urgency and a bit of putting the tough decisions to make on the player. Whatever that dialogue decisions that you're going to choose, you make might impact your best friend Colt, or you might impact something with your coach or something downstream in the story."
There are Multiple Longshot Endings
Your choices will impact the game, and so will your performance. There are multiple Longshot endings that you can see as you play the game. This includes an ending where Wade doesn't make the NFL as he hoped. This will likely lead to multiple play throughs for some players who want to experience the effects of different decisions and on field performance.
Speaking to Uproxx, Grady shares the following different outcome possibilities, "We said it's an origin story of Devon Wade and the ultimate goal is you're playing up to draft day. The way that the draft plays out can end in multiple ways." These include;
Devon gets drafted
Devon doesn't get drafted
Colt Gets drafted
Colt doesn't get drafted
We expect that these scenarios can mix and we can see some additional interactions and or team choices that will impact the friendship. This could be a setup for Longshot Season 2 actually taking us to the NFL if the mode is well received.
If you want to take Wade into the NFL, you can create a Franchise and there will be an option to continue with Devon Wade and also to play as Colt.
Longshot MUT Cards Will Draw You In
If you enjoy playing Madden Ultimate Team, you will want to give Longshot a go since you can win Longshot MUT cards that will build up your team. We don't know exactly what the cards are yet, but you will be able to unlock different Longshot MUT cards based on the outcome of your play through.
We expect that you can play Longshot again and make different choices to unlock other Longshot Ultimate Team Cards. It's not clear if you will see Wade in MUT or if it will be NFL players you interact with along the way.
Madden 18 vs Madden 17: 11 Exciting New Madden 18 Features
Madden 18 Graphics Upgrades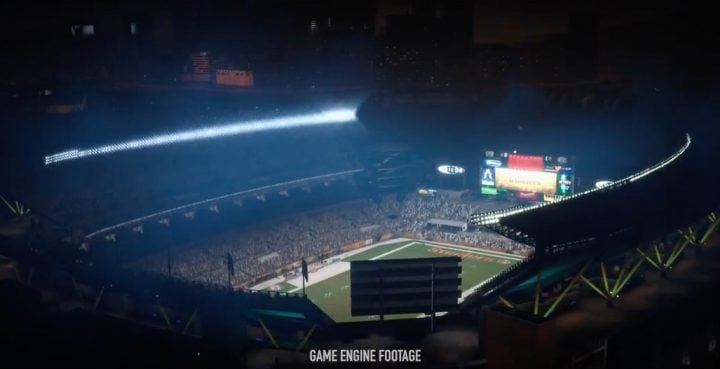 You can count on Madden 18 graphics upgrades thanks to the switch to the Frostbite engine. EA switched FIFA to Frostbite last year and this year it's time to upgrade Madden.
We get to see game engine footage in the Madden 18 teaser trailer below, but we don't see any head to head gameplay that reveal the changes you will see when you play.
The Madden 18 graphics upgrades we know about include better-looking stadiums inside and out. With Frostbite we will see city skylines and stadium exteriors. EA promises that you can, "watch the spectacle of NFL game day come to life in our most photorealistic game to date." Frostbite can deliver better-looking player faces as well. This is one of the places where FIFA upgrades were most noticeable.
EA promises more to come, but specifically, calls out the fireworks that you see in the video above, player runouts and "stunning" weather elements. Frostbite delivers impressive weather in Battlefield 1, and we hope that this means we will see more realistic weather elements in Madden 18.

As an Amazon Associate I earn from qualifying purchases.