New Lenovo Miix 630 to Spark Surface Pro Regrets in 2018
With its seriously long battery life, thin profile and always-on mobile internet, the new Lenovo Miix 630 will make some Surface Pro owners wish they purchased it instead.
Announced at CES 2018, the Miix 630 is a mobile user's dream. It's the first tablet from Lenovo to use Qualcomm's Snapdragon 835 processor and run Microsoft's Windows operating system. Buyers get a tablet with a sleek, thin profile and 20 hours of battery life. An LTE radio inside the tablet lets owners browse the internet anywhere. This new PC launches sometime in March or April, with configurations starting at $799.
For the money, buyers get solid internals and great build quality. The Miix 630's sleek body is made of magnesium, but only weighs 2.93 pounds. A rounded edge that runs along the bottom of the tablet makes holding it in portrait mode to read a book or take notes more comfortable than on other tablets with their sharper angles.
Besides the Snapdragon 835 processor, Adreno 540 graphics and up to 8GB of RAM keeps apps opening quickly on the Lenovo Miix 630. The device has up to 256GB of internal storage, but buyers can add more than that using the tablet's built-in SD card reader and USB Type-C port. Its 12.3-inch 1920 x 1280 display isn't as sharp as the displays of some other Windows tablets, but it's enough to satisfy Netflix lovers and YouTube streamers. Buyers can stream video from both those sites or browse the web anywhere using the Lenovo Miix 630's built-in LTE connectivity.
Despite its reasonable price tag, buyers get everything they need when they unbox Miix 630. A detachable cover that doubles as a keyboard and an adjustable kickstand comes with the tablet. Lenovo also includes a digital pen that detects 1024 levels of pressure as buyers sketch or write on the display.
Even this Lenovo Miix 630's cameras are solid. The front-facing 5-megapixel sensor lets users sign into their account with Windows Hello, and there is a 13-megapixel camera with auto-focus on the back. This camera is perfect for scanning documents and capturing pictures when your phone isn't nearby.
The Lenovo Miix 630 will come with Windows 10 S. That's the same secure, battery efficient operating system that Microsoft uses on its own Surface Laptop.
10 Best Surface Pro Alternatives in 2020
ThinkPad X1 Tablet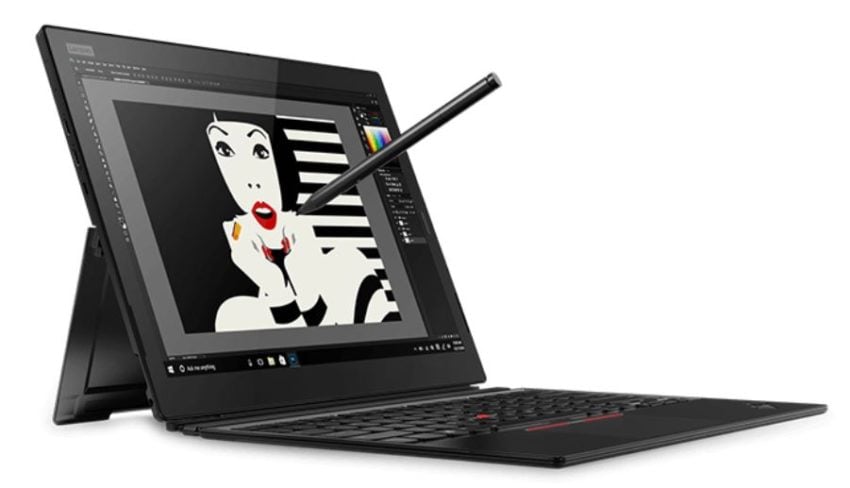 The ThinkPad X1 Tablet offers a lot of great features: a durable shell, an amazing display and Amazon's Alexa personal assistant.

The ThinkPad X1 Tablet has a 13-inch display. And, despite its good looks, the device has passed 12 military torture tests to ensure it can survive dust storms, cold temperatures, drops and spills. Finally, If you don't find Microsoft's Cortana personal assistant useful, the ThinkPad X1 Tablet has the same Alexa personal assistant your Echo smart speakers do. A Surface Pro won't survive a drop or spilled liquid and Cortana isn't as useful as Alexa is.


Read: ThinkPad X1 Carbon, X1 Yoga and X1 Tablet Have Stunning Display and Alexa


The third-generation ThinkPad X1 Tablet has powerful processors, plenty of RAM and other options. Models come with up to an 8th generation Intel Core i7 processor and 16GB of RAM. You won't get stuck waiting for web pages to load or your photo editor to process your touch-ups. If you don't like passwords, use the IR camera on the front of the ThinkPad X1 Tablet to sign into Windows. This 2-in-1 also has a fingerprint reader.

The ThinkPad X1 Tablet's screen detects 4,096 different levels of pressure from its digital pen. Besides that, it's a really detailed display. Windows, your videos and everything else you do on it looks crisp and detailed. Again, it's three times as sharp as an HD display.

Like other Surface Pro 4 alternatives, this Windows 2-in-1 connects to its included keyboard cover using a special slot on its bottom edge. It has Thunderbolt 3 ports for fast data transfers, a MicroSD card reader and a headset jack. With LTE connectivity, you can add the ThinkPad X1 Tablet to your smartphone data plan. You can't do that with a Surface Pro 4.