Madden 18 vs Madden 17: 11 Exciting New Madden 18 Features
This is what's new in Madden 18. From the new Frostbite-powered graphics upgrades to the new Madden 18 features, this is how the Madden 18 vs Madden 17 comparison stacks up. As the release nears, we learn about Madden 18 MUT Squads, a new 3 vs 3 online way to play Madden and more about the three new Madden 18 game modes.
We'll help you decide if Madden 18 is worth buying for the new features that EA packs into the game. We know several new features and expect to learn more in June. You can pre-order Madden 18, or wait for more information.
As gamers, we are always concerned that sports games will phone it in with a roster upgrade and token changes. We're walking through the new Madden 18 features that we've discovered, that EA showed at EA Play and that we've learned about direct from the Madden Blog.
The Madden 18 release date is August 22nd for the Madden 18 G.O.A.T. edition and August 25th for the standard edition.You can already save $22 to $26 with Madden 18 deals.
EA spent a lot of time on Madden 16 upgrading the passing game. In Madden 17 we saw a major emphasis on the defense, making Madden ratings matter more, enhanced realism and making it easier to play.
The new Madden 18 features we know about include new play modes, new play styles, target passing, coaching adjustments and graphics upgrades thanks to the Frostbite game engine that powers FIFA 17 and Battlefield 1.
Here are the new Madden 18 features and upgrades from Madden 17 that you can look forward to in August.
Madden 18 Graphics Upgrades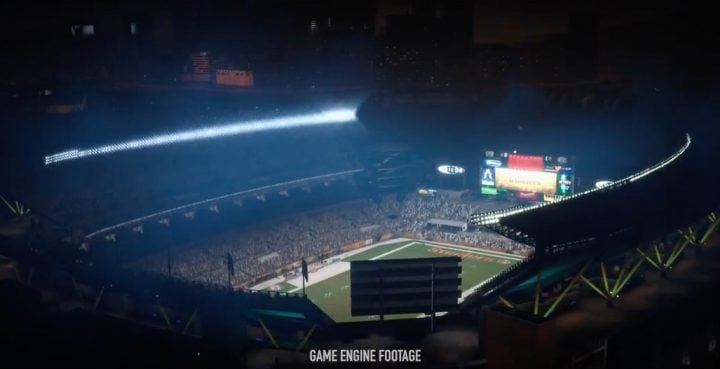 You can count on Madden 18 graphics upgrades thanks to the switch to the Frostbite engine. EA switched FIFA to Frostbite last year and this year it's time to upgrade Madden.
We get to see game engine footage in the Madden 18 teaser trailer below, but we don't see any head to head gameplay that reveal the changes you will see when you play.
The Madden 18 graphics upgrades we know about include better-looking stadiums inside and out. With Frostbite we will see city skylines and stadium exteriors. EA promises that you can, "watch the spectacle of NFL game day come to life in our most photorealistic game to date." Frostbite can deliver better-looking player faces as well. This is one of the places where FIFA upgrades were most noticeable.
EA promises more to come, but specifically, calls out the fireworks that you see in the video above, player runouts and "stunning" weather elements. Frostbite delivers impressive weather in Battlefield 1, and we hope that this means we will see more realistic weather elements in Madden 18.