Pangu iOS 10.3.1 Jailbreak Release Date Rumored After iOS 10.3.2 Update
There is a very good chance that the iOS 10.3.1 jailbreak release date will arrive this month. Apple is working on the iOS 10.3.2 release that we expect as soon as next Monday. Once this new version arrives, Pangu may deliver an iOS 10.3.1 jailbreak tool to the public.
After months without much movement on iOS 10 jailbreak tools, there is now mounting evidence that the Pangu iOS 10.3.1 jailbreak tool is coming very soon. Traditionally jailbreak teams wait for the next version of iOS to arrive before releasing a jailbreak tool so that Apple doesn't know the exact details of the jailbreak for that version.
Read: Best Jailbreak Apps & Tweaks
Reports on Weibo, a Chinese social media platform, outline the potential iOS 10.3.1 jailbreak release from Pangu, a well-known source in the the jailbreak community. If you are on iOS 10.3.1, you should not update to iOS 10.3.2 immediately since there may not be an iOS 10.3.2 jailbreak.
In late April we saw a video showing a potential iOS 10.3.1 jailbreak on the iPhone 7. This will reportedly work on all 64-bit iOS devices, including the iPhone 7 and iPhone 7 Plus.
https://youtu.be/s-JQfujxFqo
Redmond Pie shares the following roughly translated post about the iOS 10.3.1 jailbreak from Weibo, which includes some advice on what you should do;
If all things happen accordingly, then Apple should release iOS 10.3.2 to the public next week, but students (slang for followers of) looking to jailbreak should wait, because @PanguTeam is planning to release an iOS 10.3.1 jailbreak tool (codenamed Janus), the average person would expect this tool to be released after iOS 10.3.2 is released to the public. Of course, once again, if you're not on iOS 10.3.1 (implying if you are below iOS 10.3.1), you should probably not upgrade your firmware just in case this is an Oolong (slang for something being fake).
Users who are not jailbroken and not on a version of iOS that can currently be jailbroken should look into upgrading to iOS 10.3.1. If you are already jailbroken, do not upgrade to iOS 10.3.1 at this time, in case this is a fake or simply delayed.
Anyone interested in jailbreaking should avoid iOS 10.3.2 for the time being. Pangu is waiting for iOS 10.3.2 to arrive before releasing the new iOS 10.3.1 jailbreak tool, so there is a chance that it will also work on iOS 10.3.2, which they can test on in beta.
There is no confirmation of the Pangu iOS 10.3.1 jailbreak from the team's website or social media accounts. The earlier iOS 10 jailbreak tools came from other sources, but this team is one of the few groups that users should take seriously when there is jailbreak news.
This could be the final iOS 10 jailbreak as we don't expect many more iOS updates before the iOS 11 update announcement at WWDC 2017 and a fall iOS 11 release date. Once that arrives we'll get an iPhone 8 and be waiting for an iOS 11 jailbreak.
Best iOS 10 Themes for iPhone: Cydia Themes for Winterboard & Anemone
Aeyris Theme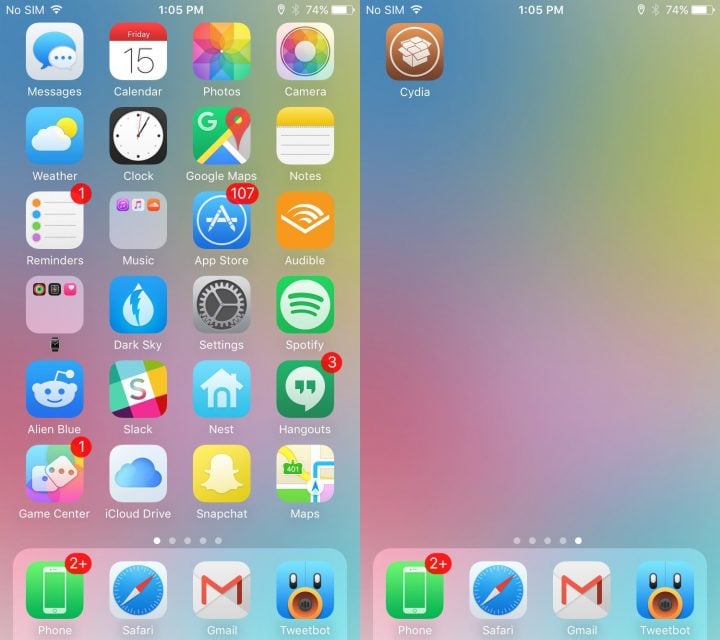 Ayeris is a stunning iPhone theme that looks great on the iPhone and the larger iPhone 6s Plus as well as older iPhones. The theme is one that we've used for several years, and it still looks great on the slightly tweaked look of iOS 9. There are 300 icons included, system-wide user interface skins, status bar icons and different dock modes.
Ayeris for iOS is $2.99 on Cydia