Razer Wolverine Ultimate Xbox One & PC Controller Gives You an Edge
The Razer Wolverine Ultimate Xbox One and PC controller delivers the ultimate customization options with six re-mappable triggers and buttons to let you put the controls you need at your fingertips to get an edge on the competition this fall.
In addition to helping you become a better Call of Duty: WWII player or dominating in Madden 18 and FIFA 18 with faster access to key buttons, the Razer Wolverine Ultimate Xbox One controller also includes Razer Chroma, a small RGB lighting strip that can deliver 16.8 million colors and a range of effects.
Announced at Gamescom, the Razer Wolverine Ultimate arrives in September for $159 and joins the Thresher Ultimate as Razer expands the console gaming lineup.
Gamers can choose between two D-Pads and a number of thumbsticks to get the perfect height and the right feel for the sticks. This is similar to the Xbox One Elite Controller, which retails for $149. You can customize the triggers to a half stop mode for rapid fire in games like Call of Duty: WWII and Battlefield 1, which definitely helps during intense combat. there are two triggers on the forward portion of the controller and four underneath.
Most gamers will remap a jump, slide and reload function to these so they can continue to aim and move while performing crucial actions in first person shooters. Once you experience this, it's very hard to go back to playing without triggers and buttons where you need them. You can change what the buttons do using the Razer Synapse Xbox app and the controller also works for the PC, so you can enjoy Play Anywhere games on your laptop or desktop.
"We've taken our time with the development of the Razer Wolverine Ultimate to really get it right," says Min-Liang Tan, Razer co-founder and CEO. "Thanks to endless design iterations and pro-gamer feedback, we're proud to be finally releasing a new contender for the crown."


The Razer Wolverine Ultimate controller lets you customize buttons, the d-pad, thumbsticks and more.


This is a wired controller, designed to deliver the fastest connectivity to your Xbox One or PC. The cable detaches for easy transport, but you will need it to play. Razer includes a 10 foot braided fiber micro USB cable with the controller. The controller weights 0.57 pounds without the cable and comes with a carrying case. The controller includes a 3.5mm headphone jack for chat, and controls to quickly adjust the microphone and headphone sound. Here's a breakdown of the features;
Remappable 2 Multi-Function Buttons & 4 Triggers
Razer Chroma lighting with full 16.8 million color options
Interchangeable D-Pad – Choice between Individual and Tilting Designs
Interchangeable Thumbsticks
Hair-Trigger Mode with Trigger-Stop for rapid-fire
Quick Control Panel
Tactile Switch Action Buttons
Ergonomic Non-Slip Rubber Grip
Razer Synapse for Xbox app
Razer Chroma SDK enabled
Play Anywhere – Play on Xbox One or PC
5 mm audio port for stereo audio output and microphone input
Carrying case
Detachable 3 m / 10 ft lightweight braided fiber cable with Micro-USB connector
Approximate size: 106 mm / 4.17 in (Length) x 156 mm / 6.14 in (Width) x 66 mm / 2.60 in (Height)
Approximate weight (without cable): 260 g / 0.57 lbs
The Razer Wolverine Ultimate customizable controller for Xbox One and PC arrives in September for $159.99 on Razerzone and globally in Q4, just in time for Call of Duty: WWII, Star Wars: Battlefront II and more Battlefield 1 DLC.
4 Reasons You Should Buy Call of Duty: WWII & 4 Reasons Not To
Buy If You Like the State of Call of Duty: WWII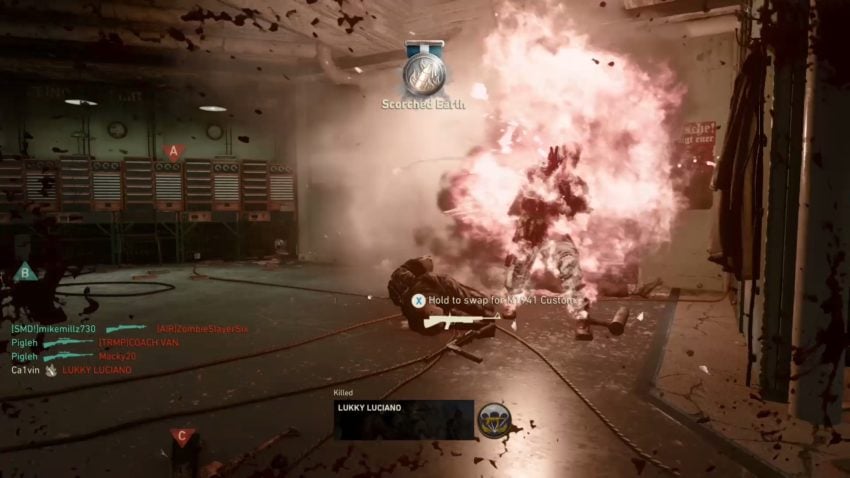 We are almost halfway into the Call of Duty: WWII life and there are many changes to the overall gameplay including changes to flinch, weapon balancing and small tweaks designed to make the game better.
Sledgehammer Games continues to tweak the state of weapons and change the game for balancing and based on player feedback. You can check out the latest update about the game directly from Sledgehammer.
There are still some complaints and issues, but we are starting to get a better feel for what Call of Duty: WWII will be like through the rest of the year.
If you have a chance to try it out and you like the game speed and weapon balance, this could be the best time for you to buy.