How to Stop All iPhones from Ringing After iOS 8 Update
After installing iOS 8 many families are complaining that one phone call rings all iPhones in the house. This is an iOS 8 feature that you can turn off and it is something that happens when you share an Apple ID for multiple iPhones. You'll see the other iPhones ring with a call from your iPhone underneath the contact name when this happens.
For families who share an Apple ID as a way to share app purchases the new iOS 8 feature that rings all phones when they are home and connected to WiFi and sharing the same Apple ID is a pain.
We've heard from several users who are upset that when someone calls their wife, his iPhone rings as well. Another reader complains that calls to her daughter's iPhone ring her phone and the other way around. Simply put it's an annoying feature if you are sharing an Apple ID.
We'll show you how to stop all iPhones in your house from ringing when one of them gets a phone call and let you know what you can do to fix this long-term with a new iOS 8 feature for families.
Apple turned on an option that will ring other iPhones that are signed in to the same Apple ID that are nearby and connected to WiFi. This is why you don't get the calls during the day when you are not all in the same room. It's sporadic and annoying. Here's how to stop it.
How to Stop All iPhones From Ringing with One Call
This is bad with just a spouse sharing an Apple ID, but when parents share an Apple ID with two kids things can get out of control. It's already leading to kids answering important phone calls. The main iPhone that someone calls rings as normal and other iPhones will show "from your iPhone" under the call, but many times the other people at home answer the call without looking.
The first thing you can do to stop this is to turn off iPhone Cellular Calls. This sounds like a good way to turn off all calls, but it only works for these calls shared between devices.
Go to Settings -> FaceTime -> iPhone Cellular Calls -> Off.
After you make this change test the settings, but it should no longer ring all of the iPhone sharing an Apple ID. This is a quick fix, but if you are troubled by this you are probably also getting iMessages for your spouse or kids. The right thing to do is set up Family Sharing and create new Apple IDs.
Family Sharing Fix
A new iOS 8 feature called Family Sharing lets everyone use their own Apple ID and still share apps, music, books, movies and music purchases. This also includes easier calendar sharing and location sharing for families.
If you turn this on you'll no longer get every app your kid downloads installed on your iPhone automatically and you can set up child iPhone accounts that cannot make purchases without approval. When you do this the adults in the family need to approve in app purchases and app purchases.
Here's a guide on how to set up Family Sharing in iOS 8. If you do this you can leave the option above on, and then you'll be able to answer calls on your iPad.
For more, you can check out the new iOS 8 features below.
What's New in iOS 8
iOS 8 vs iOS 7 Walkthrough - Home Screen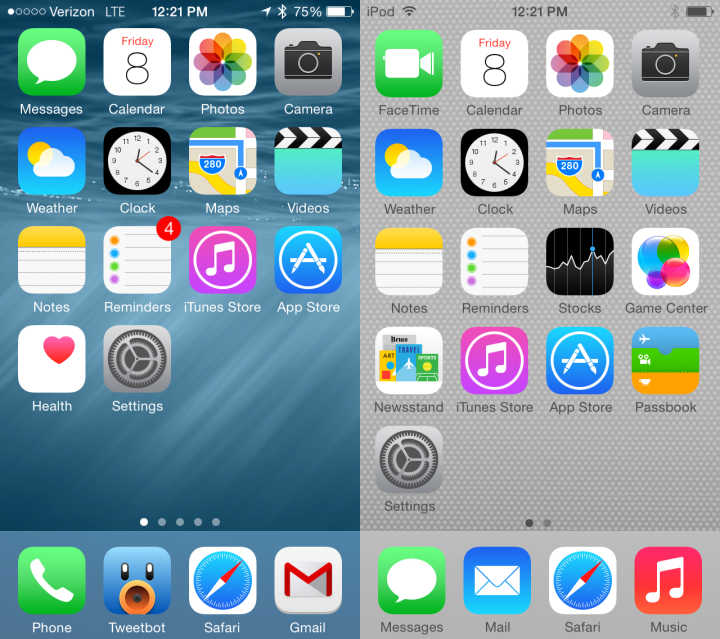 We start our iOS 8 vs iOS 7 walkthrough with the iPhone home screen, which is where you'll start your iOS 8 experience after an update this fall.
These screens are incredibly important as you see them anytime you turn on the iPhone or need to choose an app to launch. There is no way around using them, so Apple needs to make sure they work just right.
As you can see in the iOS 8 vs iOS 7 comparison above, there is no change between the home screen in the new iPhone software. Apple changed the status bar and some other small visual changes in iOS 7, but there are no updates for iOS 8.
We could see Apple change the home screen slightly for iOS 8 for the iPhone 6. The new iPhone will feature a larger 4.7-inch display with a higher resolution. This is something Apple may use to add more icons to the screen. Or they could stick with the current layout, it's tough to tell.