SwiftKey for iPhone & iPad Joins iOS 8 Keyboards
The iOS 8 release date will bring a new Apple keyboard, but that's not all for the first time you'll be able to install a new keyboard. We expect a collection of new iOS 8 keyboards will arrive in the coming weeks, but SwiftKey for iPhone, iPad and iPod touch plans to be one of the first to the market.
iOS 8 keyboards allow users to pick a keyboard that fits the way they type and how they use their iPhone and iPad. SwiftKey for iPhone and iPad delivers support for multiple languages, predictive text and auto-correction that should put your current iPhone and iPad keyboard to shame.
There is no need to jailbreak iOS 8 to install SwiftKey. You will find SwiftKey for iPhone, iPad and iPod touch in the App Store around the iOS 8 release date on September 17th. The iPad, iPhone and iPod touch all support iOS 8 keyboards, but not all features are available on every device.
There is no specific SwiftKey for iPhone and iPad price announced yet, but it is free with in-app purchases on Android.
Apple announced the iPhone 6 release date for September 19th, and iOS 8 arrives for older devices two days earlier which is when we expect you can download and install SwiftKey for iPhone.
The biggest reason many people want the SwiftKey iPhone keyboard is the amazing prediction capabilities it offers. After using the SwiftKey Android keyboard for a long time it is incredible how it can learn your specific style of typing and many times finish a sentence without typing any more letters — just tapping on the predictive words.
Auto-correct on SwiftKey also learns from you, to help save you time fixing typos and prevent bad auto-corrections. It will insert spaces where you need them as well as punctuation. Your settings are backed up tot he cloud and it can learn how you write from Facebook, Gmail, Twitter and Evernote for more personalized results.
On the SwiftKey iPhone and iPod touch versions you can use SwiftKey Flow to trace the words you want to appear for a new, faster for some, way of typing. This is not available on the iPad right now.
If you often type in two languages, you'll love the option to type in both simultaneously while using the SwiftKey iPhone keyboard for iOS 8. The following languages are supported.
English (US)
English (UK)
English (AU)
English (CA)
Portuguese (BR)
Portuguese (PT)
French (CA)
French (FR)
Italian
German
Spanish (ES)
Spanish (Latin America)
Spanish (US)
This is just one of the new iOS 8 keyboard options coming to the iPhone, iPad and iPod touch this fall. We expect to hear more about all the iOS 8 keyboards closer to the iOS 8 release date.
If your iPhone, iPad or iPod touch can run iOS 8 you can use the new iOS 8 keyboards. Apple also delivers a better keyboard with predictive text and other features in the free iOS 8 update as well.
For everything else you can see what's new in iOS 8 in the slide show below.
What's New in iOS 8
iOS 8 vs iOS 7 Walkthrough - Home Screen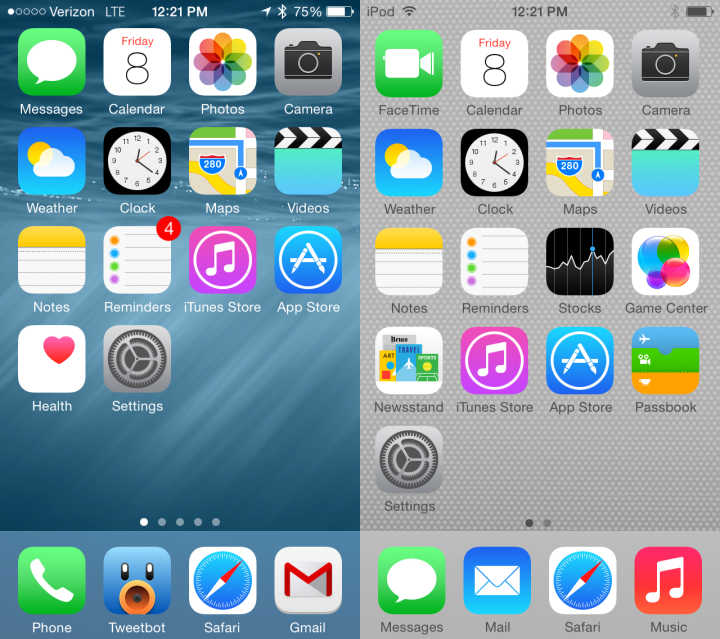 We start our iOS 8 vs iOS 7 walkthrough with the iPhone home screen, which is where you'll start your iOS 8 experience after an update this fall.
These screens are incredibly important as you see them anytime you turn on the iPhone or need to choose an app to launch. There is no way around using them, so Apple needs to make sure they work just right.
As you can see in the iOS 8 vs iOS 7 comparison above, there is no change between the home screen in the new iPhone software. Apple changed the status bar and some other small visual changes in iOS 7, but there are no updates for iOS 8.
We could see Apple change the home screen slightly for iOS 8 for the iPhone 6. The new iPhone will feature a larger 4.7-inch display with a higher resolution. This is something Apple may use to add more icons to the screen. Or they could stick with the current layout, it's tough to tell.

This article may contain affiliate links. Click here for more details.