T-Mobile iPhone 8 Deals Beat AT&T & Verizon
The first iPhone X and iPhone 8 deals are starting to emerge and a new offer from T-Mobile undercuts its rivals ahead of iPhone 8 pre-orders.
The iPhone 8 and iPhone 8 Plus aren't on shelves yet but carriers are already teasing buyers with tempting trade-in deals as we push toward their September 22nd release date.
The first batch of iPhone 8 and iPhone 8 Plus deals require buyers to turn in an older phone for cash but even iPhone 6 owners can take a significant chunk off the price of the new flagships.
T-Mobile's announced its iPhone 8 and iPhone X deals and they provide an immediate $300 discount to those who turn in an iPhone 6 or newer to the carrier. The discount will come via 24 monthly bill credits on the carrier's interest-free installment plan.
The carrier's also confirmed new iPhone upgrade program which allows customers to trade in their current iPhone when 50% is paid off with T-Mobile paying the rest. Those who pre-order or buy the iPhone 8, iPhone 8 Plus or iPhone X on T-Mobile's interest-free installment plan get this one-time benefit for free.
T-Mobile's deals undercut the trade-in offers from its fiercest rivals. For the moment, AT&T's trade-in offer for a 32GB iPhone 7 gets you less than $200 off. Verizon iPhone 6 users looking to trade in their old phone for an iPhone 8 or iPhone X will only get $200 off the price.
AT&T and Verizon could adjust those prices to better compete with T-Mobile but for now the UnCarrier has them beat.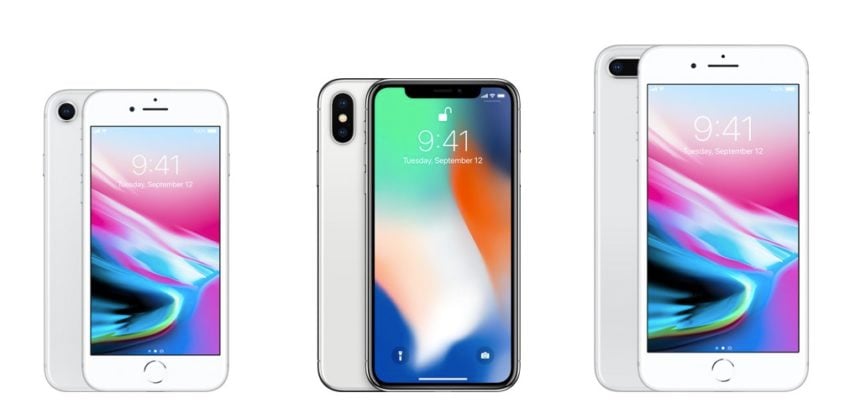 The iPhone 8 and iPhone 8 Plus go on sale at Apple and its carrier partners at Midnight Pacific on September 15th. The pre-order period stretches through the week. Those looking to buy the new iPhone X don't need to wake up early on Friday.
Apple's new 5.8-inch flagship doesn't go on sale until late October. The company's confirmed an October 27th pre-order date and an November 3rd release date. The device is reportedly plagued by manufacturing issues which could lead to stock shortages at launch.
In addition to the United States, the iPhone 8 and iPhone 8 Plus are set to hit Australia, Austria, Belgium, Canada, China, Denmark, Finland, France, Germany, Hong Kong, Ireland, Italy, Japan, Luxembourg, Mexico, Netherlands, New Zealand, Norway, Portugal, Puerto Rico, Singapore, Spain, Sweden, Switzerland, Taiwan, UAE, the UK, and the US Virgin Islands on September 22nd.
10 iPhone 8 Release Date Tips
Track Your Order
With the iPhone 8 release date just hours away now would be a good time to start tracking your order if you haven't done so already.
Some iPhone 8 orders are preparing to ship which means credit cards are being charged right now. It's a good idea to check your credit card account and your iPhone 8 order to make sure everything is squared away.
Once your iPhone 8 ships you'll be able to track it right to your doorstep. If your iPhone 8 is coming tomorrow you should have a tracking number. If it's scheduled to ship soon, you should be able to track it before you actually get a tracking number.
If you'll be out of the house tomorrow or on the day it's supposed to arrive, you'll need to plan accordingly. iPhone 8 orders will likely require a signature.
Here to Apple's website for additional information.

As an Amazon Associate I earn from qualifying purchases.