T-Mobile One Military: 5 Things to Know Before You Switch
The new T-Mobile One Military is now available to everyone with major discounts for military and veterans. This is what you need to know about the T-Mobile military discount that includes cheaper monthly plans and half off some of the best phones available.
In addition to the deals and discounts T-Mobile also committed to hire 10,000 veterans and military spouses over the next five years. T-Mobile is funding FourBlocks's Career Readiness Program toi 20 total cities and an online offer this fall. This free service can help vets anywhere prepare for a new career.
What is T-Mobile One Military?
T-Mobile One Military is a new plan that includes a 20% discount on the first line and 50% off the next 5 lines. With this plan you can get up to six lines discounted through the plan.
The T-Mobile One Military plan is available to active duty military, Reserve, National Guard, veterans, and Gold Star families. This also applies to small businesses owned by these eligible members with up to 12 voice lines.
The validation process to prove eligibility takes about 10 minutes. Some members may need to upload documentation.
How Much Does T-Mobile One Military Cost?
The T-Mobile One Military price depends on how many lines you add. This is not a limited time discount, but you will need to switch to this plan from any existing military discount if you want this price.
One line is $55 with auto pay. This includes taxes and fees. The second line is $25 a month with taxes, fees and auto pay. Lines 3 through 6 are $10 per line. That's a major discount on service.
The eligible member needs to be the primary account holder and must verify with T-Mobile and actively switch to this plan. If the member is deployed T-Mobile will work with a spouse to confirm eligibility.
What's Included With T-Mobile One Military?
The T-Mobile One Military plan includes Unlimited talk text and data on all lines. This also includes the following perks as a T-Mobile member.
Simple Global: unlimited text and data roaming and low flat-rate calling in 140+ countries and destinations
Mobile Without Borders: get free calling and texting to and from Mexico and Canada and up to 5 GB of free high-speed data when traveling there
Gogo Inflight: get free unlimited texting all flight long and 1 hour of free smartphone Wi-Fi on all Gogo-equipped domestic flights
Taxes and Fees Included: when we say it's just $100 for a family of four, it really is, which could save hundreds vs carrier plans with all those taxes and fees added
Netflix: get free Netflix Standard to watch on your TV, smartphone, tablet or wherever you want for as long as you're a customer on a family plan
T-Mobile Tuesdays: get thanked with free stuff every week just for being a customer
Scam ID and Scam Block: get alerted when likely scammers are calling
Mobile Hotspot: connect all your devices to the internet with included 3G tethering data
Carrier Freedom: T-Mobile helps cover your switching costs
With this plan you get a lot of added freebies that can help stretch your budget further. The free Netflix and free T-Mobile Tuesdays offer a lot of added value.
What Phones are Half Off with T-Mobile One Military?
For a limited time you can get 50% off select Samsung smartphones when you switch to the T-Mobile One Military plan. This is a partnership with Samsung and it includes the Samsung Galaxy S9, S9+ and S8 Active phones.
You need to buy the phone before May 31st and you must buy it on a payment plan with T-Mobile. The discount is made over 24 months in the form of a bill credit.
Can I Combine T-Mobile One Military With Other Deals?
If you are switching from another carrier to T-Mobile you can combine this with the #GetOutTheRed and Carrier Freedom promotions that buy out your existing plan on another carrier up to $650. Check with T-Mobile about the timing and how to switch so you get the best deal.
Users who are on T-Mobile with promotional lines will lose those lines if they switch. You can call T-Mobile or go into a store to find out which is the best deal for you before you switch.
The Best Budget Apps for 2020
Mint Budgeting App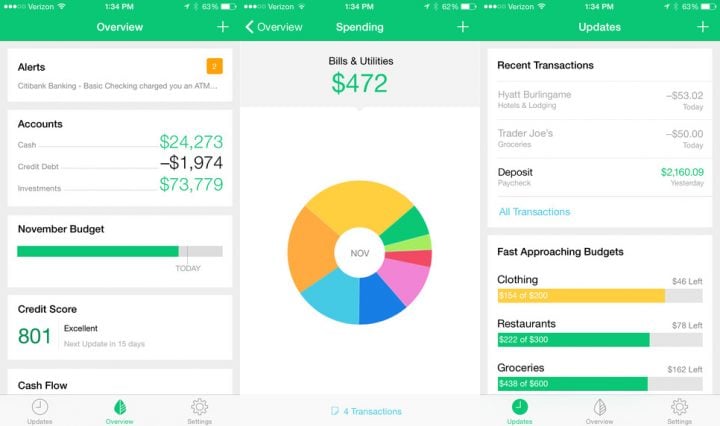 Mint is one of the best budget apps because it takes the hassle out of making a budget. You connect the Mint app to your bank and the app can use your details to help create a personalized budget. We love this budget app because it can help you quickly identify where you are spending your money, so you can see where to trim your current expenses as you make a budget.
It's a very easy app to get started with, so you can take the hassles out of starting a budget for 2020.
The Mint app uses the same security as banks and the team behind this service also makes TurboTax and Quicken, so you can trust that they take all possible steps to secure your accounts and your data.
Mint will send you alerts to unusual charges and helps identify tips customized to your spending that can help you reduce the money you spend on fees and on other bills. Mint also includes your credit score, so you can see a big-picture view of your budget and your personal finances. The base subscription is free, but there is an optional in-app purchase of Mint Live for $24.99.
With the Mint apps for iPhone, iPad and Android you can see your budget anywhere and there is also an online component to look at from your computer and a bill pay component to help you manage and pay your bills in one place.

As an Amazon Associate I earn from qualifying purchases.