The Best Galaxy S10e Alternatives
Here are the best Samsung Galaxy S10e alternatives you can buy. The Galaxy S10e is already a good Galaxy S10 alternative that is cheaper and still a very nice phone, but if you are looking for other options that are budget friendly, offer more features and options.
While this is a cheaper Galaxy S10, it is still a really powerful phone with a great display, impressive cameras and performance that can match the Galaxy S10 if you opt for the extra storage. The Alternatives offer bigger screens, faster updates to the latest version of Android and in some cases even cheaper prices.
Here are the best alternatives to the Galaxy S10e;
Google Pixel 3 – $599
OnePlus 6T – $549
Motorola Z3 – $299
The Galaxy S10e is $749 or about $25 a month at Best Buy, Samsung, Verizon, AT&T, T-Mobile, Sprint and U.S. Cellular and there are some Galaxy S10e deals that will cut the price in half or allow you to buy one and get one free.
Our alternatives start as low as $10 a month or as low as $480 at full price, but aren't going to leave you wanting more or regretting your purchase in six months.
Google Pixel 3 – $599
The Google Pixel 3 is one of the best Android phones you can buy. This Android phone features a 5.5-inch display, runs the latest version of Android and will get the latest updates as fast as Google can prepare them. It's about the same physical size as the Galaxy S10e, so you still get a phone that works well with one-hand use. The Google Assistant integration is on point and the call screening is amazing.
Performance is going to be similar and the overall experience is still on Android, but you will be passing on Samsung Pay and Samsung apps. The storage starts at 64GB and there is no MicroSD card slot, so you will likely want to go with the more expensive 128GB model.
Pixel 3 cameras include a 12.2MP rear camera and a 8MP wide-angle front facing camera. You get the Pixel Camera app with a very cool Night Sight feature that takes great looking photos at night and Top Shot that picks the best photo for you. Plus you can record up to 4K videos. With the Pixel 3 you get unlimited cloud storage for your photos at full resolution.
The Pixel 3 is available direct from Verizon, Google and Best Buy. You can use it on major carriers in the U.S. and on Google Fi. The Pixel 3 is $599 up front or $20.83 a month at Verizon.
OnePlus 6T – $549
The OnePlus 6T is another amazing Android phone that is affordable, especially with everything you get. With the OnePlus 6T you get a 6.41 inch AMOLED display with a built-in fingerprint reader, similar to the Galaxy S10 and S10+. It use different technology for the fingerprint sensor so it's not exactly the same, but it is still a very good option. Instead of the punchhole, there is a very small notch for the front facing camera.
You also get dual cameras on the back, 16MP and 20MP with a Nightscape feature to take better photos at night and studio lighting for better portrait style photos. The storage starts at 128GB like the Galaxy S10e and you can buy a 256GB version. There is no MicroSD card slot though. OnePlus is good about pushing out software updates in general and this runs Android Pie.
Don't let the price confuse you, this is an amazing phone that is worth more than you're paying. The performance is great and it includes up to 10GB of RAM on some models, which translates into blazing fast performance. The OnePlus 6T works on AT&T, Verizon and T-Mobiel in the U.S.
The OnePlus 6T is available from OnePlus and Amazon for $549 and up.
Moto Z3 – $299
The Moto Z3 comes with a 6.1 inch Super AMOLED display that looks great and is bigger than the S10e. It's a larger overall phone, so keep that in mind as you shop. The nice part is that you can get this phone for as low as $10 a month on Verizon while still getting a nice phone that gets good support from Motorola.
It's not as fast as the Galaxy S10e as it comes with a less powerful processor, 4GB of RAM compared to 6GB or 8GB and only 64GB of storage. The Moto Z3 does support a MicroSD card so that you can expand your storage.
The Moto Z3 camera is good, but it's not going to check all the same marks as the Galaxy S10e or the first two phones on this list. That said, the phone is cheaper and it comes with an option to upgrade to 5G without buying a new phone. In Spring 2019, you'll be able to buy a 5G Moto Mod that adds 5G support to the Moto Z3.
The Moto Z3 is $10 a month on Verizon or $299 at Best Buy if you want to pay full retail.
7 Reasons to Buy the Galaxy S10e & 3 Reasons Not To
Buy if You Want an Affordable New Phone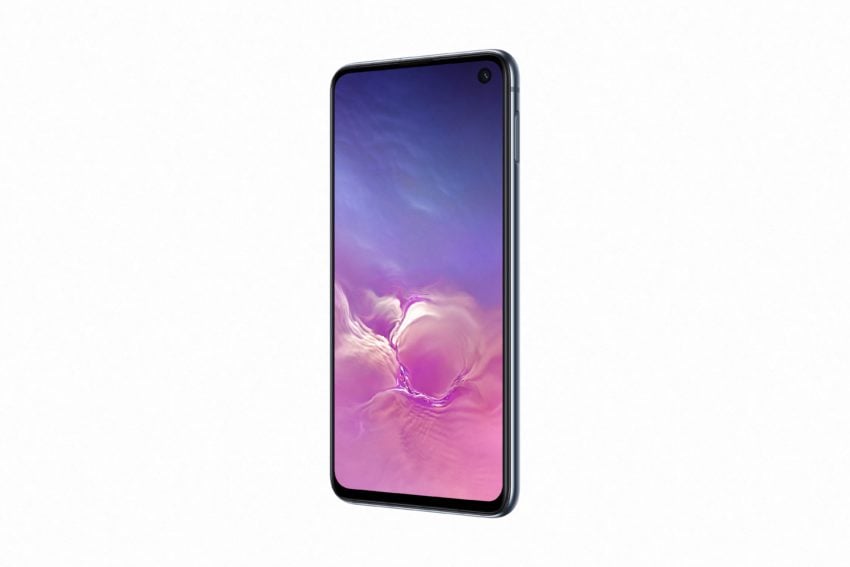 Are you looking to upgrade from your Galaxy S7 without spending a grand on a new phone or making your cell phone bill look more like a car payment? If so, the Galaxy S10e needs to be a device that you consider.
This phone is $150 less than the Galaxy S10 and you can even find deals that will let you get one for half off or a Buy One Get One deal that cuts the price even more. In short, this is a cheaper Android phone that is still going to do what most users need.
While I wouldn't recommend choosing the 36 month payment plans some carriers offer, you can get this phone without spending as much as you would for the Galaxy S10, LG G8 or the iPhone XS.
It's a sensibly priced smartphone with all the essential features, hence the name, and it's not using an old processor or outdated tech.