The Secret to Skipping Long iOS 8 Downloads and Problems
There's a secret to skipping the long iOS 8 download lines and waiting with Update Requested on your screen. We'll show you how to download iOS 8 without waiting hours and what you need to do to avoid deleting your files, apps and photos for the iOS 8 storage problems that are frustrating many iPhone and iPad owners.
You can avoid long iOS 8 download times and manually install iOS 8 to get the new iOS 8 features on your iPhone or iPad very quickly.
You don't need any type of special subscription or service to manually install iOS 8, you just need your computer, iTunes and the right iOS 8 download.
For most users this is not something you need to do, but if you cannot wait for the iOS 8 download to complete this is much faster.
The iOS 8 download time stretched out to 13 hours on the iPad Mini Retina, but using the iOS 8 direct download links we could download the iOS 8 update in 10 to 15 minutes and complete the installation using iTunes.
iOS 8 Direct Download Links
Use the iOS 8 direct download links from OS X Daily to get the right version of iOS for your iPhone, iPad or iPod touch. These links go direct to Apple so you don't need to worry about where you are actually downloading them from.
You should be able to download iOS 8 in a matter of minutes using this method.
Manually Install iOS 8 in iTunes
You can now connect the iPhone or iPad to iTunes and start the manual update. You don't need to perform a clean install (or Restore) but you can using this method if you want to minimize the problems that you may run into.
1. Download the iOS 8 official release .ipsw.
2. Plug your iPhone or iPad into a computer and open iTunes.
3. Perform a backup just to be safe.
4. In iTunes click on the iPhone option in the upper right. If you see the Restore and Upgrade options you are on the right screen.
5. Special Click on Check for Update. A special click involves holding a key while you left click.
Hold alt/option on Mac

 when you click Check for Update.
On Windows, 

hold Shift when

 you click Check for Update.
If you want to perform a clean install you just special click on Restore.
6. Find the iOS 8 download and click on the .ipsw file.
7. Let the iOS 8 update complete. This can take 15 minutes or longer depending on how long it takes to verify the update with Apple's servers.
When this is done you will be up and running iOS 8 without waiting forever for an over the air update, iTunes downloads or the storage problems that frustrated so many users.
What's New in iOS 8
iOS 8 vs iOS 7 Walkthrough - Home Screen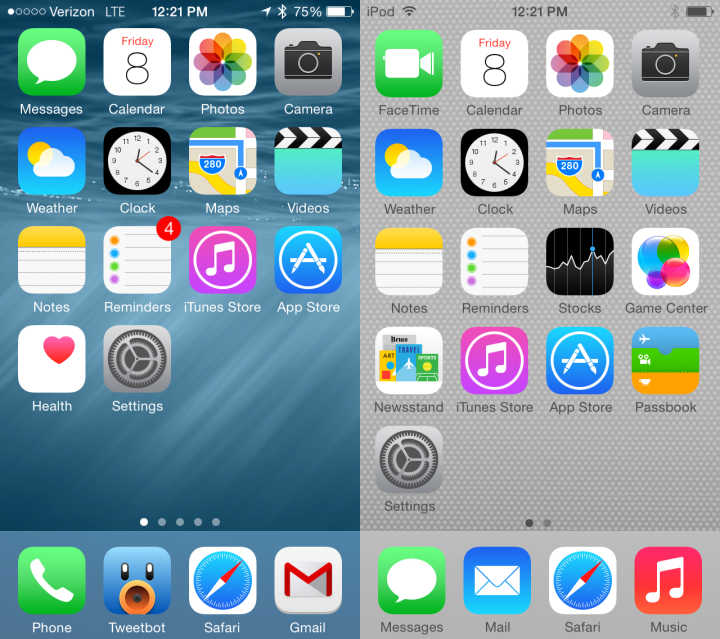 We start our iOS 8 vs iOS 7 walkthrough with the iPhone home screen, which is where you'll start your iOS 8 experience after an update this fall.
These screens are incredibly important as you see them anytime you turn on the iPhone or need to choose an app to launch. There is no way around using them, so Apple needs to make sure they work just right.
As you can see in the iOS 8 vs iOS 7 comparison above, there is no change between the home screen in the new iPhone software. Apple changed the status bar and some other small visual changes in iOS 7, but there are no updates for iOS 8.
We could see Apple change the home screen slightly for iOS 8 for the iPhone 6. The new iPhone will feature a larger 4.7-inch display with a higher resolution. This is something Apple may use to add more icons to the screen. Or they could stick with the current layout, it's tough to tell.

As an Amazon Associate I earn from qualifying purchases.