What iPad 2 Users Need to Know About iOS 8.1.3
Apple continues to deliver updates to the iPad 2, delivering the sixth iOS 8 update since September and making it easier for iPad 2 owners to upgrade to iOS 8 without plugging in to a computer.
With this change that simplifies an iOS 7 to iOS 8 upgrade, good overall iPad 2 iOS 8.1.3 performance and other new details it is a good time for iPad 2 owners to think about an upgrade to iOS 8 and to iOS 8.1.3.
There are still more than 25% of users who connect to the iTunes store on iOS 7 or later, and many are likely using the iPad 2. This is the oldest iPad to still get updates from Apple and as an aging device there is a lot of interest in how the iPad 2 performs on iOS 8 and iOS 8.1.3.
Apple delivered a boost in performance with the iOS 8.1 update and through three subsequent updates that performance remains at the same level. For many users this is very close to on iOS 7, but there are still important factors to consider.
Here is what iPad 2 users need to know about the iOS 8.1.3 update and about what comes next for this older device.
iPad 2 iOS 8.1.3 Update Info
The iPad 2 iOS 8.1.3 reviews from users are generally positive. The performance is on par with iOS 8, as you can see in the video below that outlines covers multitasking and using Apple's built-in apps on the iPad 2.
The upgrade process is now much easier for users who own a 16GB iPad 2. Ian Senior shares on Twitter that the iOS 8.1.3 upgrade installed on his iPad 2 16GB with room to spare, which is something the previous updates would not do. Apple worked to address the large amount of free space that the iOS 8 update needs, making upgrades like this possible.
Speed Up the iPad 2 iOS 8.1.3 Performance
If you need to deliver a speed boost to the iPad 2 after the iOS 8.1.3 update you can perform several tasks that limit some animations and features, but deliver better performance. After doing all of these on the iPad 3 we noticed a great boost in speed and readers report success on the iPad 2 running iOS 8.
You can read our guide to speed up iPad 2 performance for the full details on each of these settings that you need to change.
Reduce Motion – Turns off the movement on the home screen when you move the iPad.
Transparency – Turning off transparency removes some of the visual highlights of iOS 8, but the device is faster.
Free Up Storage – Make sure apps aren't crashing because there isn't enough storage.
Reset All Settings – Removes many potential issues without removing your data from the iPad.
If you choose to only change some of them you will still see a speed boost, but it may not be as noticeable. You don't lose any major features, and the iPad 2 runs faster.
Good Time for an iOS 8 Upgrade
This is a good time for an iOS 8 upgrade. Apple delivers a more stable version of iOS 8 and users don't need to worry about the same number of bugs and performance issues as they did back in September. The smaller amount of free storage space needed makes it easier to upgrade for users who can't plug-in to a computer. The iOS 8.1.3 update makes it possible for some iPad 2 users with just 16GB of storage to perform an over-the-air update.
Another reason to consider upgrading to iOS 8 from iOS 7 is a new malware attack that can install a hidden app on iOS 7 that can collect text messages, photos and start voice recordings without the user knowing. Granted, the chances of this installing itself on your system are slim, but all you need to do is click a link and then say yes to installing a profile on your iPhone. You can read more about this exploit and what it does. On iOS 8 the app is not hidden and it cannot restart itself.
iOS 8.1.3 to iOS 8.1.2 Downgrade & Jailbreak
There is no iOS 8.1.3 jailbreak. If you love your Cydia tweaks and themes you should not upgrade. It is unlikely that there is an iOS 8.1.3 jailbreak release planned because Apple is working on a bigger iOS 8.2 update for next month. If you already upgraded and you want to go back to iOS 8.1.2 you can still downgrade from iOS 8.1.3 for a limited time.
If you plan to do this you need to make sure Apple still signs the older update. The company normally stops soon after a release. Check for your device on this page to make sure it is green for iOS 8.1.2. If it is, you can use our iOS 8.1.3 to iOS 8.1.2 downgrade guide to go back to the version that you can still jailbreak.
iOS 8.2 & The Future
Apple is already working on what may be one of the last iPad 2 updates. The iOS 8.2 release is coming in March according to the latest rumors. This will be a bigger update for the iPad 2 and other iOS 8 devices. One of the biggest features it will add is Apple Watch support, but the iPad 2 will not gain this feature.
Next up is iOS 9, which is the name we expect for Apple's new iPhone and iPad software. Apple will likely show this off in June at WWDC 2015 and deliver an iOS 9 release in the fall. It is very likely that there will be no iPad 2 iOS 9 release.
What's New in iOS 8
iOS 8 vs iOS 7 Walkthrough - Home Screen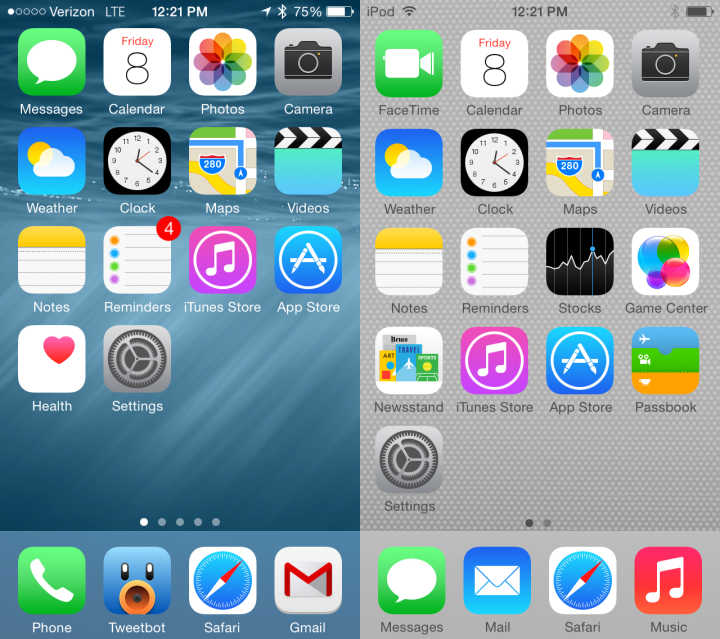 We start our iOS 8 vs iOS 7 walkthrough with the iPhone home screen, which is where you'll start your iOS 8 experience after an update this fall.
These screens are incredibly important as you see them anytime you turn on the iPhone or need to choose an app to launch. There is no way around using them, so Apple needs to make sure they work just right.
As you can see in the iOS 8 vs iOS 7 comparison above, there is no change between the home screen in the new iPhone software. Apple changed the status bar and some other small visual changes in iOS 7, but there are no updates for iOS 8.
We could see Apple change the home screen slightly for iOS 8 for the iPhone 6. The new iPhone will feature a larger 4.7-inch display with a higher resolution. This is something Apple may use to add more icons to the screen. Or they could stick with the current layout, it's tough to tell.