10 Things to Do Before the Red Dead Redemption 2 Release Date
If you're thinking about buying Red Dead Redemption 2 for the Xbox One or PlayStation 4 there are some things you need to do before the release date arrives next week.
After several delays, Rockstar is finally ready to release a game many people have been waiting for since they completed the original Red Dead Redemption back in 2010.
The Red Dead Redemption 2 release date is confirmed for October 26th and Take-Two, Rockstar's parent company, says there won't be another delay.
We still don't know if the highly anticipated game will come to Windows PC or Nintendo Switch, but it will definitely arrive for Xbox One, PlayStation 4, Xbox One X, and Sony's PS4 Pro in October.
Red Dead Redemption 2 pre-orders are live through various retailers giving fans of the series the ability to buy the game ahead of its release date and deciding on a pre-order is just one thing prospective buyers need to do before the game arrives.
In this guide we'll take you through a few other things we think you should do before Red Dead Redemption 2's arrival.
Play Red Dead Redemption
You don't need to play the first game to enjoy Red Dead Redemption 2, but now is a great time to jump into the original to refresh yourself or experience the world of Red Dead Redemption for the first time.
We don't know everything about Red Dead Redemption 2 yet, but we do know that it's set in the same world as the original title. Players control a character named Arthur Morgan who is a member of the Van der Linde gang.
If the name Van der Linde rings a bell, it's probably because you played the first game. Dutch Van der Linde was a central character in the original and one of the main antagonists.
The original's main protagonist, John Marston, will also make an appearance in the game. So will Bill Williamson. We expect other cameos as well.
Playing the original game will introduce you to these characters and their backgrounds and it could help make Red Dead Redemption 2 a little more enjoyable.
The good news is that Red Dead Redemption is widely available (it's available for Xbox, PlayStation, and Windows PC). It's also much cheaper than it once was.
Rockstar's also released an update that enhances the original game for Microsoft's Xbox One X. If you own an Xbox One X, you'll get 4K visuals. The game still looks great in 2018 and it's a great excuse to jump into a game that's nearly a decade old.
Play GTA 5
If you've got Grand Theft Auto 5 sitting around, think about firing it up to acquire items for Red Dead Redemption 2.
Last year, Rockstar unveiled a Red Dead Redemption 2 bonus earned through playing GTA 5 Online. Once you load up the game, check your iFruit device for a clue and follow the trail to unlock the Double-Action Revolver in GTA Online.
Once you unlock the revolver, you'll want to complete the Headshot Challenge in Freemode for a $250,000 reward. It'll also unlock the item for use in Red Dead Redemption 2.
You'll also want to snag another bonus for Red Dead Redemption 2: the Stone Hatchet.
In order to get the hatchet, you'll want to keep an eye out for a text message from Maude Eccles for bounties. You'll then need to collect these new bounty targets, dead or alive, to complete a challenge.
Once you complete the challenge you'll unlock the location of the Stone Hatchet in GTA Online. Once you get the weapon, you'll need to complete the Kills Challenge for a $250,000 bonus for use in GTA Online.
You'll also unlock it for use in Red Dead Redemption 2.
Find Red Dead Redemption 2 Deals
As we push toward the Red Dead Redemption 2 release date make sure you keep your eyes out for deals that drop the game below its $60 price point.
Most retailers are taking Red Dead Redemption 2 pre-orders and you might be able to score a deal ahead of the game's release.
Those with a Best Buy Gamers Club Unlocked account can take advantage of an early Red Dead Redemption 2 deal. Best Buy's closed the GCU program, but who are currently members can take advantage of the 20% off deal.
NewEgg was at one point offering the game straight-up for $50 and we could see it, or another retailer, offer a similar deal down the road. Keep an eye on Slickdeals.
If you can't find what you're looking for before the game's launch, you should be able to grab the game for less than $60 during Black Friday and the holiday shopping season.
Decide If You Want to Pre-Order
While you might be tempted to pre-order Red Dead Redemption 2 through your favorite retailer, there are some reasons why you might want to hold off.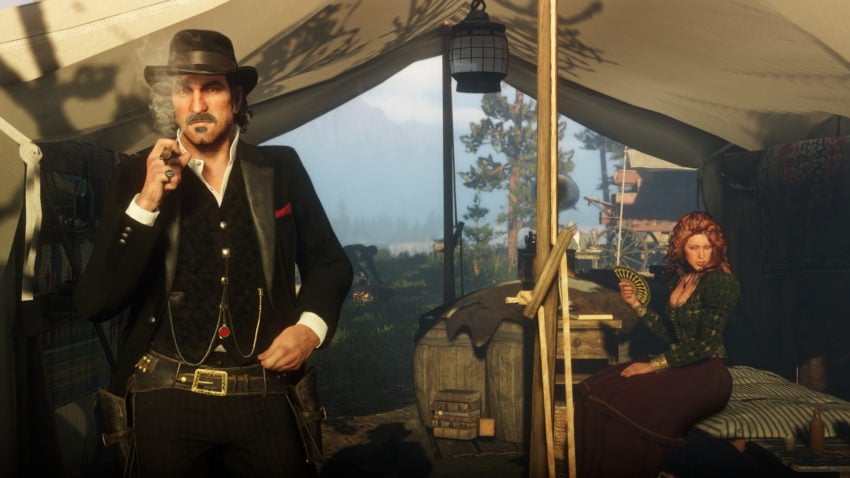 We've put together a guide that will take you through the best reasons to and not to pre-order a copy ahead of its release date. Go through it and make a smart decision with your money. Remember, at most retailers, you can always cancel a pre-order, free-of-charge, before it ships.
We've also put together a guide that'll help you pick the right edition for you and your budget. Red Dead Redemption 2 comes in three different editions: Standard, Special, and Ultimate.
Each comes with a different price point and a different set of bonuses.
Make Room for the Game
Red Dead Redemption 2 will require a large chunk of storage space on your console.
Microsoft says the game will take up (approximately) 88GB of storage. Sony says you'll need 105GB of free space available on your PS4 and the initial download appears to be 92GB.
If you don't have a ton of space on your internal storage you'll need to free up space in order to make room for the game. Comb through your games and data files and delete items you no longer need.
If your internal storage is full, you'll want to look into buying an external hard drive.
Pre-Load
If you pre-order the digital version of Red Dead Redemption 2 you can pre-load the game ahead of its release date on Friday.
Pre-loading will let you play the game the second it unlocks on October 25th/October 26th.
Check Your Order
As we approach the release date make sure you keep an eye on your pre-order so you can avoid release day headaches.
Make sure your delivery information is up-to-date. If you recently moved, you may have forgotten to change your address. You'll also want to make sure your payment information is correct.
Companies like Amazon will charge once the game ships and that typically happens a couple of days before the release date.
Think About Buying a Strategy Guide
If you're new to the Red Dead Redemption series, or you think that you might need some help finding items/quests/characters/locations, you might want to pickup a strategy guide.
Rockstar's got two options available. One is the standard version and the other is the Collector's Edition. Both are on sale through various retailers including Amazon. 
If you don't want to pay for a strategy guide, you won't have to. There will be a ton of free guides out there though it'll likely be a few days or in some cases a few weeks before they go live.
Dig Into Feedback
You'll have to wait until 4AM on October 25th for full Red Dead Redemption 2 reviews, but critics have already relayed a bunch of information about the game.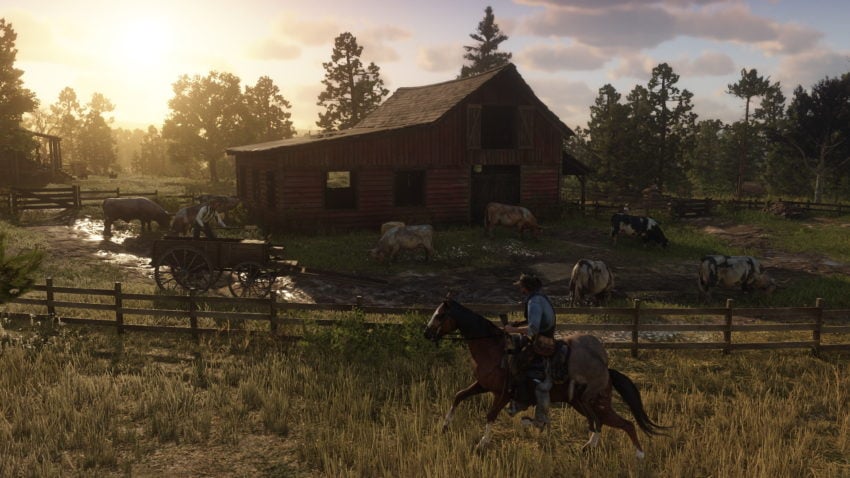 Several publications managed to play a rather lengthy demo of the game and relay their thoughts about the gameplay and Red Dead Redemption 2's world.
This feedback will help you set proper expectations and help you determine if this a game to pre-order or one you'll buy during Black Friday and the holidays.
Think About Buying the Xbox One X or PS4 Pro
Lastly, if you're holding onto a original Xbox One or PlayStation 4, and you own a 4K television, it might be a good idea to investigate the Xbox One X and PlayStation 4 Pro.
If Red Dead Redemption 2 rumors pan out, it sounds like the game will come with upgrades for current-generation consoles. So if you want the smoothest, best-looking version of Red Dead Redemption 2, you'll want to think about upgrading to a new console. To assist you we've put together guides to buying the Xbox One X and PlayStation 4 Pro.
Retailers are currently selling a PS4 Pro Red Dead Redemption 2 bundle for $399 which essentially nets you a copy of the game for free. It's worth a look.
If you buy Red Dead Redemption 2 between October 25th and November 3rd, GameStop will take $100 off a new Xbox One (Xbox One S/Xbox One X) console.
4 Reasons to Buy Red Dead Redemption 2 & 3 Reasons to Wait
Buy for a Great Story & Voice Acting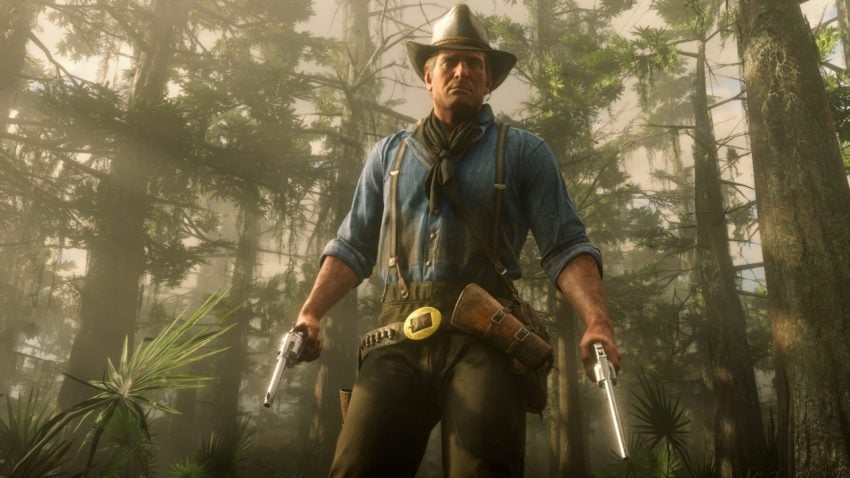 Red Dead Redemption 2 is a sprawling game with lots to do. There are plenty of other games that provide a huge sandbox to play around though few games can match the quality of Rockstar's open world experiences. And that starts with the story and the voice acting.
I'm not going to spoil anything here, but know that Red Dead Redemption 2's storyline, characters, and dialogue are the backbone of this game.
Many games provide a huge playground, but very few back it up with a memorable cast of characters that you truly care about and want to interact with.
Often times characters are underdeveloped, annoying, and/or forgettable. It's the exact opposite in Red Dead Redemption 2. You'll might even come to love the game's most vile characters.
The main story line is outstanding and believable and the actors (including the original John Marston) and actresses that voice the main characters, lesser characters, and various other NPCs truly bring these them to life.
The main story is just one piece though. There are side quests with minor characters and random events with strangers. You can also interact with every person in the game.
These side missions and the organic random interactions have been quite enjoyable. On one ride up into the mountains to look for a legendary animal I ran into five unique random events.
This is a world populated with characters that are truly interesting and believable and it's one of the game's obvious (once you start playing) strengths.
If you love a good western or if you like good writing, the story alone is worth the price of admission.