5 Things to Do Before the Madden 20 Release Date
Are you planning to buy Madden 20? If you are, there are some things you should plan on doing this week and next to make sure you start with all the extras available and to make sure you get the right edition at the best price. This applies even if you plan to play Madden 20 early.
While many Madden players, including myself, come back every year, some gamers may be wading back into Madden after a few years off. Whether you are a hardcore or a casual player, there are some things you need to do before the Madden 20 release date.
You can pre-order Madden 20 right now and there are even some excellent Madden 20 deals ahead of the release date. We'll focus on where to keep looking for those and what you need to do in Madden 19 before the new game arrives.
Here are the things I am going to do before the Madden 20 release date, and what you can do to get the most out of the new game on day one. I'm still trying to decide which edition I will buy, but I am leaning towards the Superstar edition. Here's a breakdown of all the Madden 20 editions and if the Madden 20 Ultimate Superstar edition is worth buying.
Play Madden 19
If you've played Madden NFL 17, 18 or 19, you are eligible for Madden Rewards MVP bonuses. You can earn up to 3 Madden NFL 20 Loyalty Rewards Fantasy Packs with each contain six NAT 82 OVR Elite players. Borrow a friend's copy or download from EA Access and play a game or two so you get the rewards. These include;
82 OVR NAT Devonta Freeman (HB)
82 OVR NAT Shaq Mason (G)
82 OVR NAT Tyrann Mathieu (S)
82 OVR NAT Demarcus Lawrence (LE)
82 OVR NAT JuJu Smith-Schuster (WR)
82 OVR NAT Demario Davis (LB)
This appears to replace the rewards that went by the number of packs you opened in Madden 19, but you may also want to make sure you open up any remaining packs in Madden 19 before the Madden 20 release date. Just in case.
Watch for Madden 20 Deals
We still haven't seen a major Madden 20 deal like we've seen in previous years at Best Buy for Madden games. It's looking like that trade-in and save deal will not happen, but it is still worth looking for.
If you are an EA Access member you can save 10% on the digital version of Madden 20 when you pre-order or even after the release. You can buy EA Access on Amazon or right on your Xbox or PS4.
Amazon is selling Madden 20 for $50.94 on disk. Click here to save $9 on Madden 20 for PS4 or Xbox One. This is only on the standard edition.
At Newegg, you can save 10% on Madden 20 for the Xbox One when you buy the digital version. This is good on the Standard, Superstar and Ultimate Superstar edition.
We're holding out hope for a Best Buy deal or some eBay deals.
Decide If You'll Pre-Order Madden 20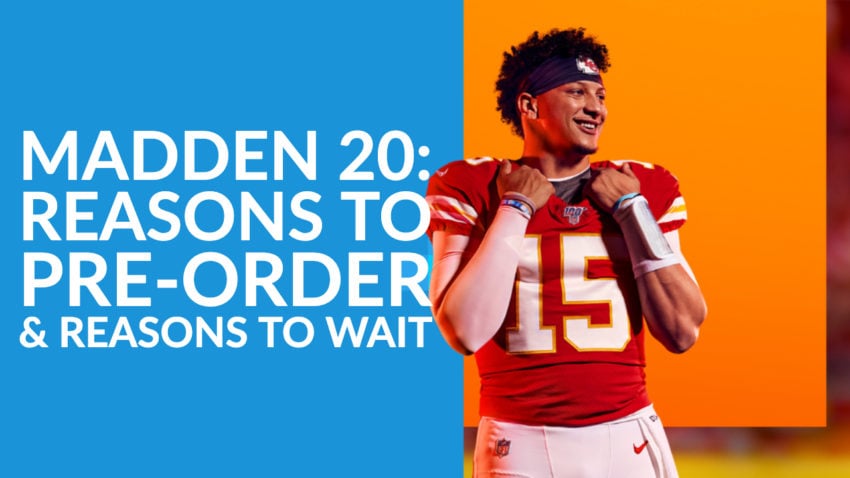 You can pre-order Madden 20, but you don't have to do so to get most of these items. Yes, there are pre-order bonuses at GameStop, but most of the bonus items are things you pay for with the more expensive Madden 20 editions.
We know almost everything about the game except for the full reviews and how grindy MUT will be this year. Here are the new Madden 20 features that you need to know about.
I used to buy Madden at Best Buy every year with Gamers Club Unlocked and reward credits, but this year it's looking like a digital purchase with the EA Access discount.
Play Madden 20 on EA Access or Origin Access
No matter which console or PC you play on, you can try out Madden 20 before you buy it on EA Access or Origin Access. This isn't a free service, but it is only $5 for a month or $29.99 for a year.
With both options, you can play the full Madden 20 game five days early starting on Thursday, July 25th. Here's more on how to play Madden 20 early.
Buy a PS4 Pro or Xbox One X If You Can
Madden games look better on the PS4 Pro and the Xbox One X. This is a fact, and it's been this way since Madden 18. This continues for Madden 20, and it is a good reason to upgrade. You'll get the best looking version of Madden available if you go this route. Here are the latest deals at Amazon.
You can also check Xbox One X deals at Best Buy or eBay and PS4 Pro deals at Best Buy.
The PS5 release date is at least a year out, as is the Xbox Scarlett release date.
4 Reasons to Buy Madden 20 Today & 2 Reasons To Wait
Buy if You Love to Grind MUT Challenges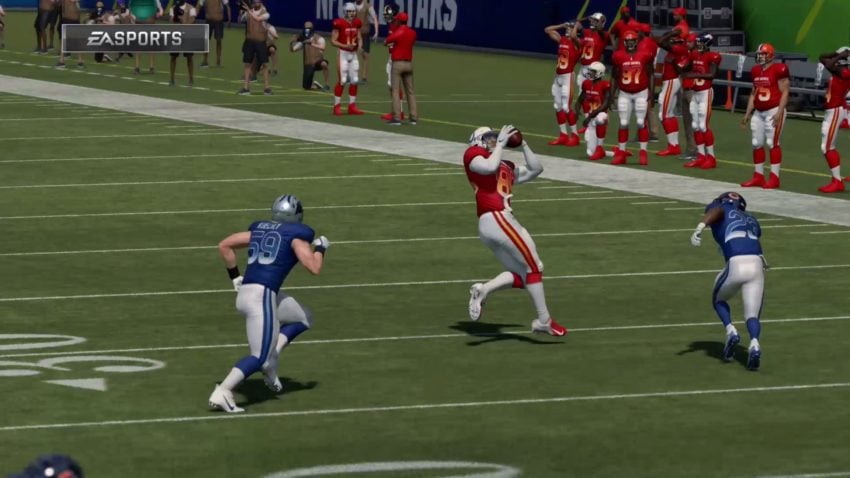 Do you love to play MUT and grind out those challenges? This is how I tend to play Madden Ultimate Team and after playing Madden 20 for the first time I'm a big fan of the new system that makes rolling through challenges much easier.
When you complete a challenge in a series, you can roll right into the next challenge. In Madden 19, you had to go out, collect rewards, go back in and it was a lot of loading and a lot of time wasted. With Madden 20, you go right into the next Challenge in a series.
I also enjoy the new options to choose the difficulty for challenges to earn more stars. This makes it easier to get through missions quickly when you are starting, or to really challenge yourself.
You can buy Madden 20 for PC, Xbox One and PC starting at $59.99 at GameStop, Best Buy, Amazon and digitally through Microsoft and Sony.
Last update on 2022-11-30. This post may contain affiliate links. Click here to read our disclosure policy for more details. Images via Amazon API

As an Amazon Associate I earn from qualifying purchases.