5 Things to Know about the watchOS 6 Update
The watchOS 6 update is coming to your Apple Watch today. This free update for the Apple Watch brings a load of new features to your watch and changes how it works with macOS 10.15. This is what you need to know about the free watchOS 6 update.
We just saw a watchOS 5.3.1 update arrive, but Apple is also working on the next big thing for the Apple Watch. This is what the Apple Watch 5 will run and today you can install it on your watch.
This new Apple Watch update includes exciting new Apple Watch features and it finally delivers a proper Apple Watch app store so that you can easily find new apps designed specifically for your Apple Watch.
watchOS 6 Release Date & Time
The watchOS 6 release date is September 19th, right alongside iOS 13 and a day before the Apple Watch 5 release date Expect a release time around 1 PM Eastern, 10 AM Pacific.
Some of the new features, like the enhanced macOS connectivity, won't arrive until October. Apple will deliver the macOS 10.15 update sometime in October.
New watchOS 6 Features
Apple showed off a collection of new Apple Watch features that are coming as part of the watchOS 6 updates this month. Here are some of the biggest new features that are coming to the Apple Watch.
Apple Watch App Store
New Health Apps – Dose, Sleep and Cycles
New Watch Apps – Calculator, Voice Memos, Audio Books
New Complications – Hearing aid, audiobook status, rain info, noise info
New Apple Watch faces – X-Large and California
Here's a closer look at the new watchOS 6 features.
watchOS 6 Beta
There is a watchOS 6 beta that you can install on your Apple Watch to test out the new features early, but it's not as simple and easy to use as the macOS 10.15 beta and the iOS 13 beta.
Apple offers a developer watchOS 6 beta specifically for professional users to test the new features and to develop apps for the watchOS 6 update.
At this point, you shouldn't try the beta, just wait for the official release date.
watchOS 6 Compatibility
Apple dropped support for the first-generation Apple Watch with watchOS 5 last year, and there is no change in that policy. The oldest Apple Watch is still not supported.
The good news is that the watchOS 6 update is still coming to all of the current Apple Watch models from series 1 and up. This will obviously pack in the most benefits on the Apple Watch Series 4, but older models still gain a few new features.
Apple Watch 5
Apple announced a new Apple Watch Series 5 this month. It offers a compass, an always-on retina display and international emergency calling to name a few features.
Read on below to learn about the new Apple Watch 5 features, and click here to learn where you can buy the Apple Watch 5.
4 Reasons Not to Install watchOS 6.2.8 & 10 Reasons You Should
Install if You Have Apple Watch Problems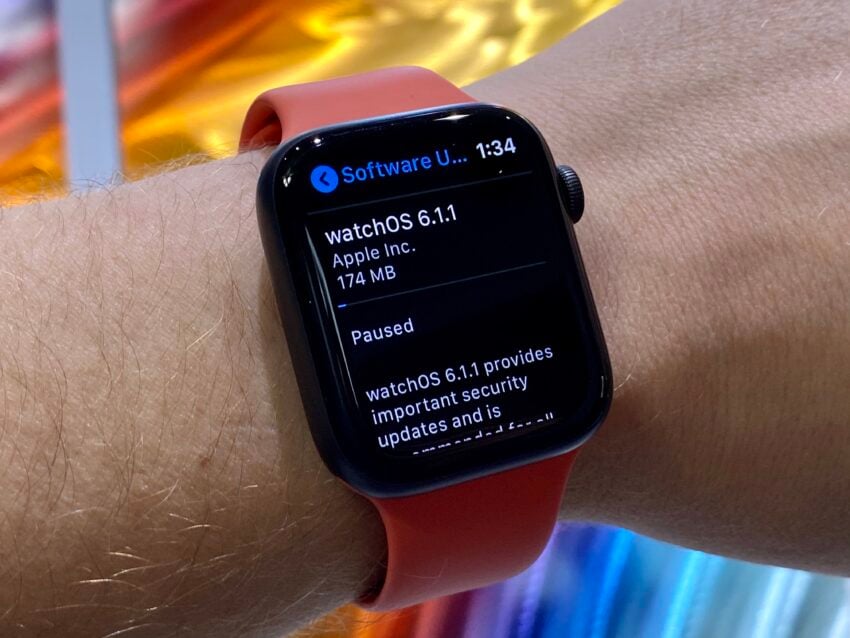 Is your Apple Watch sluggish or are you experiencing problems on watchOS 5 or watchOS 6? If so, you may find a better experience on your Apple Watch with watchOS 6.2.8.
The watchOS 6.2.8 update does not list specific fixes, but every small update like this does include some fixes. The previous updates fixed issues with FaceTime, playing music, and Bluetooth connectivity.
If your Apple Watch is slow, connectivity isn't what it used to be or there are other issues that you simply deal with every day, there is a chance that Apple will fix some of these issues in watchOS 6.2.8.