5 Things To Know Before You Buy the Nintendo Switch
The Nintendo Switch is the latest Nintendo Console. The odds are good that you learned about it in the Nintendo Switch Super Bowl ad and are looking for more information before you buy one. This is a quick look at what you need to know
This is a quick look at what you need to know before you pre-order the Nintendo Switch if you can find it in stock.
The Nintendo Super Bowl ad highlights the portability of the Switch, which allows gamers to enjoy Nintendo games on the go, as well as to plug in and play on a bigger screen. There are many opportunities for split screen play and in person multiplayer — as well as online play.
In the Nintendo Switch video above you'll see a longer version of the Super Bowl ad that includes opportunities to play against each other using the controllers and the portable screen even when there is no TV connected. We see a variety of Nintendo Switch games played in various ways.
Nintendo Switch Release Date
The Nintendo Switch release date is March 3rd. It is hard to find the Switch in stock to pre-order, but it is coming in and out of stock in the lead up to the release date. Here's how to find the Nintendo Switch in stock.
This is the same day as Legend of Zelda Breath of the Wild, which is coincidentally one of the launch titles. The Nintendo Switch is
The Nintendo Switch is $299 and includes everything you need to start playing, except for games. There are some important accessories to look for. The console doesn't include a mobile charger for the controllers.
Don't Overpay for the Nintendo Switch
While it is tough to buy the Nintendo Switch right away, you should be cautious about overpaying for the console. There are two ways you can overpay for the Switch.
The first is paying for a Switch Bundle that includes accessories and games you don't want or need. GameStop is the biggest offender with Nintendo Switch Bundles up to $637. We will likely see more of these as the release date nears. If you want everything in the bundle, go for it, but keep in mind these are not typically bundles where you save money.
Watch out for sales on eBay or Craigslist where you will pay a big premium to get the Switch on day one if you don't have an official pre-order.
Limited Nintendo Switch Games
Yes, you get Zelda and there is a New Mario coming for the Nintendo Switch, but at launch, there are not a lot of Switch games available. Here is a list of all the confirmed Nintendo Switch games. Below are the launch games;
The Legend of Zelda: Breath of the Wild
Super Bomberman R
Skylanders: Imaginators
Just Dance 2017
1-2-Switch
We will see many other Switch games come this year, but you will be waiting to play Minecraft, Mario Kart, and Super Mario Odyssey. The new Super Mario Switch game doesn't come out until the holiday season.
You Have to Pay to Play Online
For the first time with Nintendo, you need to pay to play online. This is how it works on the PS4 and the Xbox One, so it's not surprising to see Nintendo join those ranks.
There is no official Nintendo Switch Online pricing information, but company statements place the cost at $2 to $3 a month.
Unlike competing consoles that route voice through a headset connected to the console, you use a smartphone app to chat with friends while playing the Switch.
You Can Play Old Nintendo Favorites If You Pay Again
One handy feature to this portable console is that you can play your favorite Nintendo games. This does require that you pay for the games again like we've seen on the Wii and Wii U.
On the upside, you can play Mario, Super Mario Bros, Super Mario World, Zelda and many other Nintendo Classics.
This allows you to play them on the big screen at home or to take them with you and play on the go with actual controllers.
9 Exciting Things the Nintendo Switch Can Do
Go Mobile by Attaching the Nintendo Switch Joy-Con Controllers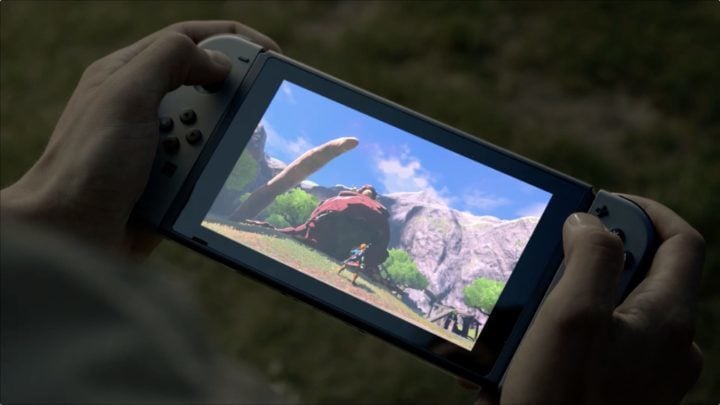 By their very nature, every living room video game console can connect to a television set. Lots of people expected Nintendo's latest entry in the console space to be more traditional than the Wii and Wii U were.
Nintendo decided to take the road less travelled. When docked, the Nintendo Switch behaves like a normal console. There's a wireless controller and support for high-definition televisions. Magnetic strips – Nintendo calls them rails – on the left and right edge of the Nintendo Switch allow you to connect to Joy-Con controllers to either side of the console itself.
By attaching these miniature controllers and lifting the Nintendo Switch out of its dock, you enable a handheld mode that lets you play your games away from your television set for as little as 3 hours and as much 6 hours.
In introducing a hybrid mobile and living room gaming console, Nintendo is trading on its strength in mobile gaming and its popular selection of living room characters. The console gets you the best of both worlds, with only a single hardware purchase.

As an Amazon Associate I earn from qualifying purchases.