10 Microsoft Surface Pro 4 Tips & Tricks
There's so much more to the Surface Pro 4 than its status as an "evolutionary upgrade" suggests. Using these Surface Pro 4 tips and tricks well help you unlock the Windows 2-in-1's most exciting features and upgrades.
The cheapest Surface Pro 4 doesn't have a fan at all, making it more convenient to read books and newspapers on. Every Surface Pro 4 has a 12.3-inch 2736 x 1824 resolution display that's great for watching movies and television shows. The Intel Core i7 and Core i5 versions have lots of processing power and RAM to get you through your everyday tasks.
Its 8-megapixel rear-facing camera is better than the 5-megapixel cameras on previous Surface Pro devices. It has a new Surface Pen and a Windows Hello camera for taking advantage of features baked into its Windows 10 operating system. Older Surface Pros will never get these features.
Read: 14 Surface Pro 4 Problems & Fixes
Whether you're a new-comer or owned a Surface before, here are some Surface Pro 4 tips for getting the best out of your new device.
Surface Pro 4 Tips: Activate Windows Hello
Windows Hello lets users sign into their Windows 10 PC by gazing at it or putting their finger on a fingerprint reader. It requires Windows 7 and Windows 8 users to buy new PCs or camera accessories.
The Surface Pro 4 comes with a camera that supports Windows Hello built-in. Enable Windows Hello from the Accounts area in the Settings app. Then go to the Sign In Options area to activate it. Every Surface Pro 4 user can turn on Windows Hello face sign in. Fingerprint sign in requires the $159.99 Surface Pro 4 Type Cover with Fingerprint Reader.
Read: How to Login in on Windows 10 With Windows Hello
Surface Pro 4 Tips: Backwards Compatibility
Anyone that purchases the Intel Core M3 version of the Surface Pro 4 can expect a tiny power brick. It's small because this version of the device doesn't require a lot of power. Also, it's missing the full-size USB port that allowed users to charge their smartphones and Surface Pros at the same time.
Don't worry, you can use your old Surface Pro Power Supply with the Surface Pro 4 and get the same experience. Microsoft sells the Power Supply for Surface Pro 4 with the USB port in its online store for $79.99.
Make no mistake, the Surface Pro 4's Type Cover is the best the company has ever produced. It's more rigid than old Surface covers. Island style keys and more key travel improve the typing experience greatly. Also, there's a wide glass trackpad that your finger just glides across. Unfortunately, it's still a $129.99 upgrade, at least.
You can reuse other old accessories to save cash though. If you have an old Surface Pro 3 Type Cover, don't throw it away. Instead, use it with your new Surface Pro 4. For newcomers, the Surface Pro 3 Type Cover is on sale for around $90 at Amazon.
Surface Pens designed for the Surface Pro 3 work with Surface Pro 4 too. You only miss out on the eraser cap and some pressure sensitivity.
Surface Pro 4 Tips: Use the Surface Pen as a Shortcut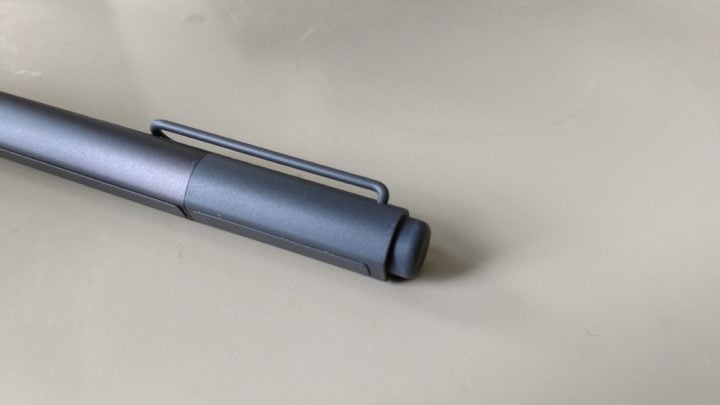 The refreshed Surface Pen can act as a wireless remote for your device. Click the Surface Pen's top once and it'll open Microsoft's OneNote application. Hold the pen top down and you'll get access to Cortana. Click the Surface Pen's top twice to take a screenshot and send it to OneNote. You don't have to press the power button first for these shortcuts to work.
The Settings app has options for customizing your Pen experience in the Settings app. It's in the Devices area.
Surface Pro 4 Tips: Don't Bother with the Volume Buttons When the Keyboard is Open
Microsoft moved the volume buttons on the Surface Pro 4. Now, they're on the top of the device, making them awkward to use in landscape mode.
Don't bother trying to use them when you're outside of Tablet Mode and have the new Surface Pro 4 Type Cover attached. Use the volume buttons on the Surface Pro 4 Type Cover instead. They're in the top row.
Surface Pro 4 Tips: Don't Expect Big Battery Gains, Create Your Own
Microsoft says that users can expect 9 hours of video playback, the same as previous Surface Pro 4 devices, which isn't a lot. Try using Windows 10's battery saving features to go longer between charges.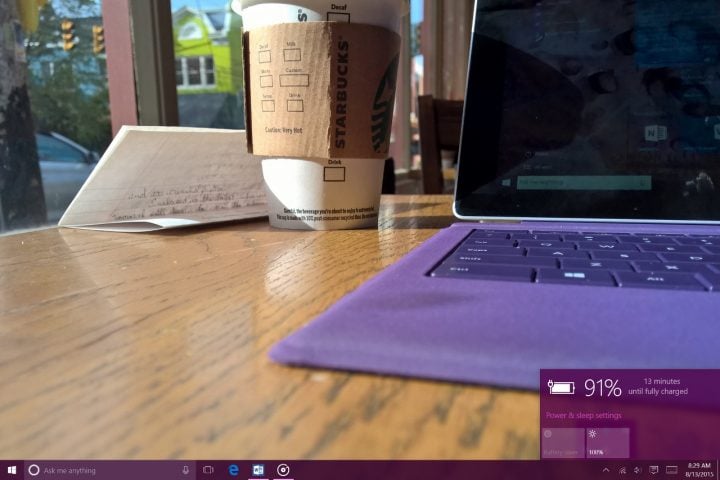 Read: How to Get Better Windows 10 Battery Life
Tap or click on the battery icon in the Taskbar along the bottom of your screen. This area has controls for screen brightness and a toggle for Battery Saver. Use the lowest brightness setting possible to boost your Surface Pro 4's battery life until your next charge. Battery Saver turns off background app updates and dims your screen.
Closing any unnecessary apps that you have open can boost battery life too, just make sure you save whatever you are doing in the app first.
Surface Pro 4 Tips: Attach the Surface Pen to your Surface Keyboard
You don't have to attach your Surface Pen to the left edge of the Surface Pro 4 to keep it safe. Really, it's better to attach it to the keyboard flap or your pocket when not in use. The magnets on the body of the tablet are strong, but the Surface Pen can still fall off.
Surface Pro 4 Tips: Add Storage Using the MicroSD Card Slot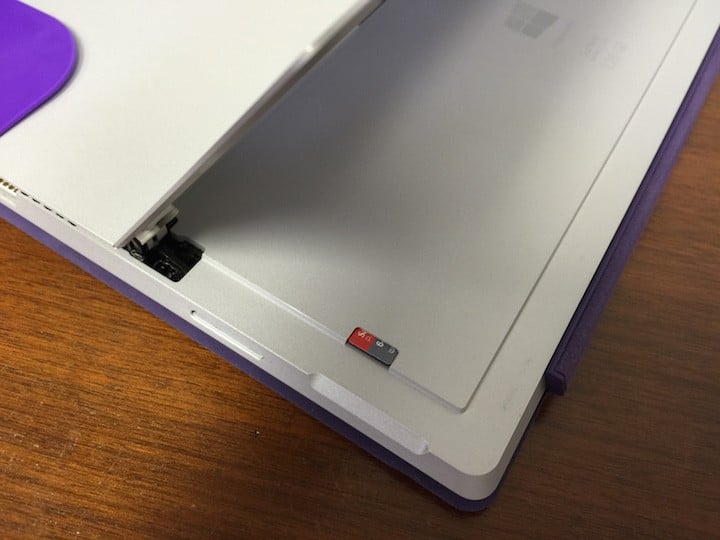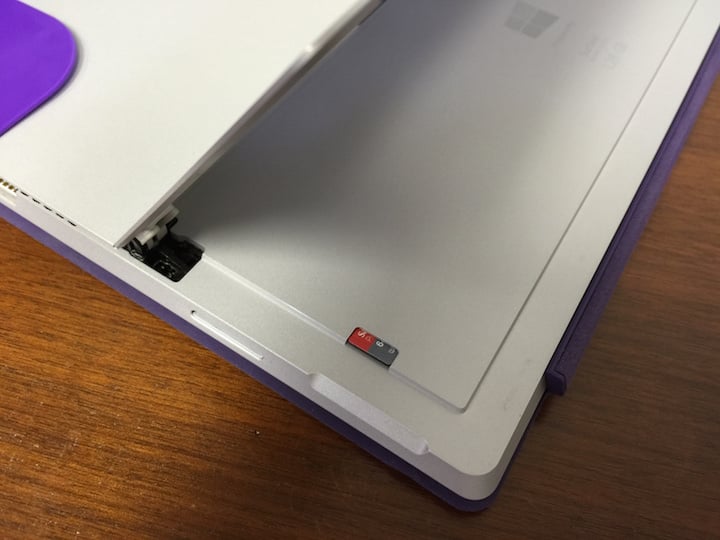 If you need a lot of storage, but don't want to pay extra for it, consider buying a high-speed, high-capacity MicroSD card to stick into your Surface Pro 4. Keep smaller files and things that you need quickly on the Surface Pro 4's internal storage. Move video, pictures and music to the MicroSD card.
Read: 13 Essential Surface Pro 4 Accessories
Surface Pro 4 Tips: Setup Tablet Mode to Turn On Automatically
Microsoft doesn't set Windows 10's Tablet Mode to turn on and off when it detects a keyboard. Instead, the company leaves the decision up to you. Go to the Settings app and tap or click on System. Then look for the Tablet Mode item in the menu on the left. Every time you remove your keyboard Windows 10 will turn on touch gestures and make every app fullscreen. The Start Menu shrinks to its regular size and your apps stay in windows when you add the Surface Type Cover.
Read: How to Use Tablet Mode in Windows 10
Surface Pro 4 Tips: Use Ink Workspace
The new Ink Workspace area has apps for doodling on screenshots, creating sticky notes full of important stuff and finding more apps that are ready for your Surface Pen. Tap or click on the pen icon in the Taskbar to open Ink Workspace and get productive with Surface Pen.
Surface Pro 4 Tips: Turn On Cortana
Cortana is Microsoft's digital personal assistant. She can set reminders, perform searches, remind you of appointments, manage your travel and identify the latest music.
Read: How to Use Hey Cortana with Windows 10
Before you can use her, you need to turn her on from the search box in the Taskbar. Tap or click anywhere in that search box to get the setup going. A setting in Cortana's notebook lets the personal assistant wake your Surface Pro 4 when asleep too. Just tap or click on the Settings cog in Cortana's window.
Remember to experiment with your Surface Pro 4. Use it in the same ways you would a notebook or a tablet. Try apps from the Windows Store and programs from the internet. Look for ways to mix productivity and entertainment.
10 Best Surface Pro Alternatives in 2020
ThinkPad X1 Tablet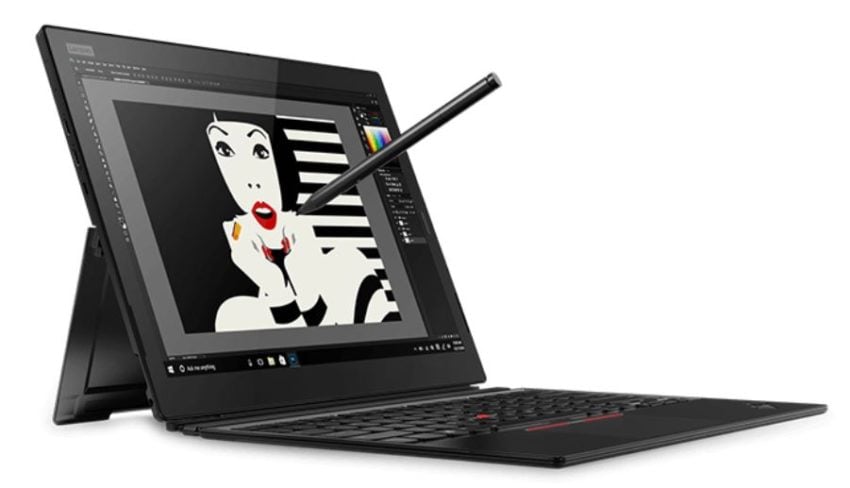 The ThinkPad X1 Tablet offers a lot of great features: a durable shell, an amazing display and Amazon's Alexa personal assistant.

The ThinkPad X1 Tablet has a 13-inch display. And, despite its good looks, the device has passed 12 military torture tests to ensure it can survive dust storms, cold temperatures, drops and spills. Finally, If you don't find Microsoft's Cortana personal assistant useful, the ThinkPad X1 Tablet has the same Alexa personal assistant your Echo smart speakers do. A Surface Pro won't survive a drop or spilled liquid and Cortana isn't as useful as Alexa is.


Read: ThinkPad X1 Carbon, X1 Yoga and X1 Tablet Have Stunning Display and Alexa


The third-generation ThinkPad X1 Tablet has powerful processors, plenty of RAM and other options. Models come with up to an 8th generation Intel Core i7 processor and 16GB of RAM. You won't get stuck waiting for web pages to load or your photo editor to process your touch-ups. If you don't like passwords, use the IR camera on the front of the ThinkPad X1 Tablet to sign into Windows. This 2-in-1 also has a fingerprint reader.

The ThinkPad X1 Tablet's screen detects 4,096 different levels of pressure from its digital pen. Besides that, it's a really detailed display. Windows, your videos and everything else you do on it looks crisp and detailed. Again, it's three times as sharp as an HD display.

Like other Surface Pro 4 alternatives, this Windows 2-in-1 connects to its included keyboard cover using a special slot on its bottom edge. It has Thunderbolt 3 ports for fast data transfers, a MicroSD card reader and a headset jack. With LTE connectivity, you can add the ThinkPad X1 Tablet to your smartphone data plan. You can't do that with a Surface Pro 4.


As an Amazon Associate I earn from qualifying purchases.