12 Apple Music Tips and Tricks to Take Your Listening to 11
Here is a guide to show you some new features of Apple Music.
Apple Music is Apple's streaming music service that allows subscribers instant streaming and download access to their massive music library. This subscription comes with new features to iOS 10, as well as some new features to the overall music player.
Read: iOS 10 Tips & Tricks
The advantage of Apple Music over Spotify is the ability to keep all of one's local and cloud music in the same App, including iTunes purchases. There are a multitude of arguments that users can make over the differences and benefits of the two, yet Apple Music definitely packs some high quality features which may give it the edge for some users.
12 Features and Tips For Apple Music
Here are 12 features and tips that you may not know about for Apple Music.
Watch the above video for more information about these features and tips.
Picking Favorites
One of the most important steps to fully utilize all of the features of Apple Music is to select your favorites during the initial setup. You will be able to choose genres you like, love and dislike, then move on to artists using the same selection process.
Spending a little extra time on these selections will yield fairly consistent results in Apple Music's For You tab signified by the heart icon. Apple will curate playlists, artist recommendations, deep cuts and more based on your choices so to fully use this tab, take a few moments to train it on your likes.
If you accidentally blew through this selection process and are not seeing anything you like in the For You tab, you can navigate to your profile image and tap Choose Artists For You. This will allow you to re-train Apple Music to your likings.
By also tapping the Heart icon on songs you enjoy, you also improve the reliability of For You's recommendations.
Download for Offline Listening
Apple Music boasts a large library of music and all of it can be saved locally on your device for you to listen to when streaming isn't available. This will all depend on your free space available yet you usually should be able to store at least a couple of albums or playlists for later use.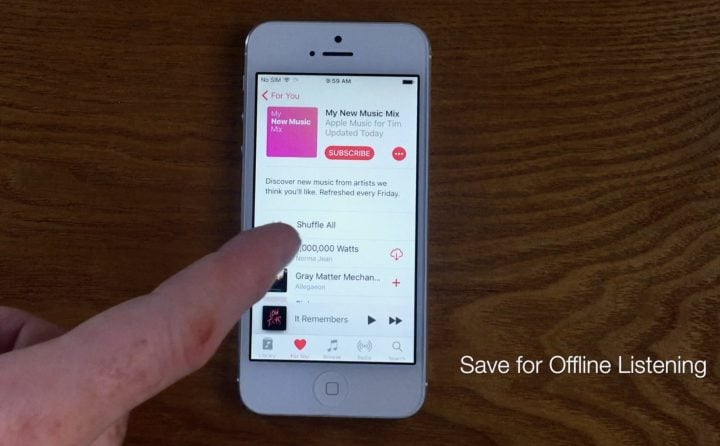 By navigating to any song, album or playlist, tapping the three dots will pull up more information about it. When you see the Cloud Download icon appear, it means that the album or song is available for you to locally store on your iPhone.
Downloading songs in advance for a trip when you won't have wi-fi connection and don't want to waste data is an excellent idea and will also save battery life for you in the long run. It is advisable to occasionally clear off music that you aren't currently listening to after a period of time in order to free up additional space, yet this process may not be needed as often if you have a higher capacity phone.
Wake Yourself Up With Music
One of the advantages of Apple Music's library is that any song you would love to start your day to is available for you to download and safe for offline use. Using the Music App in conjunction with Clock will allow you to set a song to play as your alarm clock.
Navigating to the Clock app and choosing Alarm settings will allow you to scroll down past your usual ringtones and see options from Apple Music. Selecting one of your downloaded songs will now designate it to play over your iPhone speaker or maybe through a charging speaker dock to wake you up in the morning.
Using Siri to Identify and Play Songs
Using Apple Music with Siri allows you to use the Shazam functionality to identify songs you hear around you. Activating Siri and asking her what song is playing will prompt her to listen and then give you a Shazam result which can then be tapped to lead you to that song on Apple Music. This feature is incredibly handy on the go when you hear a song and may not have the Shazam app downloaded and need to quickly identify it. You are able to then easily.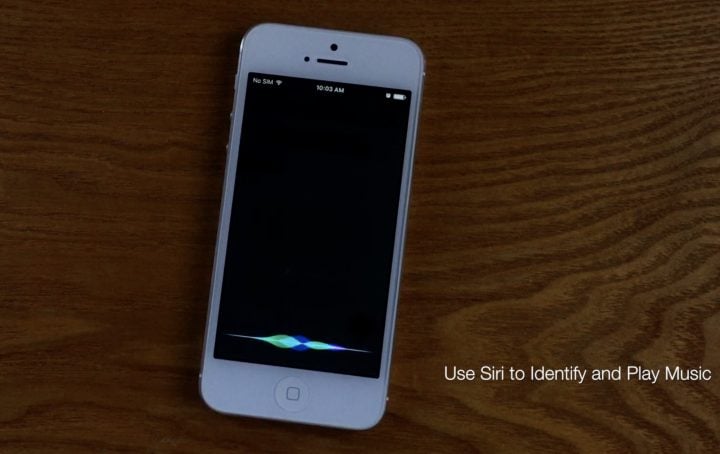 You can also use Siri to request to play a song from your library or Apple Music by activating her and asking her to play the song. She will usually take a moment to load the song based on your network connection and then you should hear the song start playing from Apple Music.
Siri is a great hands free assistant and using these features with Apple Music makes listening to and identifying music on the go much easier.
See Song Order
Did you have your phone shuffle and didn't remember to see which artist you really enjoyed? Fortunately there is now a way to see your listening history by tapping the Up Next icon in the Now Playing card.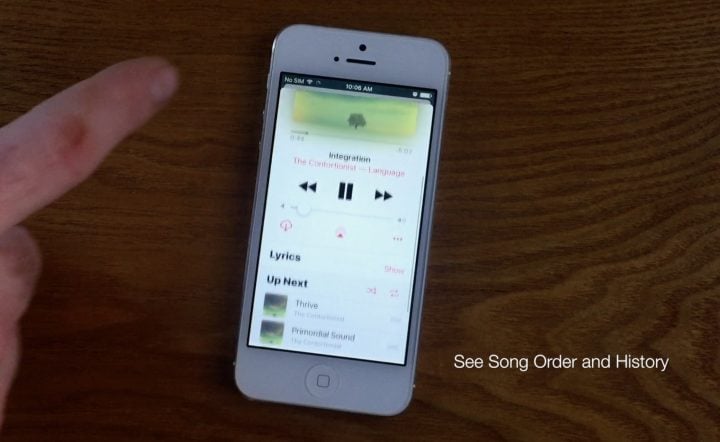 This is an excellent feature for assembling playlists based off of For You recommendations or adding songs that you are listening to on any of the Radio stations you create.
Customize Playlists with Photos
In iOS 10, you are now able to add your own album artwork to Playlists you create. By tapping the album artwork icon for your given playlist, you will see the iOS camera icon appear, letting you select from your photos or camera for your Playlist Art.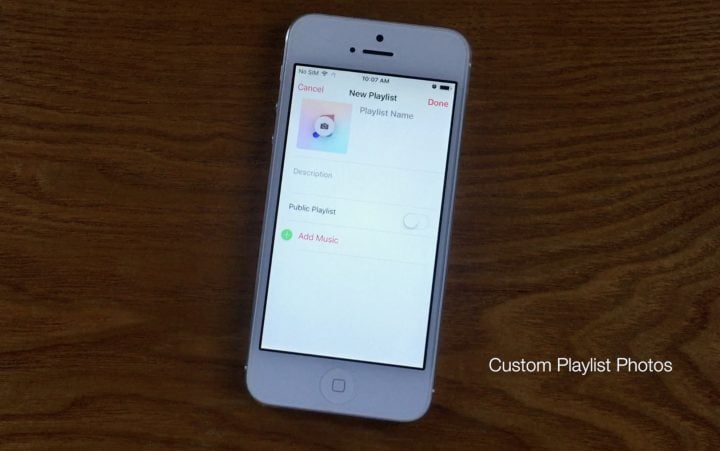 This is a great way to customize a special playlist for a trip, date or just a special collection of songs by giving it some memorable album art that you've created or a photo that captures that mood.
Change Song Order
When listening to a random shuffled playlist or a collection of songs, we are able to look at what is coming in the Up Next menu. Sometimes despite the enjoyability of luck of the draw, we may want to change the impending order of our listening experience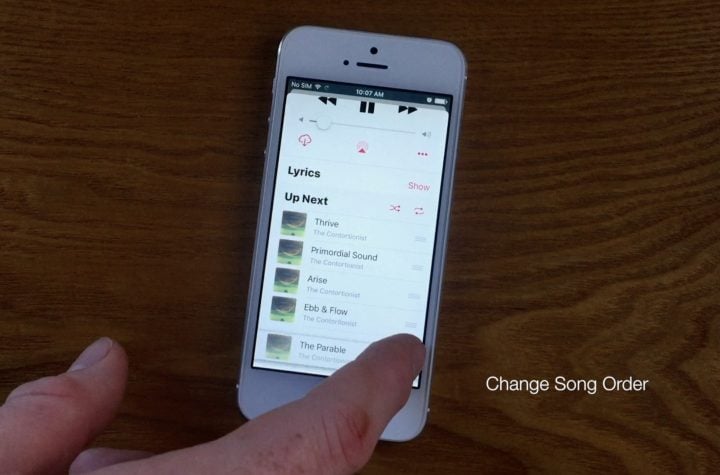 When you access Up Next, you should see a familiar set of three lines next to each queued song. This is the icon to represent the elements ability to be moved up and down vertically. This means that at any given time you are able to change the order of what is coming next in your list.
Sliding the song up and down will change its playing order, giving you further control over the order of songs being played.
Apple Music in Apps
When you are talking to a friend about an album you recently purchased or have been listening to in Apple Music, iOS 10 will attempt to include a hot link to the album in Apple Music using its Quick Look search capabilities. This feature has appeared multiple times in the Messages app during my usage.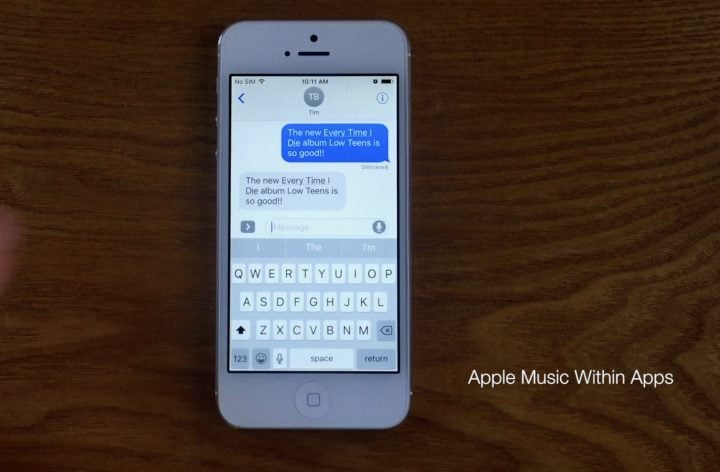 Tapping the underlined Artist or Album name will reveal a transparent window to show you results from the web including immediate links to that album and artist in Apple Music. This is a great way for iOS to intuitively try to help you access as much information within each app as possible and have them easily interact with each other.
Quickly Navigate to Artist
While playing any give song, tapping the three dots will show you additional information about it. When you see the artist's name, you will also notice a arrow pointing to the right. Tapping this will instantly bring you to that Artists' Apple Music profile page, revealing their whole catalogue and more information about them.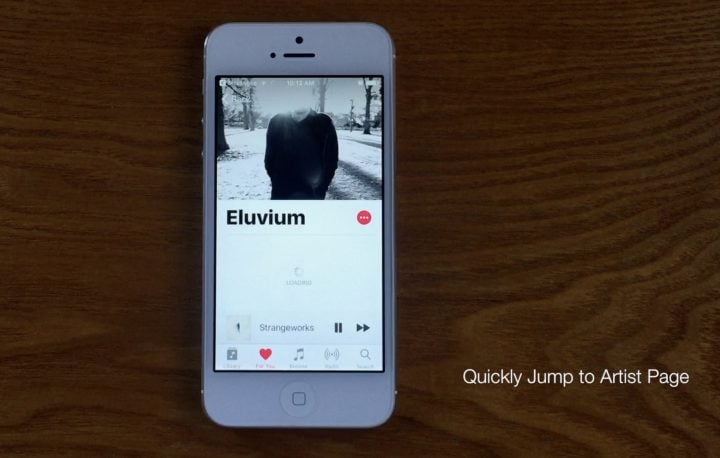 This feature is a little hidden yet is a quick way to jump to any given artist's wealth of work if you are really enjoying the song that is currently playing.
Use Cellular Data to Stream
If you are on the go frequently and don't use wi-fi or a hotspot to network your devices, you may be interested to know that all of Apple Music's features will work over cellular data connection. Be wary however that this is a very quick way to eat up your data plan if you don't have an unlimited plan.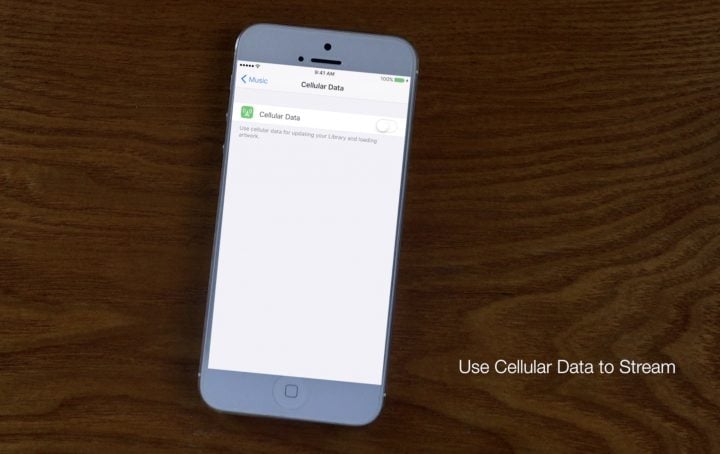 By navigating to the Music tab in Settings, you will see the option to enable Cellular Data. Sliding this will allow you to perform any cloud based processes you normally would conduct over wi-fi and download music for offline usage or simply stream content.
You can also adjust the quality at which music streams over cellular when you enable the data usage. Lower quality music will definitely yield less of an impact on your data usage.
Add Songs to iCloud Music Library
If you are using iTunes Match or iCloud Music Library, tapping the Plus icon on any song, album or playlist will add it to your mobile iTunes library. Now when you open any app that is using your Apple Music Account and has your iCloud Music Library enabled, you will see saved items from your browsing.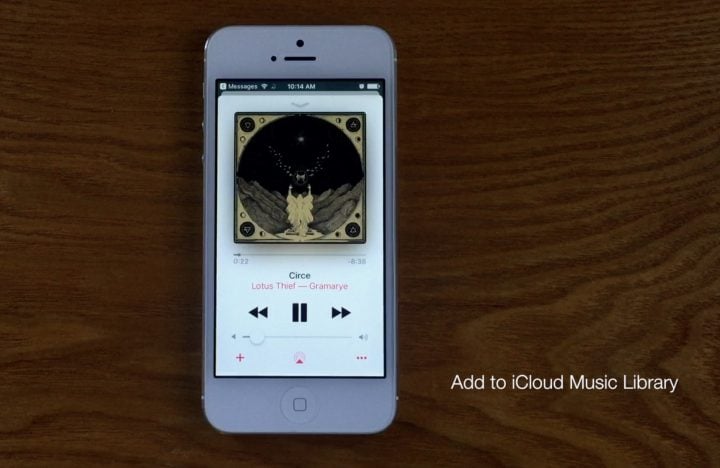 This has been a very useful feature for quickly adding essentials to my library when not wanting to make individual playlists for them. They will appear in my Recently Added playlist and be readily available for stream/download.
Show Only Offline Music
When you are on the go and don't want to compromise your data connection limits and don't have a wi-fi network near by, it is a good idea to potentially only stick to offline media. As mentioned above, offline songs take less battery to play and don't rely on a data connection whatsoever as they have already been downloaded.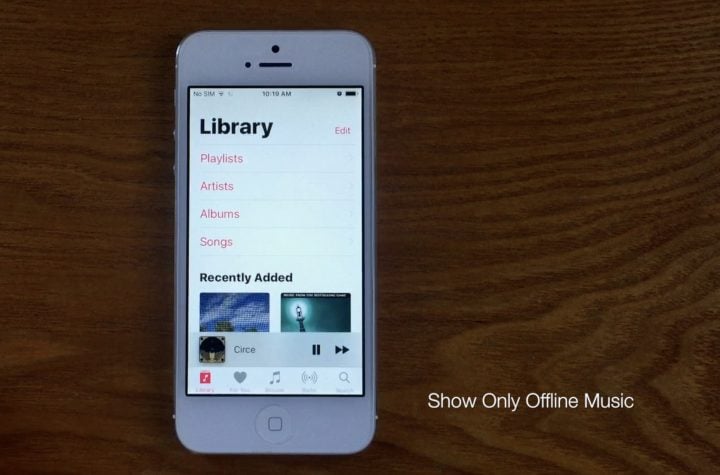 From the Library page, clicking Edit in the top right corner will allow you to add or remove icons in your Library. One of the options is Downloaded Music and tapping this will reveal only songs that are available in the offline format.
This is again a great way to manage your data and ensure you are only using local media when playing music on the go.
There are 12 features and tips for Apple Music in iOS 10. These features are some of the more beneficial upgrades to Apple Music in the new OS and will likely benefit your listening experience going forward. There are multiple streaming options available yet Apple is definitely trying to up its game with the new updates to Apple Music.
What's New in iOS 11.4.1
What's New in iOS 11.4.1
The iOS 11.4 update added Messages in iCloud and AirPlay 2, but it also brought issues along with it. The iOS 11.4.1 update keeps these long anticipated features and includes fixes for some iOS 11.4 problems.
Specifically the iOS 11.4.1 update;

Fixes an issue that prevented some users from viewing the last known location of their AirPods in Find My iPhone.
Improves reliability of syncing mail, contacts and notes with Exchange accounts.
This update also includes other bug fixes and security upgrades. It's possible that this update includes a fix for bad iOS 11.4 battery life.
Messages in the Cloud allows you to backup your iMessage conversations to the cloud just like you back up your notes, contacts and photos. This means they are backed up in case something happens to your phone, but that's not all.
Messages in the Cloud syncs deleted messages and threads across your iCloud devices. This means everything will show up the same across your Apple devices. With this in place you should see the same conversations everywhere, all of the time.
This also backs up the photos and attachments in the cloud so you have more room on your iPhone or iPad. When you get a new device all of the messages sync to that device so you don't lose anything.