These are the best NBA 2K18 deals available. They can get the cost of NBA 2K18 down to as little as $47 before you trade any of your games.
The official NBA 2K18 release date isn't until Tuesday, September 19th, but there is already plenty of savings because pre-orders started for the game months ago. Buying the title early lets you play on September 15th as part of NBA 2K18 Early Tip-Off Weekend.
These are great NBA 2K18 deals for every type of gamer. Those with a huge, existing game collection can sell off their old games to bring down the cost of NBA 2K18. Gamers that don't have any old titles to sell can use their Best Buy Gamers Club Unlocked or Amazon Prime subscription to get a discount.
Best NBA 2K18 Deals
Before deciding on a deal, remember that the regular rules of buying a video game early apply to these NBA 2K18 deals. If you buy at a store, you need to go back to that store to pick up your copy of the game on release day. Also, don't count on canceling a digital NBA 2K18 pre-order because those can't be returned.
Read: NBA 2K18 Demo Release & Prelude Details
Amazon NBA 2K18 Deals
Amazon's NBA 2K18 deals slash the cost of physical copies of the game by 20% for Amazon Prime members. This savings applies to any edition of the game, no matter how expensive it is. If you already have a Prime subscription, you can take advantage of this savings any time before release day. Amazon Prime costs $10.99 a month or $99.99 a year.
Read: NBA 2K18: Which Edition to Buy?
Buy NBA 2K18 for $47.99 from Amazon
Buy NBA 2K18 Legend Edition for $79.99 from Amazon
These deals aren't available yet because Amazon doesn't list physical copies of the game yet. They could add them any day now.
If you'd really like to boost your savings, take advantage of the Amazon Trade-In Program. You could get credit for your games almost instantly, and you can apply that credit toward anything Amazon sells. A copy of NBA 2K17 for PS4 gets you a $10.97 discount.
Best Buy 2K18 Deals
The NBA 2K18 deals at Best Buy also rely on memberships. You need a Best Buy Gamers Club Unlocked subscription to get an immediate 20% discount on a physical copy of NBA 2K18 there. This subscription costs $30 for two years.
The second of the retailer's NBA 2K18 deals requires a My Best Buy Rewards membership to claim a $10 gift card. You can't use the gift card to get immediate savings on the game, but you can apply it to future Best Buy purchases, like another game pre-order for your console.
Buy NBA 2K18 for $47.99 from Best Buy ($37.99 including gift card for future purchases)
Buy NBA 2K18 Legend Edition for $79.99 from Best Buy ($69.99 including gift card for future purchases)
Stack these deals with used game sales to boost your savings. Best Buy's Game Trade-In Program will give you a $10.30 gift card when you trade a copy of NBA 2K17. You can apply this credit towards your copy of NBA 2K18, other games and gaming accessories.
When to Expect Bigger NBA 2K18 Deals
If these NBA 2K18 deals don't get you the game for as little money as you'd like, don't worry. More NBA 2K18 deals are on the way. They may help you save even more.
GameStop tends to boost trade values in the weeks leading up to a new game release. For example, the company may give more credit for Gears of War 4 when you apply that credit to NBA 2K18. With less than a month to go until the NBA 2K18 release date, that extra savings could come at any time.
After launch, expect another round of NBA 2K18 deals for the holiday shopping season. Retailers end the year with steep discounts on games to entice shoppers to buy accessories and new consoles with them. We could see NBA 2K18 sell for $35 instead of its $60 standard price when these deals arrive.
Read: NBA 2K18 MyLeague & MyGM: What's New
NBA 2K18 Features: 8 Reasons to Upgrade
More Realistic Player Movement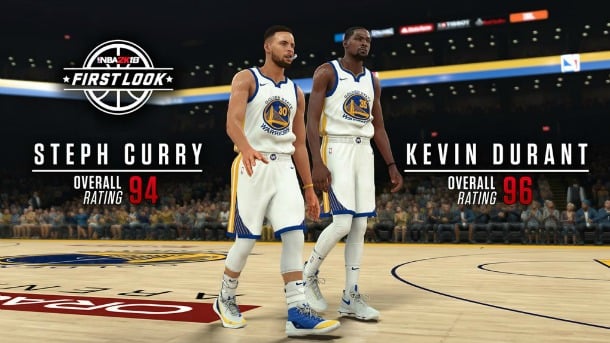 Speaking to Game Informer, NBA 2K18 gameplay director Mike Wang says that players can expect this year's title to have a lot less animation in it.
"We've been accused of being animation heavy at times, and this year we've done a good job of making the game feel like you are in complete control," Wang told the outlet in August.
The new physics system takes height, weight, acceleration and speed of each player into account before it renders any animation. That way, players react the way that you expect them to. It also means that transitioning for a layup or dunk is less jarring.
The NBA 2k18 images here are from GameInformer, to which 2K games shared new NBA 2K18 details.