NBA 2K18 Pre-Orders: Which Edition to Buy?
With the NBA 2K18 release date set for September 19th, the time to place NBA 2K18 pre-orders is now. Gamers that don't place NBA 2K18 pre-orders don't get access to Early Tip-Off Weekend on September 15th.
If NBA 2K18 pre-orders make you uneasy, just know that you're buying a game that is packed with features. Since early May, Visual Concepts and 2K Sports have teased all the new things that this game includes. The title has a reworked MyLeague and MyGM experience that now has a story of its own. Also, new Classic Teams and updated rosters let you relive the best moments of your favorite players. Your favorite players, at least on the Xbox One, Windows PCs and PS4, look more realistic.
NBA 2K18 MyCareer has new things that hardcore basketball fans must experience for themselves. You roam around The Neighborhood to do different things with your custom player in this new game. As you visit its arcade, theater, Footlocker, barber shop and training facility, you see custom players made by other gamers. Pro-Am and The Park exist within The Neighborhood. Because of this, you no longer have to back out of MyCareer to play them.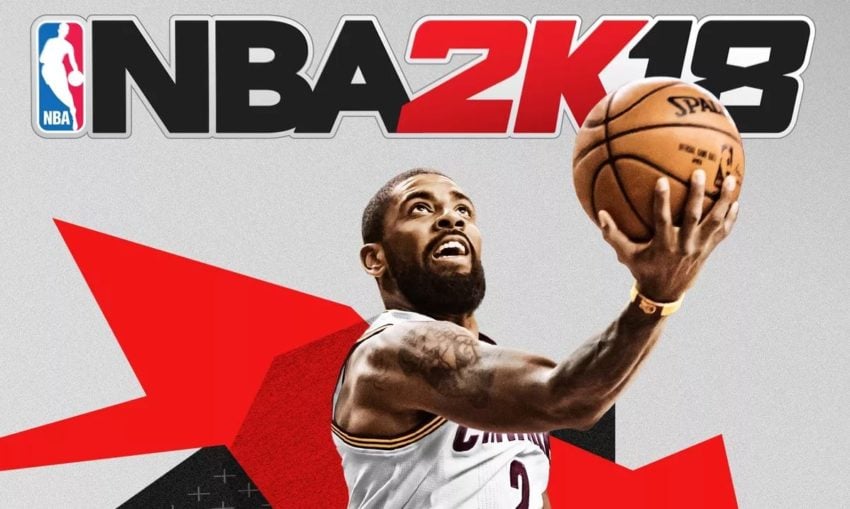 Here's everything that you need to know about NBA 2K18 pre-orders and editions. Use this information to choose the right version of the game for you.
Read: NBA 2K18 Release Date, Features & Details
NBA 2K18 Standard Edition – $59.99
NBA 2K18 Standard Edition gets you access to the NBA 2K18 Early Tip-Off Weekend, provided you place a pre-order before September 15th. You also get 5,000 in Virtual Currency, 10 Weeks of MyTeam Packs and some MyTeam themed cosmetic items for use in the game. The Standard Edition is available to Xbox 360, Xbox One, PS4, PS3, PC and Nintendo Switch gamers.
Who is it for?
NBA 2K18 Standard Edition is for mild fans of the series that don't care as much about Virtual Currency as they do getting access to the game four-days before everyone else.
Buy NBA 2K18 Standard Edition from Amazon 
NBA 2K18 Legend Edition – $99.99
NBA 2K18 Legend Edition is the upgraded version of the standard game. It doesn't come with any exclusive features. Instead, it packs 100,000 in Virtual Currency that can make the opening hours of MyCareer a little easier for you. Legend Edition costs $99.99. If you have an Xbox One, PS4, PC or Nintendo Switch, you can buy this version of the game.
Read: How to Get NBA 2K17 VC
Character add-ons in Legend Edition include a Shaq Championship Ring, Shaq Attaq shoes, Shaq Jerseys and Shaq clothing. There are 20 weeks of MyTeam Packs instead of the 10 MyTeam Packs the Standard Edition of the game comes with. MyTeam lets you create your own squad of players made up of past and present NBA stars.
Physical copies of NBA 2K18 Legend Edition come with 5 Panini cards, Shaq MyTeam Stickers and a poster.
Who is it for?
NBA 2K18 Legend Edition is for big-time fans of Shaq. It's also for anyone that loves MyCareer and wants an early jump-start for their character.
Buy NBA 2K18 Legend Edition from Amazon for $99.99 
NBA 2K18 Legend Edition Gold – $149.99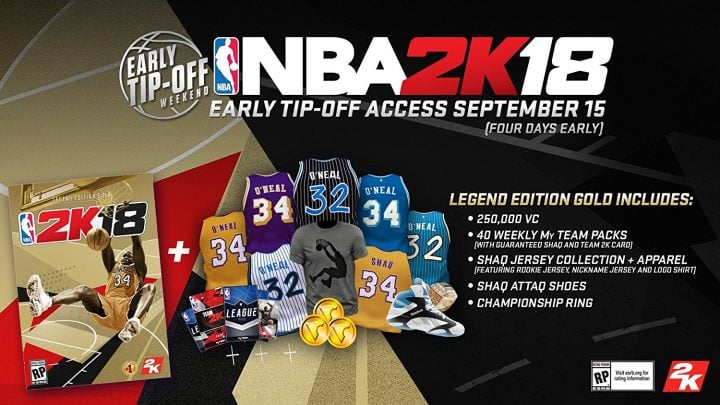 NBA 2K18 Legend Edition Gold costs $149.99, making it the most expensive version of the game that you can buy. For the money, you do get a lot of extras. It includes 40 weekly MyTeam Packs. Shaq and a TEAM 2K Card are in one of those packs. You also get the Shaq Attaq Shoes, the championship ring and Shaq Themed Jerseys and apparel for your character when you buy this edition of the game. The title unlocks 250,000 worth of Virtual Currency too.
Physical copies of NBA 2K18 Legend Edition Gold include a poster, 10 Panini Cards, Shaq MyTeam Stickers and a lenticular printing. Only Nintendo Switch, Xbox One, Windows PCs and PS4 gamers can buy Legend Edition Gold.
Read: NBA 2K17 MyTeam Explained
Who is it for?
NBA 2K18 Legend Edition Gold is for the player that enjoys the series year after year and will find themselves spending hours across MyCareer and MyTeam. It's also for the fan that loves basketball games and doesn't have a lot of free time to dump into MyCareer to earn Virtual Currency.
Buy NBA 2K17 Legend Edition Gold from Amazon for $149.99 
Buying Digital vs Physical
Once you've figured out which version you plan to buy, spend some time thinking about whether you want a digital or physical copy. Stores will have copies of NBA 2K18 to sell to gamers that don't like downloads, and pre-orders are available from the Xbox Store, PlayStation Store and Steam for gamers that prefer digital titles.
If you like quickly switching between playing a game and watching a movie, it's best that you buy a digital copy. This keeps you from having to get off the couch to switch discs when you're ready to play. On the Nintendo Switch, a digital version makes even more sense. The Switch is portable, and you should want to carry as little extras around with it as possible. Buying digital allows you to skip carrying the console's tiny game cards. 
Before you buy digital, remember that digital versions of NBA 2K18 don't come with exclusive posters or panini cards that physical copies do.
Read: Xbox One vs PS4: Digital Games
There are some very solid reasons to buy the game on disc. Buying a physical copy of any title allows you to take advantage of trade-in deals and savings down the road. For example, you may want to ditch NBA 2K18 in a few months for Call of Duty: WW2. If you buy the game on disc, you can sell your copy to GameStop, Best Buy or Amazon to get Call of Duty for less than $60. Also, don't forget that you can loan physical games to friends easier than you can a digital game. In fact, some systems don't let you easily share digital games at all.
Again, NBA 2K18 launches on September 19th for those that don't pre-order. If you're interested in Early Tip-Off Weekend, decide which version you want and place your pre-order now. Once you've decided which version you want to buy, take advantage of the best NBA 2K18 deals you can find.
NBA 2K18 Features: 8 Reasons to Upgrade
More Realistic Player Movement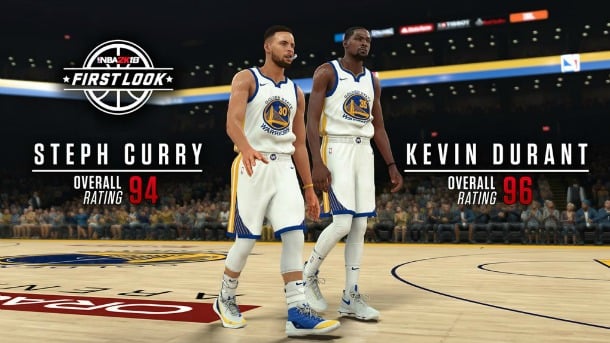 Speaking to Game Informer, NBA 2K18 gameplay director Mike Wang says that players can expect this year's title to have a lot less animation in it.
"We've been accused of being animation heavy at times, and this year we've done a good job of making the game feel like you are in complete control," Wang told the outlet in August.
The new physics system takes height, weight, acceleration and speed of each player into account before it renders any animation. That way, players react the way that you expect them to. It also means that transitioning for a layup or dunk is less jarring.
The NBA 2k18 images here are from GameInformer, to which 2K games shared new NBA 2K18 details.