NBA 2K18 Demo Release & Prelude Details
The NBA 2K18 release date is September 19th, but you don't need to wait until then to try the game for yourself. The NBA 2K18 Prelude launches on September 8th, and this Prelude is the NBA 2K18 demo gamers were hoping for.
NBA 2K18 is the latest edition of the long-running basketball simulation for Xbox One, PS4 and Windows PCs. This year's game brings big enhancements to the franchise's graphics, new music, an upgraded MyGM simulation and tools for analyzing your entire organization in MyLeague.
Gamers that place an NBA 2K18 pre-order get access to the title on September 15th during Early Tip-Off Weekend. For a while, it seemed that was the earliest that gamers could play. Now we know that the NBA 2K18 Prelude will let gamers try the title a week before that.
Here's everything that you need to know about the NBA 2K18 demo that's coming soon.
NBA 2K18 Prelude Release Date & Time
The NBA 2K18 Prelude release date is September 8th. Expect the demo to surface in the Xbox Store and PlayStation Store for you to download at Midnight EST, according to 2K Games.
Read: NBA 2K18 Release Date, Features & Details
You don't need to clear your schedule to spend as much time with the NBA 2K18 Prelude as possible. Demos don't have an end date like beta tests do. Because of that, you're free to enjoy the demo weeks after its release date.
Which Platforms Are Getting the NBA 2K18 Prelude?
You can only download the NBA 2K18 demo on Microsoft's Xbox One and Sony's PS4. That's despite versions of NBA 2K18 coming to the Xbox 360, PlayStation 3, Windows PCs and the Nintendo Switch. Visual Concepts and 2K Games have also delayed the physical NBA 2K18 release for Nintendo Switch.
Read: NBA 2K18 Nintendo Switch Release Date, Features & Delays
What's in the NBA 2K18 Prelude
Expect to spend a lot of your time in the NBA 2K18 Prelude roaming The Neighborhood. That's the official name for the online-world that every MyPlayer exists in. The Neighborhood has a barbershop, ProAM arena, casual basketball court, arcade, theater and training facility. Also, you can see the MyPlayers of other games as you roam The Neighborhood for new things to do.
Despite big updates for MyGM and MyLeague, they seemingly don't appear in the NBA 2K18 demo at all. At least, they aren't featured in the short trailer for the free download. Don't expect access to Classic Teams either.
Read: NBA 2K18 Features: 7 Reasons to Upgrade
How to Get the NBA 2K18 Prelude
You get the NBA 2K18 demo directly from the Xbox Store or PlayStation Store. Again, it will be free for anyone that has a PS4 or Xbox One to try.
Expect two requirements once you've installed the demo. The NBA 2K17 Prelude required you to sign in with a 2K Account, and it's likely this year's demo will too. You can create a new one of those or reuse an existing 2K account from a previous game. Also, if there's multiplayer available in the demo, you will need an Xbox Live or PlayStation Network account to enjoy it.
What to Do Once You've Finished the NBA 2K18 Prelude
Once you've finished the NBA 2K18 Prelude, the next thing to do is consider whether you want to spend money on the game itself. You shouldn't feel rushed to buy, but pre-ordering gets you the game on September 15th. That's four days before the game's official September 19th launch.
If you don't like what the demo offers, hold off on buying until there are reviews to read. That way, you can get a sense of all the game's modes and features before you spend your money on it. The Xbox Store and PlayStation Store's don't offer returns on digital games.
Also, don't forget that basketball fans have two new games coming this year. EA's NBA Live 18 also launches this September, and you can buy it if you really don't like the new things NBA 2K18 offers.
Read: NBA 2K18: Which Edition to Buy?  
If you do like what the NBA 2K18 Prelude offers, choose which version of the game you'd like to pre-order from Amazon, GameStop or Best Buy.
Different editions of NBA 2K18 have different perks. A standard copy of NBA 2K18 costs $59.99. The Legend Edition, which includes 100,000 in Virtual Currency and MyCareer gear costs $99.99. NBA 2K18 Legend Edition Gold is the most expensive version of the game you can buy. It comes with 250,000 in VC, 40 MyTeam Packs, MyCareer character gear, a poster, stickers, 10 Panini cards and a Lenticular for $149.99.
NBA 2K18 Features: 8 Reasons to Upgrade
More Realistic Player Movement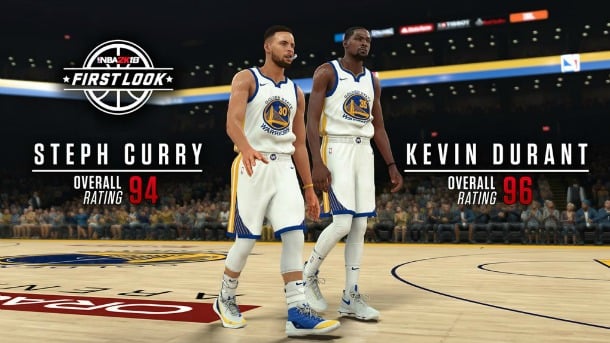 Speaking to Game Informer, NBA 2K18 gameplay director Mike Wang says that players can expect this year's title to have a lot less animation in it.
"We've been accused of being animation heavy at times, and this year we've done a good job of making the game feel like you are in complete control," Wang told the outlet in August.
The new physics system takes height, weight, acceleration and speed of each player into account before it renders any animation. That way, players react the way that you expect them to. It also means that transitioning for a layup or dunk is less jarring.
The NBA 2k18 images here are from GameInformer, to which 2K games shared new NBA 2K18 details.