NBA 2K18 Nintendo Switch Release Date, Features & Delays
Every NBA 2K launch is exciting, but this September's NBA 2K18 Nintendo Switch release has sports game lovers in a frenzy. For the first time, they won't have to download a touch-friendly mobile version of the game to get their basketball fix away from home. The Nintendo Switch will allow anyone to play NBA 2K18 anywhere.
Now, the only thing users need is a clear idea of when the NBA 2K18 Nintendo Switch release details are and what features they can expect. Figuring all that out isn't exactly easy. There are two different release dates for the game, for starters. Also, NBA 2K18 for Nintendo Switch isn't identical to the game Xbox One, PS4 and Windows PC users get.
Here's your guide to the NBA 2K18 Nintendo Switch release. Use it to understand what's happening with the game on Nintendo's new console.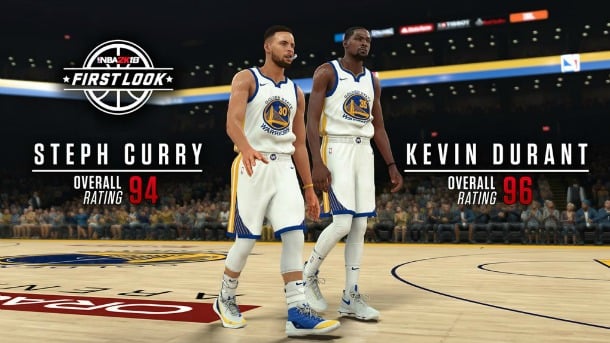 Read: NBA 2K18 Release Date, Features & Details
NBA 2K18 Nintendo Switch Release Date
Since early May, 2K Games and Visual Concepts have given September 19th as the NBA 2K18 release date. For some users, that's still the case. Anyone that places an NBA 2K18 pre-order from the Nintendo Switch eShop can begin playing the basketball simulation on that day. NBA 2K18 requires 25GB of free storage space, and that's before it receives any updates.
Physical NBA 2K18 Nintendo Switch Release Date Delay
On September 1st, Nintendo revealed that anyone who purchases a physical copy of the game won't get to play on September 19th.
Nintendo of Europe confirmed the delay in a message on Twitter. According to that message, the physical NBA 2K18 Nintendo Switch release date is now October 17th. That one month after the digital version of the game launches.
#NBA2K18 dunks onto #NintendoSwitch #eShop on 15/09! It'll be released physically on 17/10. https://t.co/AkqXzPFJtR pic.twitter.com/q1PGAAPYP1

— Nintendo of Europe (@NintendoEurope) September 1, 2017
Unfortunately, Nintendo didn't reveal the reason for the delay. If you expected to begin enjoying the NBA 2K18 on the same day that everyone else gets it, cancel your physical pre-order. Buy it through the Nintendo eShop instead. Sadly, buying a digital copy keeps you from taking advantage of most NBA 2K18 deals.
NBA 2K18 Early Tip-Off Weekend
As is the case on Xbox and PlayStation, pre-ordering NBA 2K18 gets you access to NBA 2K18 Early Tip-Off Weekend on September 15th, according to Nintendo.
Read: NBA 2K18 Pre-Orders: Which Edition to Buy?
NBA 2K18 Nintendo Switch Features
Luckily, along with the details about the release date delay, we've learned more about the game itself. For months, 2K and Visual Concepts only showed off what the title looks like on Xbox One and PS4.
The Nintendo Switch isn't as powerful as the Xbox One and PS4, and that lead everyone to assume it does not have all the features those versions of the game do. That assumption was wrong. According to 2K Games, you get everything that other players do when you buy NBA 2K18 for Nintendo Switch. That includes the new online MyCareer, Classic Teams, Pro-Am, MyTeam, My Park, MyGM and MyLeague.
Un côté #GTAV sans voiture ni personne à trucider, mais un simili open world avec des mini-activités, des playgrounds, etc. #NBA2K18 pic.twitter.com/8QzrDsYCYa

— Melinda Davan-Soulas (@Melinda_DS) August 31, 2017
In fact, NBA 2K18 for Nintendo Switch is only compromised in two ways. You can't create custom logos for your Pro-Am team, and you shouldn't expect the 60 frames per second refresh rate and detailed graphics other versions of the game offer. Instead, the game will refresh what you see on your console's screen 30 times per second. Because of this, animations don't look as smooth as they do on other consoles.
Read: NBA 2K18 MyCareer: What's New
NBA 2K18 will not have two features that gamers were hoping for. Unlike Rocket League, this game doesn't allow Switch users to play online with people who own other consoles. Because of that, finding other people to play exhibition matches with will be more difficult than on other consoles. The Nintendo Switch only launched this March, and many people can't find a Nintendo Switch bundle in stock.
Second, NBA 2K18 isn't compatible with Amiibo figures. So, don't expect to unlock clothing, gear or Virtual Currency with the tiny figures.
NBA 2K18 Features: 8 Reasons to Upgrade
More Realistic Player Movement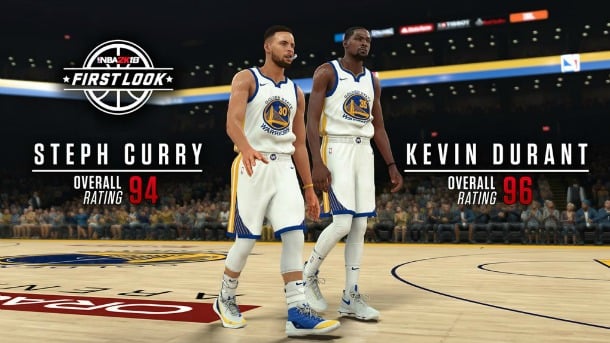 Speaking to Game Informer, NBA 2K18 gameplay director Mike Wang says that players can expect this year's title to have a lot less animation in it.
"We've been accused of being animation heavy at times, and this year we've done a good job of making the game feel like you are in complete control," Wang told the outlet in August.
The new physics system takes height, weight, acceleration and speed of each player into account before it renders any animation. That way, players react the way that you expect them to. It also means that transitioning for a layup or dunk is less jarring.
The NBA 2k18 images here are from GameInformer, to which 2K games shared new NBA 2K18 details.

As an Amazon Associate I earn from qualifying purchases.