Best Super Mario Odyssey Deals
With the best Super Mario Odyssey deals, you can get 20% off the new game on October 27th. If you don't already have a Nintendo Switch, you can save even more.
The best Super Mario Odyssey deals all discount Nintendo's most important game of 2017. Super Mario Odyssey is the last exclusive game for the Nintendo Switch before the holiday shopping season starts. It's also the first open-world game in the franchise to launch since Super Mario Sunshine. Bowser has kidnapped Princess Peach in Super Maro Odyssey. You and your sidekick Cappy must explore the game's huge open world to get Princess Peach back before he forces Peach to marry him. Odyssey is loaded with new places to visit and new mechanics. There's co-operative play for up to two people, and you can use Cappy to possess other things in the game's world.
Read: Super Mario Odyssey Release Date & Details
All Super Mario Odyssey deals are different. Some discount the cost of the game itself. Others get you a Nintendo Switch console, a copy of the game and the accessories you need for a lot less than it would cost to buy them all separately.
Super Mario Odyssey Bundle
The Super Mario Odyssey Nintendo Switch Bundle is the best way to get everything you need if you don't already have a Nintendo Switch. The Legend of Zelda: Breath of the Wild launched on Nintendo Switch and the Wii U, but Odyssey is only for owners of Nintendo's latest console.
For $379, you get a Nintendo Switch console, two Joy-Con Controllers, two Joy-Con straps, a Joy-Con Grip, a HDMI cable and a power adapter. You also get a download code for Super Mario Odyssey, a console carry case and screen protector. The console case comes in red to match Super Mario Odyssey's logo.
Read: Nintendo Switch Review
Compare that price to the cost of buying any other Nintendo Switch bundle. A standard Nintendo Switch costs $299 on its own. Nintendo Switch games cost another $59.99.
Amazon doesn't have the Super Mario Odyssey Nintendo Switch Bundle for sale online, but GameStop and Best Buy do. Expect these bundles to sell out quickly.
Best Buy Super Mario Odyssey Deals
Best Buy Gamers Club Unlocked
Best Buy Gamers Club Unlocked gets shoppers a 20% discount on the cost of any new physical game that they pre-order. If you're a subscriber, you can use your membership to create your own Super Mario Odyssey deals. The game will cost you just $47.99 if you pre-order today.
Read: Is Best Buy Gamers Club Unlocked a Good Deal?
A Best Buy Gamers Club Unlock membership is $29.99 for two years. The company also discounts the price of used games for subscribers, so after you've finished Odyssey, you can play Breath of the Wild or Splatoon 2 on your Nintendo Switch.
Sign Up for Gamers Club Unlocked for $29.99
$10 Best Buy Gift Certificate
Best Buy has another Super Mario Odyssey deal that can save you money. Best Buy Rewards Club members get a $10 gift certificate when they pre-order a physical copy of the game before launch. You can use this gift certificate on more games for your Nintendo Switch or just about anything else the retailer sells.
Unlike Gamers Club Unlocked, Best Buy Rewards is free to join. You can stack this on top of the Unlocked deal.
Pre-Order Super Mario Odyssey at Best Buy with Best Buy Rewards for $59.99
Amazon Prime Super Mario Odyssey Deal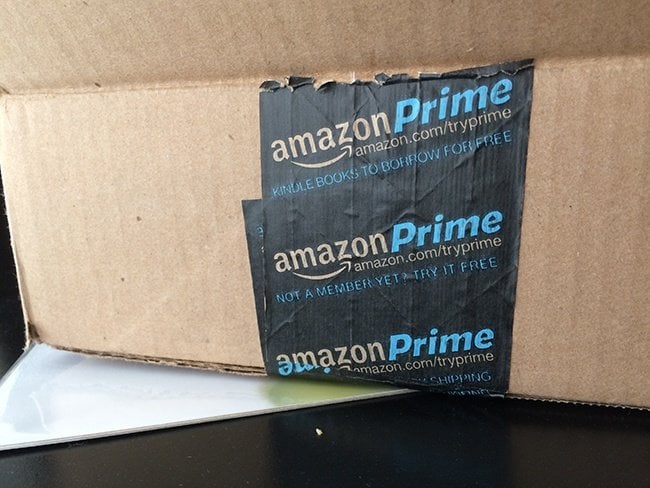 Amazon Prime subscribers get 20% off new games when they buy physical copies before launch. So, if you have a Prime subscription already, order the game through the retailer for $47.99 today.
Read: Should You Get Amazon Prime?
If you don't have Amazon Prime already, you'll need to subscribe to claim this deal. A membership costs $99 a year, and it includes free two-day shipping, access to Prime Now daily deliveries and the company's Prime Video service.
[easyazon_link identifier="B01MY7GHKJ" locale="US" tag="gbm-ea-20″]Pre-Order Super Mario Odyssey with Prime for $47.99[/easyazon_link]
10% Discount from Dell.com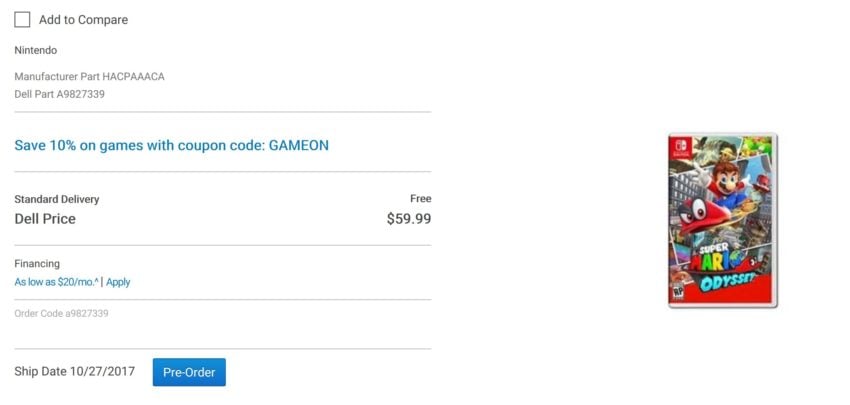 Dell's online store will discount Super Mario Odyssey by 10% when you enter the GAMEON coupon code at check-out. That brings the cost of the game down to $54.99 before taxes. The company's standard delivery is free.
Pre-Order Super Mario Odyssey from Dell for $54.99
When to Expect More Super Mario Odyssey Deals
Don't worry if you can't take advantage of these Super Mario Odyssey deals. Expect more savings at launch and once the holiday shopping season has begun.
Game Stop boosts the amount of credit it gives gamers when they trade in their old hardware and games toward new titles. The retailer doesn't include Super Mario Odyssey in this deal yet, but it may just before the game's October 27th launch.
Holiday Super Mario Odyssey deals could arrive on Black Friday. The Nintendo Switch consoles are in high demand, and retailers will want to lure shoppers to its physical stores by any means.
The Best Nintendo Switch Cases & Covers
Hori Tough Pouch for Nintendo Switch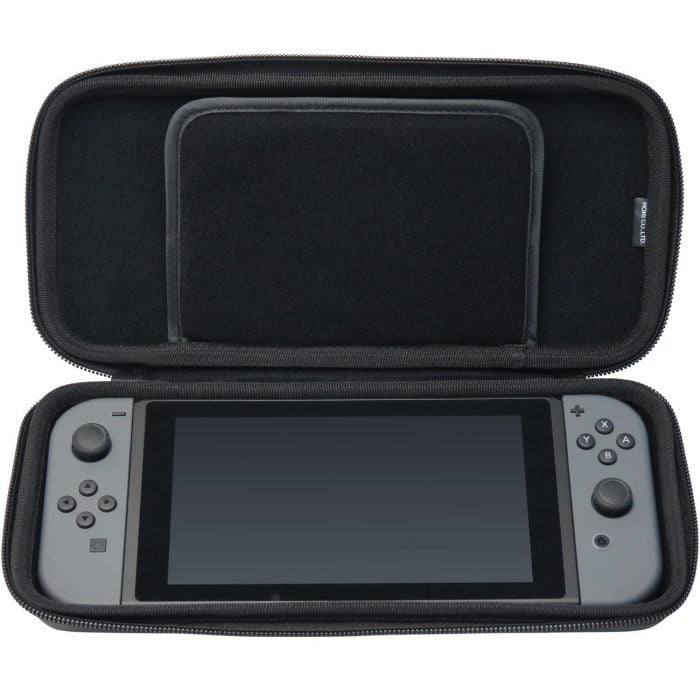 The Hori Tough Pouch for Nintendo Switch protects your device between gaming sessions without much effort. A flap inside shields the console's touchscreen. Its shell is reinforced to handle impacts from other things in your bag,
Also, unlike some other cases, the Hori Tough Pouch strikes a gentle balance between protection and convenience. Because you only put your Switch into it when you're done playing, it doesn't change how you grip the console or its Joy-Con controllers.
Amazon has the Hori Tough Pouch for Nintendo Switch available for $17.99. Because it's an officially licensed accessory, the front is embossed with the Nintendo Switch logo.

As an Amazon Associate I earn from qualifying purchases.