Call of Duty: WWII Double XP Details: How to Get Free 2XP
The fastest way to level up in Call of Duty: WWII is with 2XP events. We don't know if there will be a Call of Duty: WWII Double XP weekend the first week of the release, but we do know how you can get double XP and level up faster. This may be the place to go if you are planning to head to the midnight Call of Duty: WWII release date events.
You'll need to sign up for Buffalo Wild Wings Blazin' Rewards and you will need to eat some wings. Forget Mountain Dew or Monster Energy. When you get the squad back together you will want to plan out your attack at B-dubs. If you are having trouble with the Double XP pre-order bonus, here's what you need to do.
You can get Call of Duty: WWII Double XP for 50 points. When you sign up you can fill out a questionnaire to get 50 points immediately. From there you get 100 points for every $10 you spend at Buffalo Wild Wings. When you check in to Buffalo Wild Wings you get 10 points and if friends check in with you, that's an extra 10 points for each friend. You'll want to download the Blazin' Rewards app for iPhone or Android to check in and get started.
When you score enough points, you can redeem them for a Call of Duty: WWII 2XP code that you will redeem online, and then get an email to use this in game. By stacking double XP on top of great play sessions you can level up much faster and you will be able to hit your Call of Duty: WWII Prestige quicker.
Each code gives you at least 15 minutes of Double XP, and you will be able to play 1 hour of 2XP play a day. That's 200 points or about $20 in Buffalo Wild Wings purchases. You are limited to a total of 10 hours of 2XP gameplay through this promotion.
"We're excited to give our Blazin' Rewards loyalty members a virtual boost as they play Call of Duty: WWII this November," said Bob Ruhland, vice president of marketing for Buffalo Wild Wings. "Our international partnership with Activision reinforces our commitment to rewarding our loyal and passionate Fans with more opportunities to enhance their everyday experiences."
You can earn the Blazin' Rewards points starting now and you will be able to keep exchanging them for Call of Duty: WWII 2XP tokens through November 30th. You have until May 31, 2018 to redeem the tokens in the game. Even if you are waiting for bigger Call of Duty: WWII deals, you should consider signing up if you eat at BW3.
You can pre-order Call of Duty: WWII today and the game releases on November 3rd. We just learned that the new Call of Duty is Xbox One X enhanced, despite the PS4 exclusives that give early access to Call of Duty: WWII DLC to PS4 players.
4 Reasons You Should Buy Call of Duty: WWII & 4 Reasons Not To
Buy If You Like the State of Call of Duty: WWII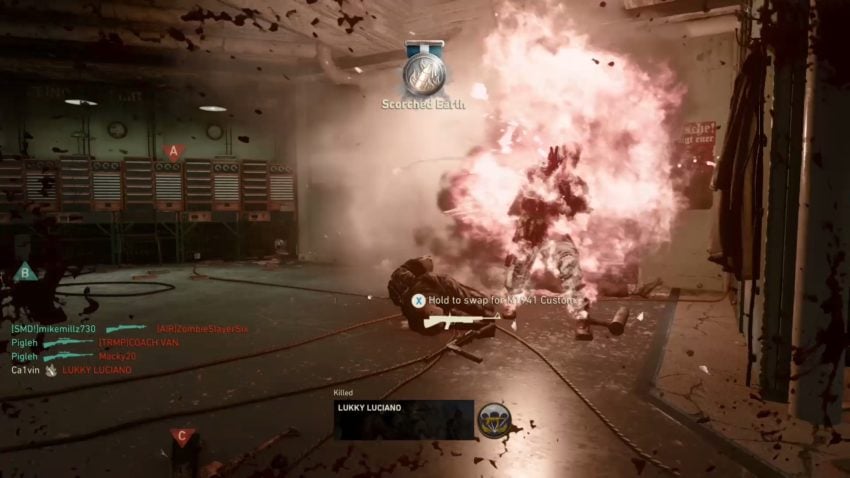 We are almost halfway into the Call of Duty: WWII life and there are many changes to the overall gameplay including changes to flinch, weapon balancing and small tweaks designed to make the game better.
Sledgehammer Games continues to tweak the state of weapons and change the game for balancing and based on player feedback. You can check out the latest update about the game directly from Sledgehammer.
There are still some complaints and issues, but we are starting to get a better feel for what Call of Duty: WWII will be like through the rest of the year.
If you have a chance to try it out and you like the game speed and weapon balance, this could be the best time for you to buy.

As an Amazon Associate I earn from qualifying purchases.