Destiny 2 Pre-Orders: Which Edition Should You Buy?
If you want all the best trinkets and extras to go with Destiny 2, don't wait to place Destiny 2 pre-orders. They could quickly run out.
Destiny 2 is the follow-up to the much-loved and highly anticipated Destiny online role-playing game that made its debut back in 2014. The first game went on to sell millions of copies. It still tops activity charts on Xbox Live and PlayStation Network.
Placing Destiny 2 pre-orders are the only way to be sure your favorite store will have the game's collector's edition or a Limited Edition Destiny 2 PS4 Pro on September 6th. Previously, they were the only way to participate in the Destiny 2 Beta as well.
Read: Destiny 2 Release Date, Features & Details
Here are the details you need to navigate the maze that is Destiny 2 pre-orders. Use this guide to find the right version of the game for your Xbox One, Xbox One S, PS4 or PS4 Pro.
Destiny 2 Pre-Orders: Release Date & Platforms
The Destiny 2 release date is Wednesday, September 6th, 2017 for Xbox One and PS4 owners. New video games usually arrive on Tuesday in North America and Friday internationally. That's not the case with Destiny 2. Gamers will get the online role-playing title at the same time.
Destiny 2 is coming to Windows PCs, which is notable because the first game in the series never did. Unfortunately, it's not set to arrive until October 24th, 2017. That's more than a month after the game arrives on consoles.
Read: Destiny vs Destiny 2: What Returning Gamers Need to Know
There's bad news for owners of older consoles, though. The Xbox 360 and PS3 won't get versions of the game at all. Instead, gamers will need to upgrade to the Xbox One and PS4 for access. It's not a shocking development, many developers and publishers have moved on from these old consoles.

Destiny 2 Pre-Orders: The Different Editions
A sequel as anticipated as Destiny 2 is bound to have lots of options. Budget-minded gamers will buy the cheapest edition they can, but anyone that enjoyed the first title will find themselves tempted by the extensive list of Destiny 2 pre-orders options available.
Destiny 2 Standard Edition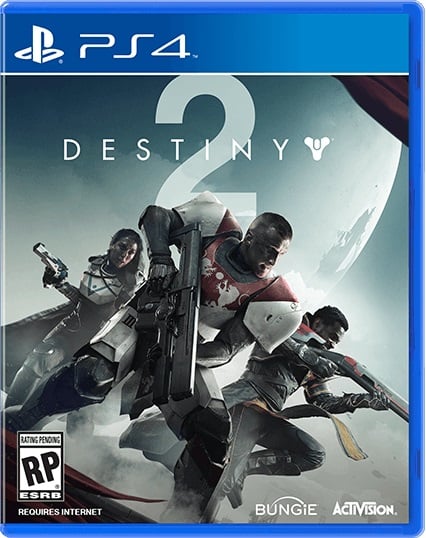 Destiny 2 Standard Edition gets you just a copy of the game, whether it be in disc or digital form. Like all standard games, it costs $59.99. It's available at GameStop and Best Buy.
Destiny 2 Digital Deluxe Edition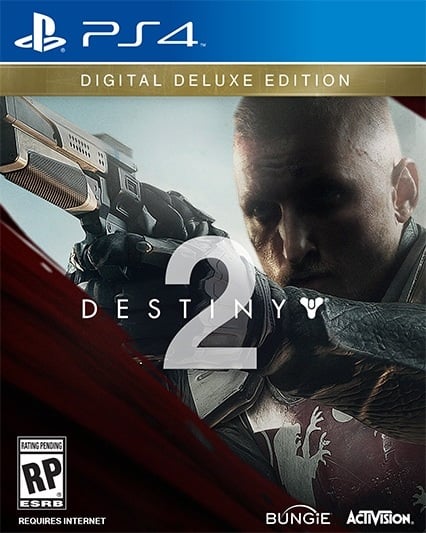 The Destiny 2 Digital Deluxe Edition gets you access to both of the game's expansion packs after release. Bungie is promising "new story missions, cooperative activities, competitive multiplayer, and a wealth of new weapons, armor and gear."
Buyers of this version get three extras besides the game and pass, a Legendary Sword, Legendary Player Emote and the Cabal Themed Emblem. Destiny 2 Digital Deluxe is only available for Xbox One and PS4. It costs $99.99, and it is available in the Xbox Store and PlayStation Store.
Destiny 2 Limited Edition
Destiny 2 Limited Edition comes with the base game, pass, Legendary Sword, Legendary Player Emote and Cabal Empire Themed Emblem. A booklet with Cabal Empire secrets, a Cabal Schematic, Postcard images and Cabal Military Pawns are included. The game comes inside a Steelbook case.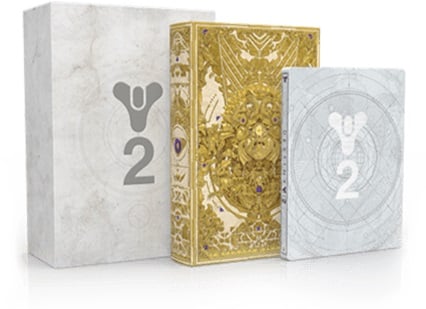 Of all the retailers offering Destiny 2 pre-orders, only GameStop will sell this version. PC, Xbox One and PS4 gamers can buy it for $99.99 today.
Read: Should You Buy Destiny 2 Limited Edition?
Destiny 2 Collector's Edition
Destiny 2 Collectors Edition is the reason placing Destiny 2 pre-orders is a very good idea. It offers a ton of things, and there are Xbox One, PS4 and Windows PC versions.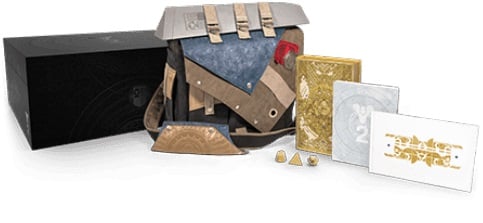 You get everything from the other versions when you buy this edition. That includes the Limited Edition Steelbook case with schematic, a booklet of secrets, and postcard images. The base game and expansion pass are included too. This package also comes with a customizable laptop bag that's capable of holding a 15-inch notebook PC, a USB charger with built-in light, paracord and a solar blanket.
All of this stuff doesn't come cheap. Amazon, Best Buy, GameStop, Target, Toys R Us and Wal-Mart have Destiny 2 Collector's Edition pre-orders for $249.99.
Destiny 2 Game + Expansion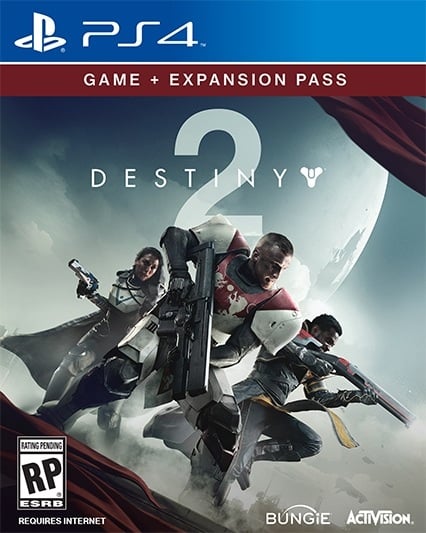 Xbox Store, GameStop, Best Buy, Amazon and the PlayStation Store all have Destiny 2 + Expansion Pass. This version costs $89.99.
Limited Edition Destiny 2 PS4 Pro Bundle
The Limited Edition Destiny 2 PS4 Pro Bundle is for gamers that own a 4K television or Destiny lovers that are just upgrading to the PS4 from the PS3. The package includes Sony's PS4 Pro console in white and a matching controller. This console has 1TB of storage and a stand so that you can put your console on display. You get a physical copy of Destiny 2, download codes to unlock the Destiny Expansion Pass and a digital content pack voucher that unlocks a Crucible map, a Strike mission, a new ship, exotic weapon and some specialized gear.
Read: PS4 Pro: Everything That You Need to Know About PS4 Pro 
Amazon, Best Buy and GameStop have the Limited Edition Destiny 2 PS4 Pro Bundle for $449.99.
Destiny 2 Collectibles Bundle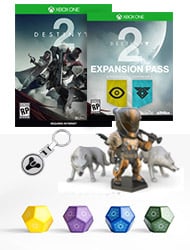 GameStop is the only retailer that offers the $129 Destiny 2 Collectibles Bundle. This version of Destiny 2 includes a physical copy of the game and the expansion pass. Trinkets from ThinkGeek come with this bundle. There's a 1/6 figure of Lord Salaadan, two wolf companions, a key chain and 4 packs of stress balls shaped like an Engram in every box.

Destiny 2 Pre-Orders: Pre-Order Extras
So far, a single retailer has stepped forward to announce exclusive extras that come with Destiny 2 pre-orders.
That retailer is GameStop. It'll give away a miniature Cade 6 figure to those that pre-order the game while supplies last. Cade-6 features heavily in the game's trailers. As we get closer to launch, expect more add-on content for those that buy from a specific retailer to turn up.
Destiny 2 Pre-Orders: PC Beta Early Access
PS4 and Xbox One owners got the Destiny 2 Beta, complete with early access, in late July. Anyone could create a character, try a few of the title's multiplayer maps and visit a new social area.
Read: Destiny 2 for PC Release Date, Specs & More
PC users get to try the game ahead of the release next. The Destiny 2 PC Beta starts on August 28th for those that pre-order a copy of the game online or at a retailer, like GameStop. Everyone with a powerful enough PC gets to try the game on August 29th, and the beta ends on August 31st.
Read: Destiny 2 Beta: 5 Things to Know
Destiny 2 PS4 Exclusive Content
Bungie is promising a story-driven narrative and a lot more with Destiny 2. One thing that's staying the same is the game's commitment to PS4. Gamers will get access to content on the PS4 version of the game first, a trailer posted to the PlayStation Blog reveals. More details about this content are coming over the summer, but Xbox owners won't get their hands on this stuff until fall 2018.

Destiny 2 Deals
You can save on Destiny 2 pre-orders today, provided you're a member of Best Buy Gamers Club Unlocked or Amazon Prime. Both companies are offering 20% off the cost of any version of the game when you have their membership and purchase before release day.
My Best Buy members get $10 in rewards when they pre-order and purchase Destiny 2 from the retailer. The rewards don't act as an instant discount on the game. Members can use this credit for anything that Best Buy sells.
Read: Best Destiny 2 Deals
4 Reasons Not to Pre-Order Destiny 2 & 4 Reasons You Should
Pre-Order to Get Early Access to the Destiny 2 Beta
Gamers that place a Destiny 2 pre-order won't spend hours downloading the files they need for the Destiny 2 Beta. They will get time with the game before it's opened to the public.
The Destiny 2 Beta opens to PC players on on August 28th for anyone that pre-orders a PC copy of the game. The open beta starts on August 29th, and everyone will attempt to play the game then.
Open betas come with hiccups, and gamers create long loading times by trying to play at the same time. It also takes a long time to download the necessary files through the Blizzard Battle.net software.


As an Amazon Associate I earn from qualifying purchases.