Destiny Iron Banner & Crimson Days: 5 Things to Know
Ahead of a February Destiny update Bungie shares a look at two special events coming for Destiny players with a new Iron Banner event and a special Crimson Days event that takes place around Valentine's Day and requires a partner.
Late last year Destiny The Taken King arrived to breathe fresh life into Destiny and invite new players to explore the universe. As we roll into 2016 Bungie and Activision are looking to spice things up with Crimson Days and keep gamers interested with a January Iron Banner Day.
This is what you need to know about the January Destiny Iron banner dates and the new Destiny Crimson Days events that arrive in February.
What is the Destiny Crimson Days Event?
The Destiny Crimson Days event is a week-long special event in February that requires gamers to play with a partner to find and earn loot in the game. The event takes place through Valentine's Day, so you may want to make plans now.
The Crimson Days event starts February 9th and lasts for a week. We don't know exactly what time it starts, but plan to set aside some of your week for gaming. It's not clear what happens to Crimson Doubles after the event is over.
Crimson Doubles
Coming with the February Destiny update is a new Crucible mode of 2v2 that carries the name Crimson Doubles. Bungie describes this as, "a special twist, born of new gameplay and mechanics that only battle-tested star-crossed lovers will appreciate."
In the next weekly update Bungie will let you know more about how the new Crimson Doubles mode will work and offer up pro tips that can help you do better during Crimson Days.
January Iron Banner Dates
There is a new January Iron Banner event and Bungie says, "you've never played it quite like this."
January Iron Banner Begins: Tuesday, January 26th, 10AM PST
January Iron Banner Ends: Tuesday, February 2nd, 12AM PST
Keep reading to find out what loot you can expect and more about the game you will play.
January Iron Banner Loot
In the new Iron Banner the game is Rift, and your team will need to carry the Spark to earn loot and power.
Available from Lord Saladin:
• Rank 3: Class Item, PlayStation Class Item
• Rank 4: Chest Piece, Scout Rifle
• Rank 5: Fusion Rifle
Available as post-game drops:
• Rank 2: Boots
• Rank 3: Chest Piece, PlayStation Helmet, Scout Rifle
• Rank 4: Fusion Rifle
Bungie shares a little about what you can earn in the Iron Banner during January and February.
Destiny Problems and Support
As part of the weekly update where Bungie outlined these two new events, talked about matchmaking and the February Destiny update, we also learn about Destiny Player Support (DPS) relating to some Destiny Problems. The current focus is on issues with Crucible Quest "Weapon Master", specifically,
The Gunsmith has a Waypoint, but doesn't accept the final step of the Quest

Inability to complete the step "More Bullets," requiring 10 kills with each Primary weapon type
To bypass this problem, go to Lord Shaxx in the tower and you can get the next step. Here is more information about the problem.
21 Best PS4 Games to Buy
Rocket League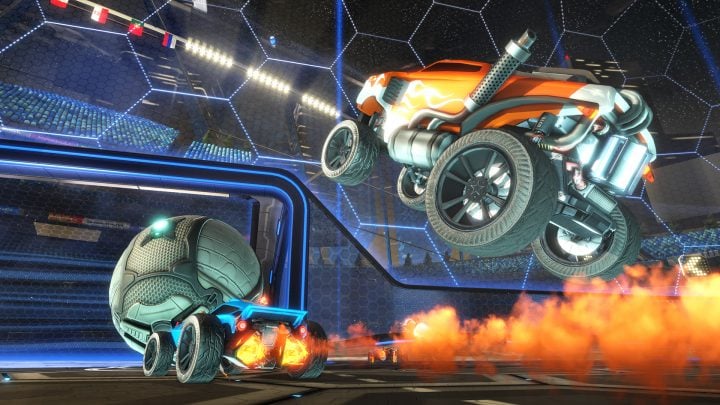 What happens when you play soccer with turbo-charged cars in a battlebots-like arena? You get Rocket League.
Rocket League is a fun and fast paced game that demands a spot on this list of the best PS4 games after consuming hours of our time in the last month after it appeared as a free PS4 game for PS Plus members. You can play locally, online and with friends plus you can customize your car.
Rocket League is $19.99 on the PlayStation Store and is also available for PC on Steam. Rocket Leage is coming to the Xbox One in 2016.