Google Pixel 2 Release Date, Features, Specs & Rumors
The Google Pixel 2 release date is almost here, and this is what we know so far. In this post, we'll go over the Pixel 2 release date, specs, design, price and all the latest rumors. Including what to expect from tomorrow's launch event, and show you brand new photos that reveal all the details.
In 2016, the first phones "made inside and out by Google" arrived, the Pixel and Pixel XL. They were well-received and a great first attempt, but something even better is coming shortly. With phones like the Galaxy Note 8 and iPhone X here, we're left waiting for Google's next move.
Read: Google Pixel XL Review: A New Generation of Android
Google Pixel phones are high-end premium devices meant to compete with Samsung and Apple, and from the looks of it, they'll do exactly that. We know Google has two phones coming in soon, and here's what we know about both.
Google Pixel 2 Release Date: October 4th launch date, release rumored for October 20th
How much will the Pixel 2 cost?: Expect flagship pricing to start around $649-$849 (starting)
What is the Google Pixel 2?: The Pixel phones from Google for 2017 running the latest version of Android. Set to build on the success of the original Pixel while offering bigger bezel-free screens, great cameras, and smart software.
Now that we've gone over the basics and answered some important questions, read on for the latest news and rumors.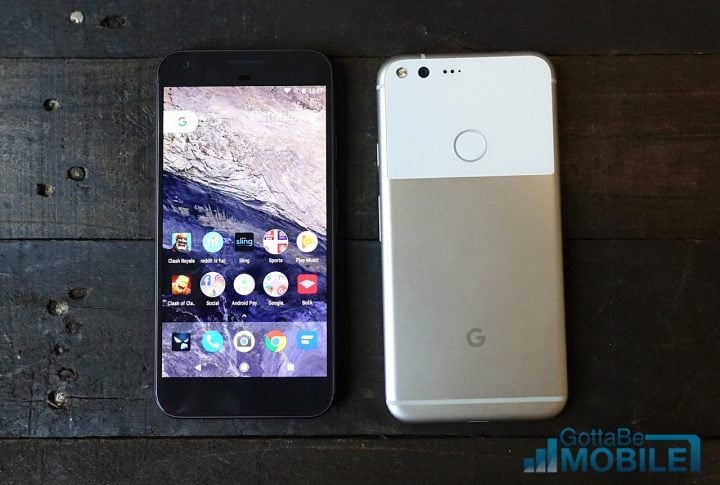 Google Pixel 2 Release Date
The original Pixel and Pixel XL arrived on October 4th of 2016 with an October 20th release date a few weeks later. A similar date is when Google released their old Nexus line of phones. And thus, most reports and rumors believe Google will follow that pattern this year. Google recently confirmed an October 4th, 2017 launch event, so now we just need to wait for the official release date.
Based on everything we've seen from Google's Nexus and Pixel line, both the Google Pixel 2 and a bigger Pixel XL 2 (or Pixel 2 XL) will arrive sometime in October. By then millions will have a Note 8 and the new iPhone X will follow right behind it.
Also, the Google Pixel 2 and XL recently cleared the FCC. One of the last hurdles before the release date. With that out of the way and an event scheduled for the 4th, a similar October 20th is highly plausible. Additionally, a few leaks suggest pre-orders will begin immediately on October 5th.
A new report from VentureBeat claims something different, however. Stating the smaller Pixel will hit shelves on October 19-20th but the bigger Pixel 2 XL won't arrive until November 15th. We're hoping that's wrong.
Google Will Release Two Phones
In 2015 buyers had a choice between the LG Nexus 5X and the Huawei Nexus 6P. Then in 2016 Google debuted the HTC-made Google Pixel and Pixel XL with screen sizes that were comparable to the iPhone. One had a 5-inch display, while the other offered more screen real-estate at 5.5-inches.
It's safe to assume Google will do the same in 2017. The two-pronged approach works for Apple, and more recently with the Galaxy S8.
However, Google's phones won't look identical. The smaller Pixel 2 is made by HTC and will feature a 5-inch screen with big bezels similar to the original Pixel or iPhone 8. You can see it in the leaked photo below. The bigger Pixel 2 XL, made by LG, will feature a large 6-inch edge-to-edge "Full Vision" OLED display.
Additionally, Google recently acquired HTC's smartphone division and most of the staff, which means some exciting things are coming in 2018 with the Pixel 3.
Google Pixel 2 Specifications, Design & Display
We don't know exactly what's in store, but leaks are giving us a pretty good idea. Countless renders revealed how the Pixel 2 XL will look. And now, our first live image of Google's 2017 flagship smartphone. Below is the rumored 5-inch Google Pixel 2.
The regular Pixel will remain a 5-inch phone with typical smartphone screen bezels as shown above. Google added dual front-facing speakers, thinned out the glass window on the back and added an improved camera. Recent leaks from VentureBeat confirm this design, and state there is no 3.5mm headphone jack. We could see a 5.2-inch screen, but all signs point to 5-inches.
Here is another photo of the "Kinda Blue" Pixel 2, with the same small glass cutout on the back. A few leaks suggest it will come in Kinda Blue, White (with a black top), and all black starting at $649.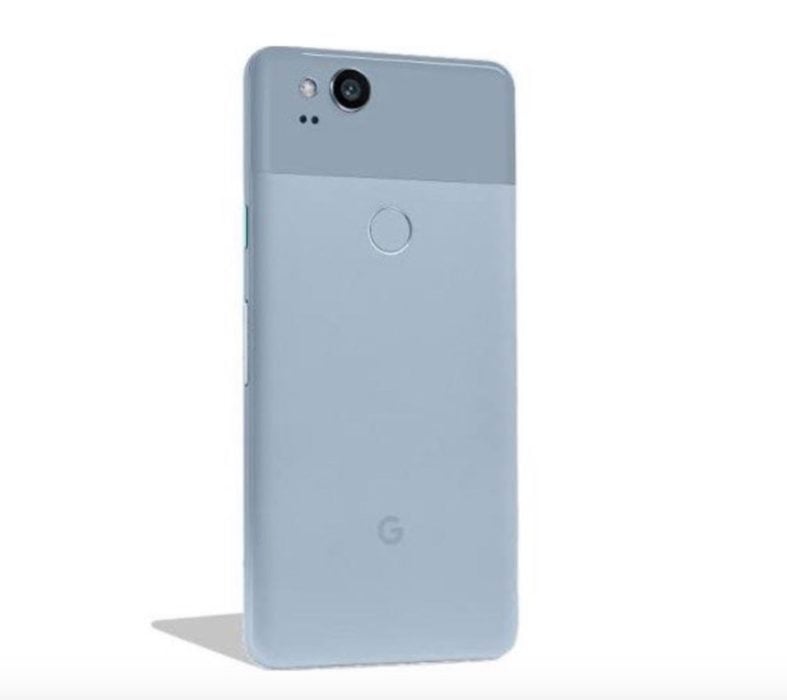 Don't worry though, a bigger LG-made Pixel XL 2 is coming too, and it will rival the iPhone X and Galaxy S8. Google's bigger Pixel will likely have a 6-inch Quad-HD OLED screen that covers the entire front. Known as a "Full Vision" edge-to-edge display. Expect rounded edges on the screen and curved edges to the glass. Yes, there is a slight curve to the glass, but the screen is still flat. This is the latest official photo of Google's big Pixel 2 XL.
The bigger XL is Google's flagship phone. As you can see, the bezels aren't quite as small as Samsung or Apple, as Google went with dual front-facing speakers. Additionally, Google has a new portrait photography mode to go along with its improved 12.3 Megapixel main camera. For now, here's a spec list based on past releases, the technology available, and what rumors claim.
Google Pixel 2 Specs (Rumored)
5.0-inch 1080p and 6-inch 2880 x 1440 Quad-HD OLED Display for Pixel 2 and Pixel 2 XL
Snapdragon 835 processor
64/128GB of storage and 4-6GB of RAM (no micro-SD slot for expansion)
Android 8.1 Oreo (First phones with 8.1 and Google Lens)
12.3 Megapixel Rear f/1.8 aperture cameras, IOS, more
7-8 Megapixel front-facing camera
Return of dual stereo front-facing speakers, on both phones
3,000 and 3,520 mAh battery options with Fast Charging (or bigger)
Rear mounted fingerprint Scanner
IP68 Dust and Water Resistance up to 5ft
Google Assistant, Google Lens, Active Edge feature, Daydream VR compatible, more
USB Type-C port, dual speakers, no 3.5mm headphone jack
One rumor suggests the Google Pixel XL 2 will feature a curved OLED display similar to the Galaxy S8, and that Google looks to invest millions into LG's display division. Essentially offering a beautiful screen that curves off the sides of the device. This allows for a bigger display without making the phone physically huge. However, that only applies to the larger of the two. A new report from 9to5Google claims there is an always-on display, and other neat software improvements. That leak said the Pixel launcher will feature a new redesign with the Google search bar at the bottom. Similar to the leaked photo above. Here is another photo that recently leaked showing the two-tone white Google Pixel 2 XL.
We're still expecting a premium metal and glass design with water-resistance. One potential issue with these rumors is that each phone will look different, rather than two identical devices like the first generation. They're the same from the back but are vastly different on the front. We'll have to wait and see.
Google Pixel 2 Price
The Google Pixel 2 and Pixel XL 2 price is unknown until Google confirms it. The original Pixel was Google's most expensive smartphone ever released, and far more expensive than the budget-minded Nexus lineup. This made a lot of faithful Android fans unhappy, but it signaled Google's move to the premium market to compete with Samsung and Apple.
Last year the 32GB Google Pixel cost $649 while the bigger Pixel XL cost $769, with higher pricing for a 128GB model. For 2017, the lowest model will have 64GB of RAM. According to Droid-Life, the smaller Pixel 2 starts at $649 for 64GB. Then, the bigger Pixel 2 XL starts at $849. These prices will climb if you choose the 128GB option.
This is still cheaper than a $1000 Galaxy Note 8 or iPhone X, but expensive for Nexus users. With all the upgrades on each phone and the trend of expensive phones on the market, we're pretty confident in the prices detailed above.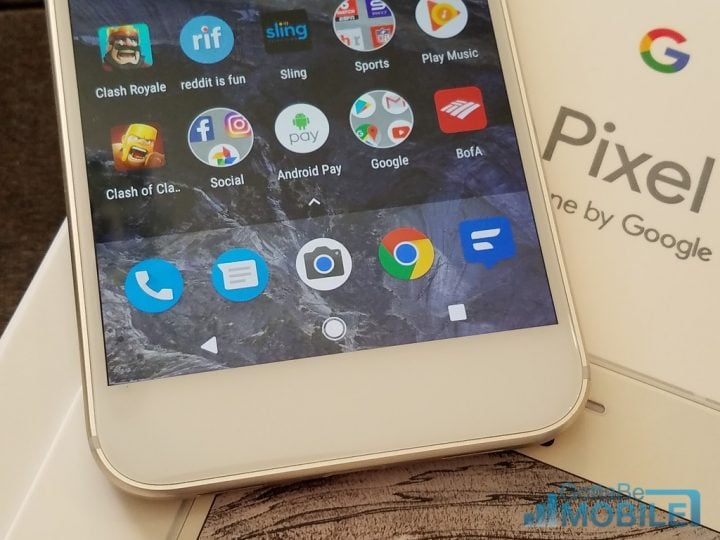 Don't worry though, these phones will be available with financing through the Google Store, and likely sold through carriers on a monthly payment plan to make it easier to swallow.
Either way, considering all the upgrades and potential changes these could be expensive phones. The Pixel 2 XL is a big release for the search giant. It will show they can create a great phone running the latest Android 8.1 Oreo, and improve key areas where the originals were lacking. Here's a small sample of the software upgrades we're expecting.
The Pixel 2 XL will showcase Google's vision for Android as they take on Samsung, Apple, and other manufacturers. We'll continuously update this post with more details as they become available.