Helix Jump App: 5 Things to Know
The Helix Jump app is a new game for the iPhone and Android that is easy to play, but hard to master. This addicting game is free to play, but you can spend money on in app purchases.
Read: Baseball Boy – 5 Things to Know
This is what you need to know about Helix Jump, and if Helix Jump is safe for kids to play. Here are more of the best iPhone apps and the best Android apps.
What is the Helix Jump?
Helix Jump is an endless play style of game where you try to get a ball down a set of platforms as you avoid red platforms that end your turn. It's simple, but pretty addictive.
The app is a game that does not push a lot of in app purchases, but they are there as with most free apps.
The game gets tougher as you go. You will see ads between turns and you can watch an ad to continue.
You can download Helix Jump for iPhone and there is a game with the same name on the Google Play Store, but it may not be from the same company.
How to Play Helix Jump
Playing Helix Jump is simple. You put a finger on the screen and move it left to right to rotate the helix structure. You don't move the ball that is on the screen, just the platforms that rotate around a central pole.
Move the platforms so the ball falls through openings. It can bounce on the platforms, but you cannot bounce on the red.
Score more points by going through multiple openings at once. If you go through three or more, you can land on a red platform spot as it will break the platform.
If you die, you can watch an ad to keep going. Thew ad lasts about 10 seconds at least and you cannot skip it. You can only revive once per turn.
Is Helix Jump Safe For Kids?
Helix Jump is safe for kids to play. Parents are often worried about ads, in app purchases and the content of the game. Helix Jump is rated 12+ on iTunes for the following items that stem from the ads you might see.
 Infrequent/Mild Medical/Treatment Information
 Infrequent/Mild Alcohol, Tobacco, or Drug Use or References
 Infrequent/Mild Sexual Content and Nudity
 Infrequent/Mild Horror/Fear Themes
 Infrequent/Mild Simulated Gambling
 Infrequent/Mild Mature/Suggestive Themes
 Infrequent/Mild Cartoon or Fantasy Violence
 Infrequent/Mild Realistic Violence
While playing I only saw ads for other games that were age appropriate. If you pay for no ads, the game content is definitely ok for anyone 4 and up.
Helix Jump In-App Purchases
Helix Jump is free to play, but there is an in app purchase that you can make. For $2.99 you can turn off ads. This is something you will want to do if you like the game and are sick of ads interrupting your turns.
Normally you will see an ad between each turn, but for $2.99 you can play and keep playing without any interruptions.
Helix Jump Tips & Tricks
You can get further in Helix Jump with practice and with the right tips and tricks. You don't need any in-app purchases, just patience and practice. Here are the Helix Jump tips you need to get a higher score.
Take Your Time – Line up and take 3 or more platforms at once.
Destroy Red – Use a three or more jump to knock out a red platform when it's hard to find a place you can land.
Take Chances – Trust your reflexes and spin to go further when you get past a third platform.
Revive Every Time – It can suck to watch an ad, but anytime you get past a few platforms it is worth using the one revive to keep going.
Practice – Keep playing and learn to spot the platform openings that you need and just how much you need to move your finger to get through the next opening.
With these Helix Jump tips you can get a higher score. Watch out for any Helix Jump hack websites that promise unlimited lives or other items in exchange for your personal information.
20 Best Apps to Make Money in 2020
Google Opinion Rewards - Make Money By Answering Questions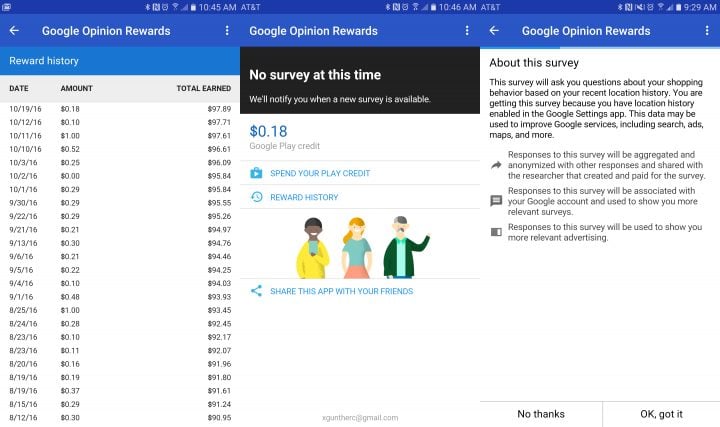 You can make money answering survey questions on your smartphone with Google Opinion Rewards. Also known as Google Surveys by many users, this free app rewards you for sharing your opinion. This works on iPhone and Android, but the best way to make money is on iPhone.
A member of the Gotta Be Mobile team earned over $100 with Google Opinion Rewards. All you need to do is answer questions and you'll earn anywhere from a 10 cents to a dollar. You can also answer Google Opinion Rewards surveys in stores to really earn more money.
The money that you make works for Google Play Credits on Android that you can use to buy apps, movies, books, and even spend on in app purchases for games like Clash of Clans without spending your cash.
iPhone users get the credit sent to PayPal when they have a balance of $2, which can happen every two or three weeks depending on how many surveys you qualify for. It's easy to earn when you start, but surveys may become less frequent as you go.
Download Google Opinion Rewards for Android and Google Opinion Rewards for iPhone.

As an Amazon Associate I earn from qualifying purchases.