How and When to Watch the Galaxy Note 8 Event Livestream
The Galaxy Note 8 launch event Livestream kicks off today, August 23rd. Millions around the globe can tune in and see what's next for Samsung. However, thanks to countless leaks and rumors we already know exactly what to expect. Here is how and when to watch the Note 8 get announced.
The event is Samsung Unpacked, and the Galaxy Note 8 will take center stage. Of course, most can't head to New York and see it live, so you'll need to watch it happen on the Livestream video below.
Read: Galaxy Note 8 Photos Confirm 5 Exciting Features
The event starts on August 23rd at 8:00 AM PT, or 11:00 AM ET for those in the United States. Catch the excitement live on YouTube, as well as Samsung's own website. You can expect a new Gear Fit 2 smart-band, some accessories, but most of the attention is on the Galaxy Note 8. Here are some last-minute details for those interested.
https://www.youtube.com/watch?v=rD37VVMda88
Users will be able to tune in and see the flagship phone unveiled and shown off on stage for the first time. Not to mention hearing about its bigger screen, new features, water-resistance, and possibly even a release date. Although so far we're hearing it may come around September 9-15th.
The video above is Samsung's official YouTube stream of the event. Otherwise, check some of the other alternatives below.
How to Watch the Galaxy Note 8 Livestream
We mentioned a few ways to watch the event above, but this year Samsung actually has four ways you can see the event. Including a 360-degrees feed for the Gear VR. Again, that's August 23rd at 8:00 AM PT.
Those are the four easiest ways to see Samsung's new Note 8 get announced live on stage.
Galaxy Note 8 Release Info
Once Samsung formally announces the new Note 8, potential buyers will want to know when they can get one. Especially all the Note 7 refugees that had to return the last Note. For any and all the information you'll ever need click here.
Countless leaks and rumors suggest a release date on September 15th. However, other leaks believe a date closer to September 6-9th is when Samsung will release it to the public. Either way, pre-orders should begin within a week of the announcement so you can reserve your very own Galaxy Note 8.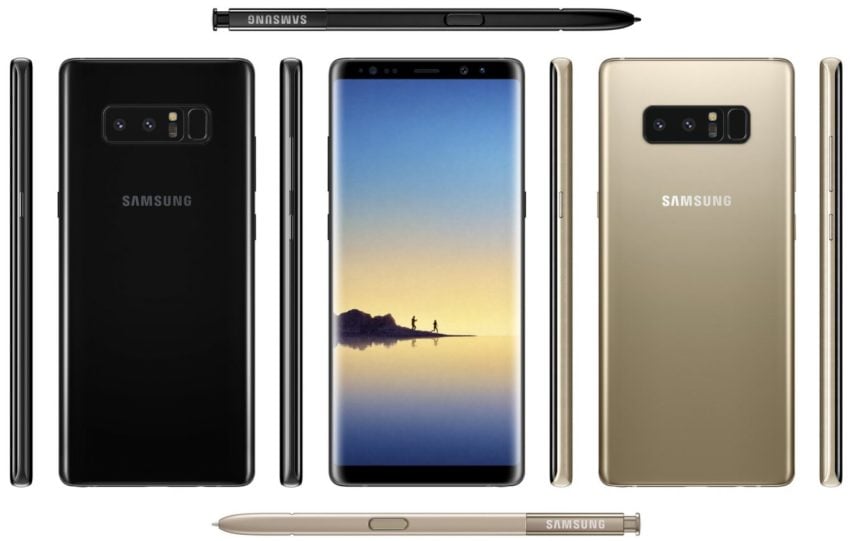 So what are we expecting? Samsung's Note 8 should come with a bigger 6.3-inch Quad-HD Infinity display with curved edges. The Galaxy S8 gives us a good idea of what they have in store. It'll be a little bigger, have dual cameras on the back, and of course the S-Pen stylus. This will likely be Samsung's fastest, bigger and most powerful flagship smartphone released thus far.
Since the design is relatively similar to the Galaxy S8, most of the changes will come from the improved camera, software, and S-Pen. Leaks suggest a new vibration motor for an improved stylus experience, in addition to a "Find my S-Pen app" built in. This will likely be Samsung's fastest, bigger and most powerful flagship smartphone released thus far.
For more information on the Galaxy Note 8 and whether or not you should buy one, check out our slideshow below.
Galaxy Note 8: 5 Reasons to Wait & 4 Reasons Not To
Wait If You Want the Best Display
If you want the biggest and best smartphone display on the market, Samsung's Galaxy Note 8 will be the phone to buy. In fact, we're hearing it will have a huge 6.3-inch Infinity Display that looks great. Earlier this year the company debuted the Galaxy S8 and Galaxy S8+. Both of those phones have bigger screens than any prior year, and tiny bezels or black bars around the screen.
The Galaxy S8 release tells us a lot about the upcoming Galaxy Note 8. Samsung will likely offer a similar screen where there are no physical button or a fingerprint scanner. It's all screen on the front. The sides will curve off the phone, and the black bars of bezel at the top and bottom are very minimal. Which gives it an edge-to-edge look Samsung calls an Infinity Display.
Samsung went from 5.5-inches in the Galaxy S7 Edge to 6.2-inches with the Galaxy S8+. The company offered the same big jump from the Galaxy S7 to the Galaxy S8, and we anticipate the same for the Galaxy Note 8.
If you want a big 6.3-inch 2560 x 1440 Quad-HD Infinity Display with tons of space for apps, games or business, the Galaxy Note 8 will be worth waiting for. Recent leaks suggest the bezels could be smaller than what we see with the Galaxy S8 too, making it feel like the entire phone is all screen on the front.

This article may contain affiliate links. Click here for more details.