How to Clean Install macOS Catalina
This guide shows you how to clean install macOS Catalina so that you can leave behind any problems from macOS Mojave and get a fresh start. This can help you speed up an old Mac, get some drive space back and solve some issues or errors.
A clean macOS Catalina isn't for everyone, but if your Mac is a few years old, it might be a good time to try a fresh install and clear out the junk you've left there over the years. Whether you upgrade or do a clean install, you still need to prepare. Here are the things that you should do before installing macOS Catalina.
Follow the steps below to perform a clean install of macOS Catalina on your Mac. Keep in mind there are some good reasons not to install macOS Catalina yet, and there are several macOS Catalina problems.
Should I Clean Install macOS Catalina?
Not everyone needs do a clean install of macOS 10.15, but if you are suffering through macOS Mojave problems, it can help you get a fresh start and often frees up space on your SSD or hard drive.
A good rule of thumb is that if your Mac is over four years old and you haven't done a clean install, this is a smart thing to consider if you have any issues. If your Mac is newer, you likely don't need to do a clean install.
Read: How to Fix macOS Catalina Problems
If you do a clean install, it erases everything on your Mac. You definitely need to make sure your photos and files are backed up and that you have access to the app installers that you need. You can choose to restore from a Time Machine backup, but the point of this is to start from scratch.
How to Clean Install macOS Catalina 10.15
You need to download the macOS Catalina installer from the App Store, you need a 16GB or larger USB drive that you can format and put the update on and you may need a USB C adapter depending on your MacBook model.
Start the macOS Catalina download from the System Preferences or find it in the Mac App Store. Once it completes, do not install the update yet.
Connect your USB drive to your Mac. The app will erase and format the drive.
Download Disk Creator 2 and then Click on the App.
Choose the USB drive from the drop-down.
If not selected click on Choose Installer and pick the macOS Catalina installer.
Click Create Installer.
Click Erase disk.
Wait for a confirmation that this is complete.
Now you have a bootable macOS Catalina installer that you can use to perform a clean install of macOS Catalina. The next step is to restart the Mac and boot into the macOS Utilities so that you can erase your drive and install macOS 10.15.
Leave the USB Installer In.
Turn your Mac off.
Reboot your Mac while holding the option key.
Click on the Install macOS Catalina option.
Now click on Disk Utility.
Click on your mac hard drive and then on Erase. Use the default options here.
Name your hard drive Macintosh HD then click erase.
Wait for the drive to erase.
Click on Install macOS.
This will start installing macOS Catalina to your Mac. Since it is already downloaded, expect this to take about 30 minutes, which is faster than the standard macOS Catalina install time. After the installation is done, you will be able to complete the new Mac setup and get started with your Mac.
7 Reasons Not to Install macOS Catalina & 14 Reasons to Install macOS 10.15.7 Today
Install for macOS 10.15.6 Fixes and Security Updates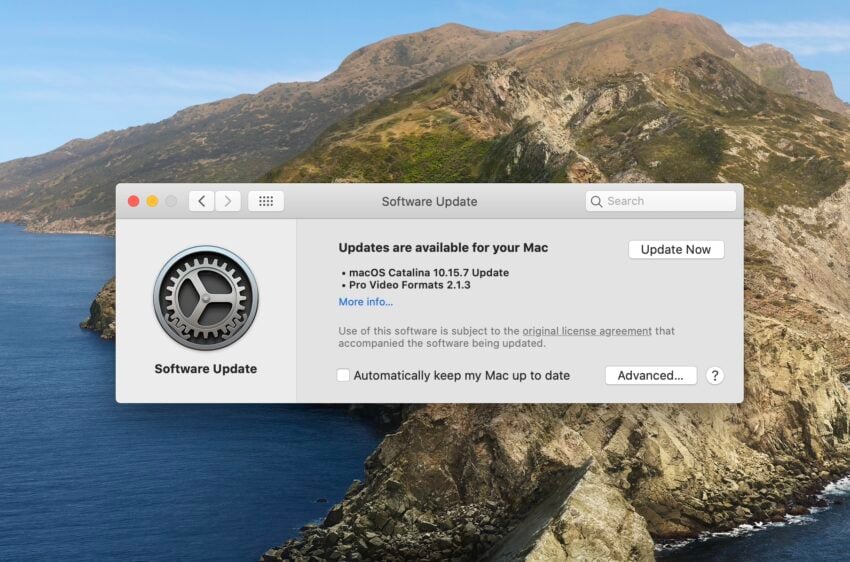 If you are on macOS Mojave or an older version of macOS 10.15, you should install this update to get the latest security fixes and new features that come with macOS. These include security updates that help keep your data safe and updates that patch bugs and other macOS Catalina problems.
The macOS 10.15.7 update includes the following fixes;




Resolves an issue where macOS would not automatically connect to Wi-Fi networks

Fixes an issue that could prevent files syncing through iCloud Drive

Addresses a graphic issue that may occur on iMac (Retina 5K, 27-inch, 2020) with Radeon Pro 5700 XT
We will also see a list of security updates in this, which are disclosed on this security page.