How to Fix Bad Surface Laptop Battery Life
Your Surface Laptop offers a solid Windows 10 experience and plenty of battery life. But only after you learn how to fix bad Surface Laptop battery life.
Bad Surface Laptop battery life happens for different reasons. Like other laptops, how long your device lasts between charges depends on what you're doing and what features you have turned on. Leave your display too bright and battery life falls. Fail to close processor intensive apps and your Surface Laptop won't last as long as you expect. If you've updated your Surface Laptop to Windows 10 Pro, you can expect a serious drop in battery life.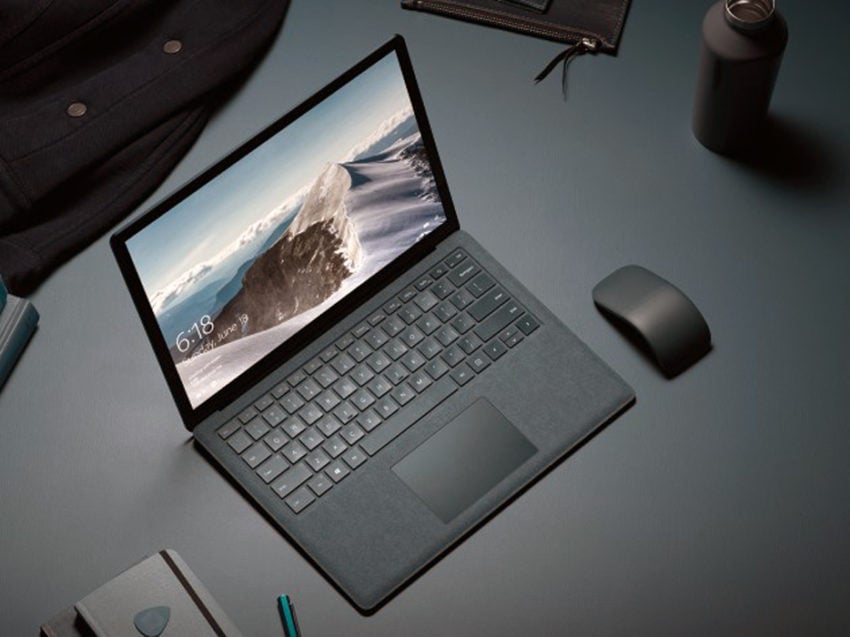 There are ways to counteract every major issue that can harm your device's battery. Here's how to fix bad Surface Laptop battery life.
Read: Surface Laptop vs 2017 Surface Pro: Which to Buy
How to Fix Bad Surface Laptop Battery Life
Darken Your Display
Go Back to Windows 10 S
Close Apps You Aren't Using
Use the Windows 10 Power Slider
Turn On Battery Saver
Turn Off Bluetooth, Wi-Fi or Both
Darken Your Display
To fix bad Surface Laptop battery life, check your display's brightness. The display brightness setting controls how high the backlight in your Surface Laptop's screen is. Because displays are one of the biggest draws on battery life, this setting is crucial. The dimmer your display, the longer your device lasts.
To check your device's brightness, place your finger on the right edge of your display. Swipe your finger to the left to open the Action Center. At the bottom of the Action Center is a button with a light bulb in it. If you don't see this button, click or tap on Expand. Tap or click on this button to change your brightness setting. Surface devices don't use percentages for screen brightness. Instead, you can flip between Darkest, Darker, Suggested, Bright and Brightest.
Read: How to Turn Off Adaptive Brightness in Windows 10
If your Surface Laptop is overriding your settings, you can disable its light sensor. Click on the search box in the bottom-left corner of your screen and type Change Display Brightness. Now uncheck the Change Brightness Automatically When Lighting Changes check box.
Go Back to Windows 10 S
At 14.5 hours, the Surface Laptop has the most battery life of any current Surface device. However, you won't come close to this figure if you replace Windows 10 S with the free Windows 10 Pro upgrade.
Windows 10 S limits what programs you can install and what apps can do to keep cruft from dragging down your device's start-up time and performance. It's also stripped of some features that other versions of Windows come with. With no programs running in the background and extra feature missing, the operating system requires less power.
Read: What is Windows 10 S: 4 Things to Know
If you recently upgraded to Windows 10 Pro to install programs from the internet, this is why you are experiencing bad Surface Laptop battery. Microsoft doesn't make it easy for you to go back to Windows 10 S. You must restore the Surface Laptop using the files available for download at Microsoft.com and a 16GB flash drive. Remember to back up your files before trying this.
Close Apps You Aren't Using
This is a basic way to fix bad Surface Laptop battery life, but it's still really good advice for anyone new to Windows 10. Click on the three squares to the right of the search bar at the bottom of your screen. This is Task View. Use Task View to see all your apps and programs and close the ones that you aren't using.
Read: 52 Windows 10 Tips & Tricks You Need to Master Your PC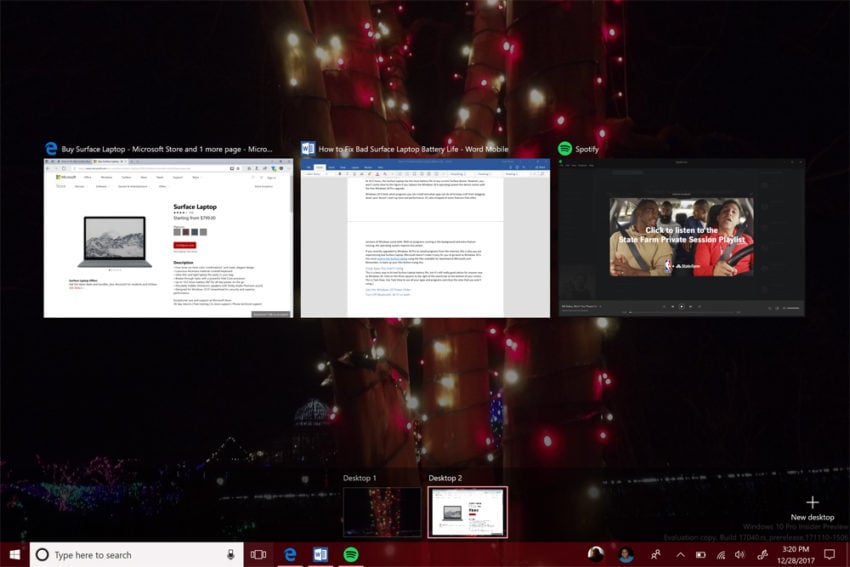 Use the Windows 10 Power Slider
The second biggest draw on battery life is your processor. On Surface Laptop, you decide what your device's battery priorities are. If you need better performance for your apps and programs, you can sacrifice your battery life. When you need as much battery power as possible, set that as your priority.
Click on the battery icon in the bottom-right corner of your screen. Move the slider to the left for better battery life. Moving the slider to the right shortens your battery life and boosts performance.
Turn On Battery Saver
If you're in dire need of better Surface Laptop battery life, turn on Windows 10's Battery Saver feature. This utility limits what apps can do in the background, reduces your screen brightness and turns off background notifications for all but essential apps.
Click on the battery icon at the bottom of your screen and move the slider all the way to the left. Battery Saver will turn itself off after your next charge.
Turn Off Bluetooth, Wi-Fi or Both
Finally, turn off Bluetooth and Wi-Fi when you aren't using them on your Surface Laptop. These draw battery power whether you're connected to something or not.
Read: 16 Common Windows 10 Problems & How to Fix Them
To turn off Bluetooth or Wi-Fi on Windows 10, click the wireless icon in the bottom-right corner of your screen. Use the Wi-Fi switch to turn off just wireless internet access. The Airplane Mode button turns off booth Wi-Fi and Bluetooth.
8 Best Surface Laptop Cases, Bags and Sleeves
Microsoft Surface Sleevecase – $69.99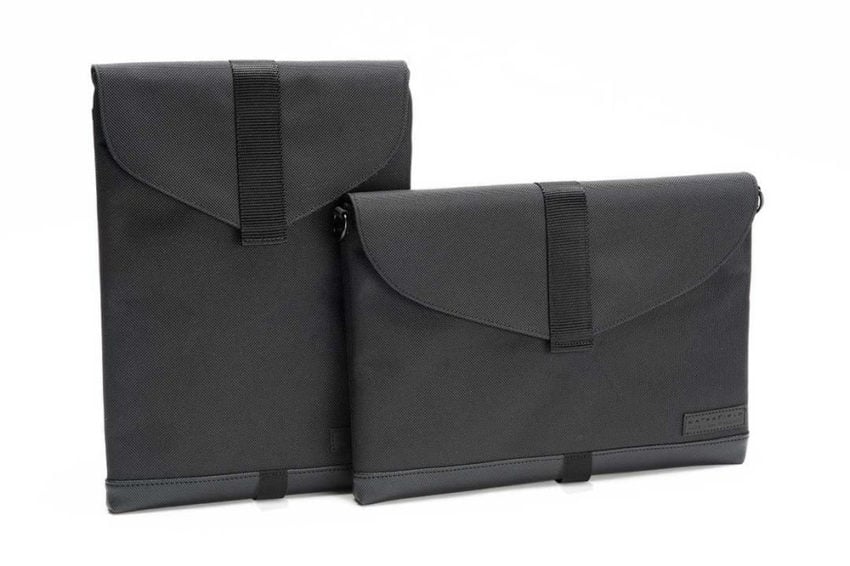 Microsoft Surface Sleevecase from Waterfield has lots of options. It comes in two orientations. One lets you put your Surface Laptop in horizontally just like you would a briefcase. The second lets you insert your Surface Laptop like you would a piece of paper in an inter-office envelope. It's this version that's best for sticking into other backpacks.
Your Surface Laptop will fit snugly inside the padded inner sleeve. The outer pocket can hold your charger, adapters and cables.
The Waterfield Microsoft Surface Sleevecase costs $69.99. You can choose from Black with Micro Trim or Waxed Canvas with a brown leather trim. Adding strap rings costs an extra $5. The optional suspension strap is another $22.

Buy the Microsoft Surface Sleevecase from Waterfield for $69.99