Surface Laptop vs 2017 Surface Pro: Which to Buy
The 2017 Surface Pro and Surface Laptop are both made by Microsoft, but choosing between them is difficult. They are very different, despite their good looks and similar operating system.
The 2017 Surface Pro is a tablet that can become a laptop. Its touchscreen is best used with apps downloaded from Microsoft's Windows Store, but it runs desktop apps too. You add the keyboard cover and extend the kickstand to get a familiar, mouse-friendly interface and easy app switching.
Surface Laptop users can scribble notes and navigate apps with their finger. However, they can't detach their display. Staying productive with the Surface Laptop costs much less than it does with the Surface Pro.
Read: Surface Book vs MacBook Air: Which is the Best?
Use this breakdown of the Surface Laptop and 2017 Surface Pro to decide which of them you should buy as your next Windows 10 PC.
Surface Laptop vs 2017 Surface Pro: Design
The Surface Laptop is a very thin notebook PC that weighs 2.76 pounds and is a sixth of an inch thick. Its magnesium shell comes in burgundy, cobalt blue, gold and silver. Opening the laptop reveals a 13.5-inch 2256 x 1504 touch display and an Alcantara fabric keyboard deck.
Ultimately, the 2017 Surface Pro is a tablet with laptop internals. A 12.3-inch 2736 x 1824 display dominates its front. It's a third of an inch thick and weighs no more than 1.73 pounds before you pair it with a Surface Type Cover. There's a kickstand with the Microsoft logo on the tablet's back.
A Surface Type Cover is the only way 2017 Surface Pro users can add Alcantara fabric or a splash of color to their device. Alcantara fabric covers cost $159.99 and covers without Alcantara fabric sell for $129. You need a Surface Type Cover to use a Surface Pro as a laptop replacement.
Surface Laptop vs 2017 Surface Pro: Internals
Every Surface has a Surface Connect port, ambient light sensor, a headset jack, a Windows Hello camera, Mini DisplayPort and a full-size USB port.
Having the same ports doesn't guarantee you the same user experience, though. Surface Laptops have an Intel Core i5 processor with Intel HD 620 graphics or an Intel Core i7 processor with Intel Iris Plus 640 Graphics. These processors are more powerful than the Intel Core M3 processor and Intel HD 615 graphics in the cheapest 2017 Surface Pro.
The more money you spend on a Surface, the more RAM and storage space you get. The Surface Laptop doesn't come with more than 1TB of storage and 16GB of RAM. There are 2017 Surface Pro models with 1TB of storage and 16GB of RAM.
You need to balance display size with sharpness when deciding which of these devices to buy. The Surface Laptop's 13.5-inch display is bigger than the 12.3-inch display in the Surface Pro. However, the Surface Pro's screen has the most detail.
There are features that the 2017 Surface Pro has that the Surface Laptop doesn't have. Buyers can add more storage to Surface Pro with a MicroSD card. They can take pictures of the world around them with the tablet's 8-megapixel rear-facing camera.
Video chatting looks worse on the Surface Laptop. It only has a 720p camera sensor on the front. The 2017 Surface Pro, though, has a 5-megapixel camera sensor that captures 1080p video.
Surface Laptop vs 2017 Surface Pro: Battery Life
Ultimately, a device's battery life determines how mobile it truly is. The higher the battery life estimate, the longer you can expect it to last during a full day of work, meetings or classes.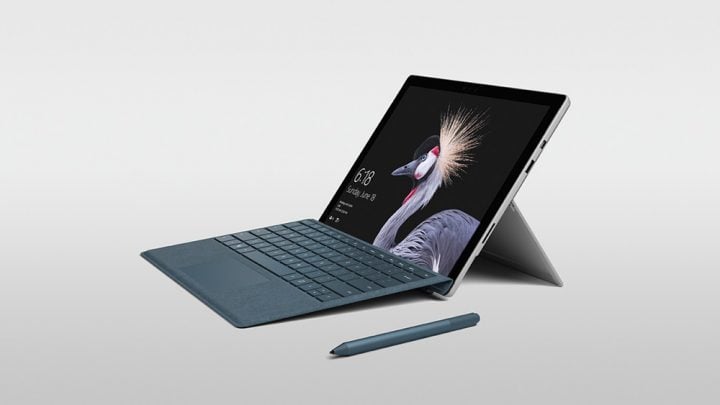 If battery life is a big concern, know that the Surface Laptop is the better device for you. It lasts for 14.5 hours of video playback. The 2017 Surface Pro's battery lasts through 13.5 hours of video before it needs to charge again.
These are general battery life estimates. The brightness of your screen and the apps you have open determine how close you come to going a full day without charging either Surface.
Surface Laptop vs 2017 Surface Pro: Drawing & Sketching
Drawing, sketching and note taking are where the Surface Laptop and 2017 Surface Pro are very different from each other.
The Surface Laptop's design puts it at a disadvantage. You'll never feel comfortable writing notes in a meeting or drawing on the Surface Laptop because the keyboard deck will always sit between you and the display.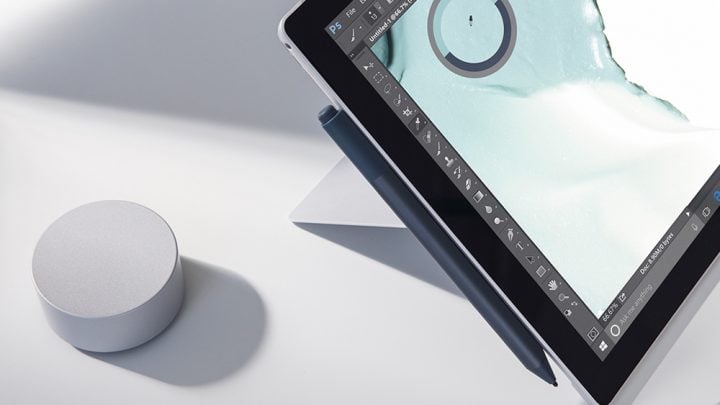 Meanwhile, the 2017 Surface Pro offers the best writing experience of any Surface. Its kickstand lets the tablet lay almost flat while you write or draw. Both devices can detect 4,096 different levels of pressure from the Surface Pen, but only Surface Pro knows if you tilted the pen as you drew. You can only drop a Surface Dial on the Surface Pro to adjust your ink color or brush size while you draw.
Fold the kickstand, detach the Surface Type Cover and lay the device down on a table in portrait mode to get the best writing experience possible on any Surface. You'll feel like you're writing on a legal pad and not a PC.
Surface Laptop vs 2017 Surface Pro: Windows 10 Pro vs Windows 10 S
Surface Laptop's most controversial feature is its software. It comes with Windows 10, but you shouldn't expect it to behave the way you're used to.
Microsoft loads every Surface Laptop with Windows 10 S. It's one of the ways the laptop manages longer battery life between charges. Unfortunately, it does this by stopping you from installing programs from the internet. You must buy apps and programs from the Windows Store instead.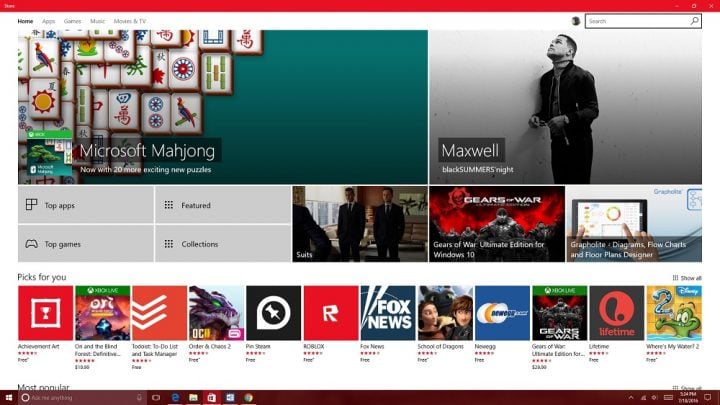 Things aren't as bad in the Windows Store as they once were. The desktop versions of Adobe Photoshop Express, Autodesk Sketchbook, Slack, Spotify and Microsoft Office are there. Hulu, Netflix, Sling TV, Facebook and Instagram have Windows Store apps, too. Microsoft has promised users that iTunes will come to the store.
Big names remain missing, though. Chrome and Firefox aren't in the Windows Store, so you must use Microsoft Edge and Internet Explorer on the Surface Laptop. Adobe's Premiere Elements isn't in the store either. Most users will miss at least one desktop program crucial to how they work.
Ordinarily, Windows 10 S would be enough to recommend everyone purchase a 2017 Surface Pro instead of a Surface Laptop. However, Microsoft will let Surface Laptop buyers upgrade to Windows 10 Pro free until January 1st, 2018.
Surface Laptop vs 2017 Surface Pro: Price
When you compare Surface Laptop and Surface Pro prices, one thing becomes clear. You save money with the Surface Laptop. That's despite each device's nearly identical processor and RAM lineup.
This is because you need accessories to get the most out of the Surface Pro. A Surface Type Cover is essential and those cost $129 or more. The Surface Laptop comes with a year of Office 365 Personal, which costs $69.99 separately. Surface Pro users only get a month of Office 365 Personal free.
| | | |
| --- | --- | --- |
|   | 2017 Surface Pro | Surface Laptop |
| Core M3 Processor, 4GB of RAM & 128GB SSD | $799 | Not Available |
| Core i5 Processor, 4GB of RAM & 128GB SSD | $999 | $999 |
| Core i5 Processor, 8GB of RAM & 256GB SSD | $1,299 | $1,299 |
| Core i7 Processor, 8GB of RAM & 256 GB SSD | $1,599 | $1,599 |
| Core i7 Processor, 16GB of RAM & 512GB SSD | $2,199 | $2,199 |
| Core i7 Processor, 16GB of RAM & 1TB SSD | $2,699 | Not Available |
| | $129 Surface Type Cover | Not Necessary |
| | $99 Surface Pen | $99 Surface Pen |
Read: Surface Laptop vs 2016 MacBook: 7 Things to Know Before You Buy
Only buying the 2017 Surface Pro with Intel Core M3 processor saves you money. That model and a cover are $929 together, so you save $71 by buying it instead of an entry-level Surface Laptop. This leaves you with an Intel Core M processor, though, which isn't great for browsing the internet with lots of tabs open, editing video clips or even playing casual games.
Anyone upgrading from the Surface Pro 4 or Surface Pro 3 doesn't need to buy a new Surface Type Cover, Surface Pen or Surface Dock. Old accessories work with this new model.
Surface Laptop vs 2017 Surface Pro: Which Should You Buy?
Once you compare the Surface Laptop and 2017 Surface Pro, it's easy to see decide which to buy.
Only purchase the 2017 Surface Pro if you need a device with a great drawing experience, prefer a smaller display or want something that can take the place of your notebook and tablet.
Everyone else should buy the Surface Laptop. Yes, you lose a MicroSD slot and a first-class inking experience. But, you gain an hour of battery life, a bigger display, a year of Microsoft Office 365 Personal and you save some money compared to the Surface Pro. The free Windows 10 Pro upgrade lets you continue to use your favorite programs from the web, taking away one of the Surface Pro's advantages.
The Surface Laptop isn't as exciting as the Surface Pro, but it is a better buy for most people.