We'll show you how to install iOS 9.0.1 on the iPhone and iPad using just your smartphone or by connecting to iTunes and using a computer to upgrade to iOS 9.0.1.
You can install the iOS 9.0.1 update on iOS 9 for a small set of bug fixes for important iOS 9 problems, or if you are still on iOS 8 you can install the iOS 9.0.1 update and get all the new iOS 9 features — and avoid an annoying upgrade problem.
Unlike the iOS 9 release we are not seeing any major problems with the upgrade process or slow iOS 9.0.1 downloads.
There are some time intensive things you should do before you install iOS 9.0.1, but if you already have a current iPhone or iPad backup, you should be almost ready to go.
[contextly_sidebar id="4hVzDrzqGh4rTSSIkCPusJ44JCuSM8KL"]Before you install iOS 9.0.1 your iPhone or iPad needs 50% or higher battery life and you need to connect to WiFi to download the update directly to your iPhone or iPad. Even for small updates like this you must use WiFi instead of cellular data.
The iOS 9.0.1 update is available for all devices that run iOS 9 or iOS 8. You do not need to install iOS 9.0.1 today, but there are some important fixes and our initial time with the update is positive so far.
Apple.s iOS 9.0.1 update arrived on September 23rd at 1 PM and it is a free download on iTunes or over the air directly to your iPhone, iPad or iPod touch.
How Long Does the iOS 9.0.1 Update Take?
We installed the iOS 9.0.1 update on the iPhone 6 and iPhone 6 Plus and the process was very fast. Both devices are already backed up as of last night, so we did not need to sync or backup before starting.
If you are on a decent WiFi connection the total time it takes to download and install iOS 9.0.1 should be roughly 10 minutes. During the installation portion you cannot use your iPhone or iPad, so plan ahead before you upgrade.
[contextly_sidebar id="GqCqYKVsU3jsTQQFSsOoGAKC8uzth4YT"]
For users on iOS 8 still, the time it takes to install iOS 9.0.1 is longer as you will need a bigger update file to make that upgrade. Plan on at least half an hour for the process.
How to Install iOS 9.0.1
The iOS 9.0.1 update is available to download right to your iPhone or iPad, and that is the easiest way to upgrade.
You don't need to wait to see a red notification bubble on the Settings icon to start the iOS 9.0.1 download, especially if you want the fixes that the update delivers.
If you use the iPhone alarms or you use a VPN that works installs on your iPhone, this is likely an update you want to install right now.
On the home screen and on Settings on the iPhone or iPad.
Tap on General.
Tap on Software Update.
Tap on Download and Install to start downloading iOS 9.0.1.
Enter your passcode.
Agree to the terms and conditions twice.
Wait for the iOS 9.0.1 download to complete and then tap Install
The iPhone will restart as part of the upgrade process and then will ask for your passcode.
If you want to use iTunes to install the iOS 9.0.1 update, you can plug your iPhone or iPad into your computer. Open iTunes and click on your device name and then Check for Update. In many cases iTunes will recognize that an update is available and prompt you to upgrade right away.
Users who are new to iOS 9 can see much of what's new in iOS 9 below. All these features are also in iOS 9.0.1, in addition to the bug fixes.
iOS 9 vs iOS 8: What's New in iOS 9
iOS 9 vs iOS 8 Walkthrough - Home Screen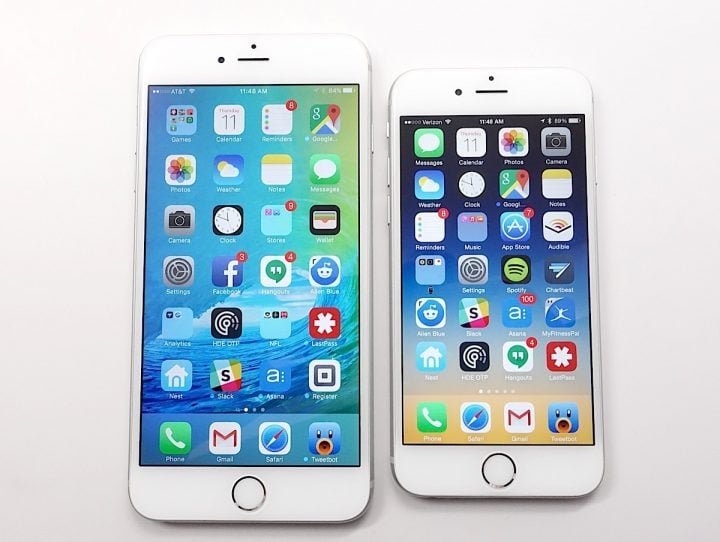 The image above shows that the iOS 9 home screen looks very much like the one on iOS 8. This is not surprising, but you will notice one major change to this screen.
The new iOS 9 font on the home page carries over through settings and apps. It's surprising how much the look of the system can change with a small tweak to a new font.
From the home screen you can now swipe left to a new search screen, and you can still swipe down to Spotlight from any of the home screen pages.
When you upgrade you will also see options to add iCloud Drive to your home screen.
Apple adds two new default iOS 9 apps that you cannot delete. Find iPhone and Find Friends apps now come with the iPhone by default. You can hide them in a folder, but you cannot delete the apps. The Find My iPhone app is a very good addition, while Find My Friends is still not as widely used.