How to Lock Notes on iPhone & iPad
One of the most interesting new iOS 9.3 features that you'll use is the ability to lock notes on iPhone and iPad using a password or your fingerprint. In the stock Notes app on your iPhone and iPad you can secure a note that only you can open.
This works in iOS 9.3 and higher and is also a feature on OS X 10.11.4 for your Mac, which allows you to lock a note on your computer with a password.
We'll walk through how to use this new feature to keep your notes secure so that you don't need to worry about someone who you hand your iPhone to looking into your personal notes.
Keep in mind that you need to install iOS 9.3 or higher to use this and you will need to use a password if you want to open the note on your Mac and on your iPhone since Macs don't have Touch ID yet.
How to Lock Notes iPhone & iPad
It's simple to lock a note on iPhone and iPad once you are on iOS 9.3 or higher. You lock notes on iPhone and iPad similar to how you share a note. You don't need to jailbreak or install any third-party apps to make this work.
Watch the video above for a demo of how to lock notes on iPhone and iPad using Touch ID or a password. Detailed direction below walk through how to use this feature on your iPad or iPhone.
Open Notes on your iPhone. You can create a new note or open a current note that you want to lock.
When you are in the note, tap on the share button in the upper right corner. This will open up a new set of options where you will see one that says, Lock Note.
You will then enter a password or place your finger on the Touch ID sensor to add the lock. Once you enter a password it is the password the iPhone or iPad will use to lock all future notes, and it is the password you will use on Mac.
You can now keep typing, but you will have to tap on the lock in the upper right to actually lock the note. Until you tap that the note is unlocked and accessible to anyone who has your iPhone.
Tap the lock next to the share icon and you've successfully locked the iPhone note.
To unlock it tap on the note and then tap on the lock. Enter the password or use Touch ID.
If you need to remove the lock on your iPhone note, unlock it, tap on share and then tap on Remove lock.
That's all there is to securing your information with an iPhone locked note. These still sync to your iPad, Mac and iCloud like a regular note.
On Mac you can open this by clicking on the note and then typing the password. You can create a new note on your Mac, click the lock icon and type a password to start the note there.
What's New in iOS 9.3 & iOS 9.3.5
Night Shift for iPhone Promises Better Sleep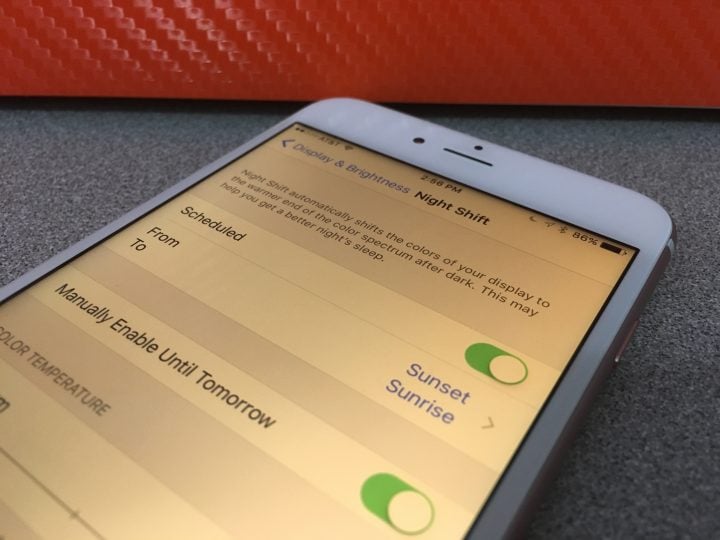 The free iOS 9.3 update adds Night Shift. With Night Shift the iPhone uses your iPhone's clock and your location to automatically shift the colors to a warmer, less blue, mode so that it is easier on your eyes. In the morning the display automatically returns to normal.
iOS 9.2 does not include any features to adjust the warmth of the display to make it easier to fall asleep after using your iPhone.
One of the biggest reasons to jailbreak the iPhone for the past several years has been for access to f.lux. This tweak adjusts your iPhone or iPad display to deliver a warmer light at night so that it is easier to fall asleep after using your iPhone or iPad.
Here's how to use Night Shift in iOS 9.3 to get a better night of sleep.
This is important because using bright blue light at night can interrupt your circadian rhythms, making it hard to fall asleep. This is part of why you may lay down exhausted but are unable to sleep after wasting 20 minutes on your iPhone or iPad in bed.

As an Amazon Associate I earn from qualifying purchases.