How to Play FIFA 19 Early
The FIFA 19 release date is September 20th with the special edition, but you can play early on Xbox One and PC without paying more for the Champions edition with FUT bonuses. This starts on September 20th.
With EA Access, Origin Access and Origin Access Premier you can play FIFA 19 early without paying more for the game. You do need to pay $5 to $15 a month or $30 to $99 a year for these programs, but you get a lot of value out of them.
This is not the FIFA 19 demo that is likely coming in mid-September. It's a nearly full version of the game. You don't need to pre-order FIFA 19 to get this option.
You can combine this with the FIFA 19 deals, and if you join EA Access or Origin Access you get 10% off the game when you buy digitally. If you buy Origin Access Premier, you get FIFA 19 free with your subscription.
Early FIFA 19 Release Date & Time
EA confirmed the FIFA 19 trial release date on September 20th. This is the same day for Origin Access and EA Access.
There is no specific time mentioned, but we typically see these arrive around 10 AM pacific, 1 PM Eastern.
How to Play FIFA 19 Early
You'll need to download the FIFA 19 trial to play early. The easiest way to access this is go to the EA Access app on your Xbox One or the Origin app on your PC.
Once the FIFA 19 trial download is available it will show up there and you can start the download and install it on your Xbox One or PC.
You can also check in the Xbox Store for EA Access, but make sure you are downloading the trial, or you may end up buying the game.
EA Access now supports remote installs. If your Xbox is set up to automatically download updates and games you buy, you can start the FIFA 19 trial download from work or at lunch. Expect a FIFA 19 download of around 40GB.
Sign into EA Access online. Look for FIFA 19 and then click the Remote Install button. You'll get a new window where you can sign into your Xbox Live account. choose to install the trial, not the full game.
Don't expect an option to pre-load the FIFA 19 trial through EA Access or Origin Access, but the good news for Xbox is that this trial is the pre-load for the full game even if you buy it on disk.
10 Hour FIFA 19 Trial
The FIFA 19 trial lasts 10 hours on Xbox One or PC. Once your time runs out, you can no longer play. For many users this isn't an issue, but for hardcore players looking to get a head start on FUT challenges, this may be time limit you bump into.
You need to make sure you quit the game, not just send it to the background. If you leave the game running it can run down the timer, but if you force quit you will be safe.
FIFA 19 Trial Bonus
There is a good chance that you will earn a FUT bonus if you play the FIFA 19 trial during the first week.
On Madden 19, we saw an Elite Player Fantasy Pack as a bonus for players who played the trial during the first few days.
Expect Almost All of the FIFA 19 Game
You will be able to play nearly all of the FIFA 19 game in the trial. Your progress will carry over to the full game if you buy it.
While you used to get all of the game, EA now limits access to the story mode, so that players cannot get through all of The Journey on the trial.
Thankfully your progress in The Journey and in FUT will carry over to the full game, so you can fully invest yourself in the game as you explore all the new FIFA 19 features.
FIFA 19 Pre-Order Guide: 3 Reasons to Buy & 3 Reasons to Wait
Pre-Order If You Want an Edge in FUT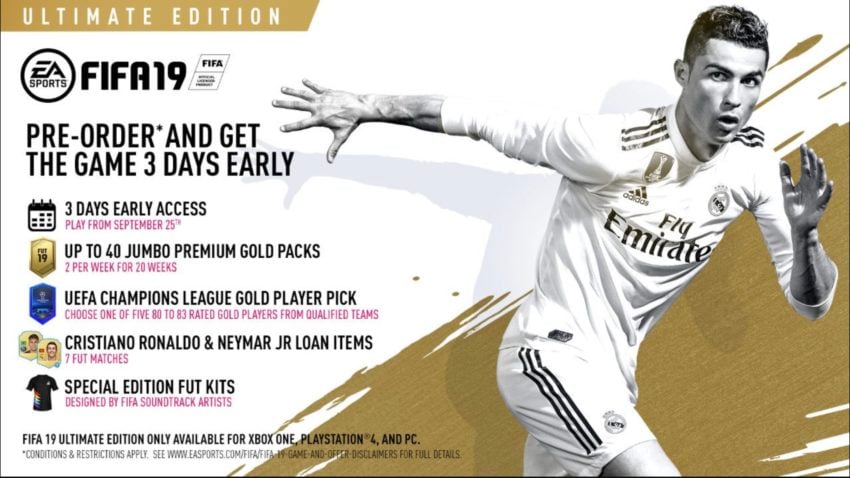 Do you love playing FIFA Ultimate Team? If you want to get a head start you should plan on buying the FIFA 19 Ultimate Edition which lets you play three days early.
This also comes with a ton of FIFA Ultimate Team extras. While you won't get the FUT Jumbo packs all at once, you can still benefit from the early access.
You can build up your team and start checking the auction house where you might be able to pick up some players early to help get a better team.
At the end of the day, if you are buying FIFA 19 Ultimate, you should pre-order at some point, even if you wait until September to do so.