How to Prepare for the Public iOS 9 Beta
Apple plans to let you try iOS 9 early this year with a public iOS 9 beta that arrives in July. Apple will allow regular users to test the new iPhone software for several months before the public iOS 9 release date that arrives this fall. Here is what you need to do now if you want to take part in this iOS 9 beta for regular users.
The iOS 9 update arrives this fall on all iPhones and iPads running iOS 8 or higher. The update includes a range of features and big upgrades to apps that most of the public will not see until fall 2015, but if you take action now you can try out the latest update early.
Read: 5 Reasons to try the iOS 9 Beta
One reason you might want to test the iOS 9 beta is to make sure that it works good on your device. The beta is not a final product, and you can provide feedback to Apple to let them know if performance is a problem or if something doesn't work on your specific model.
Keep in mind that there are often bugs that can drain battery life or cause problems with apps and services while on the beta, so you may sacrifice some of the iPhone experience to test new features. Apple already boosted the performance from one early beta to the current iOS 9 beta, so we expect decent overall performance on the public iOS 9 beta
Here are fives steps to take today to prepare for the public iOS 9 beta.
Sign Up for the Public iOS 9 Beta
The iOS 9 public beta starts in July, but not every one can use it. In order to be a part of the iOS 9 public beta you need to sign up with Apple.
The Apple Beta Software Program, or Apple Seed, is where you can sign up to try the public iOS 9 beta and the public OS X El Capitan beta. You'll need to sign up for this before the public iOS 9 beta release or you may not make the cut.
Previous Apple beta programs did not allow every user to join, but we don't know if there is a cap on the iOS 9 beta at this point.
Back Up Your iPhone
There is a chance that the public iOS 9 beta release date will arrive this week, as the next version will include support for Apple Music.
Before you upgrade to the public iOS 9 beta it is a very good idea to back up your phone to your computer. Even if you regularly back up to iCloud, a local backup is still a good idea.
Read: Why You Should Skip the iOS 9 Beta
If something goes wrong and you need to downgrade to iOS 8.4, you can then restore that backup if you run into any issues.
Use a Spare iPhone or iPad
This is a public iOS 9 beta, but it is still a beta and things may not work right. You should not install the public iOS 9 beta on your work iPhone or iPad. It is also not the best idea to install this on your iPhone that you use every day as it may be unstable in areas.
Instead, you should attempt to install the public iOS 9 beta on a backup device, even if it is an older iPhone or iPad.
With this strategy you might miss out on one or two features, but you won't need to worry about a bug ruining your day or devastating your battery life if there is an issue in the beta.
Know The Restrictions
There are some key details about participating in the public iOS 9 beta that users need to be aware of. Specifically, Apple warns that this is still Apple confidential information. The company includes the following disclaimer as part of the terms of using the iOS 9 beta.
"Don't blog, post screen shots, tweet, or publicly post information about the public beta software, and don't discuss the public beta software with or demonstrate it to others who are not in the Apple Beta Software Program"
You can still share some details about the beta, as long as it is information Apple publicly revealed on stage at WWDC 2015 or shows online in the iOS 9 preview.
Explore New iOS 9 Features
If you want to try all the new iOS 9 features you will need to use a fairly recent device. This may run up against our advice to use a spare iPhone or iPad, so keep that in mind if you want to try the iOS 9 beta.
Not all the new iOS 9 features work on older iPhones and the best iPad multitasking feature only works on the iPad Air 2.
We recommend checking out the new iOS 9 features below and figuring out which device you need to use to get early access to the features you want most.
iOS 9 vs iOS 8: What's New in iOS 9
iOS 9 vs iOS 8 Walkthrough - Home Screen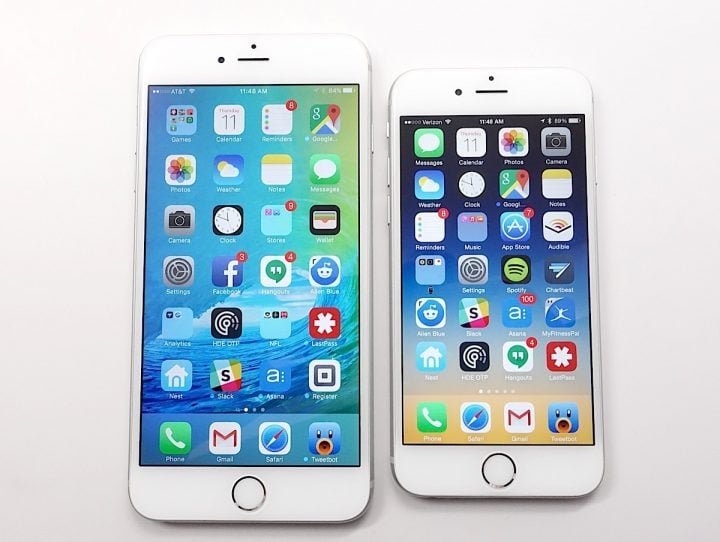 The image above shows that the iOS 9 home screen looks very much like the one on iOS 8. This is not surprising, but you will notice one major change to this screen.
The new iOS 9 font on the home page carries over through settings and apps. It's surprising how much the look of the system can change with a small tweak to a new font.
From the home screen you can now swipe left to a new search screen, and you can still swipe down to Spotlight from any of the home screen pages.
When you upgrade you will also see options to add iCloud Drive to your home screen.
Apple adds two new default iOS 9 apps that you cannot delete. Find iPhone and Find Friends apps now come with the iPhone by default. You can hide them in a folder, but you cannot delete the apps. The Find My iPhone app is a very good addition, while Find My Friends is still not as widely used.

As an Amazon Associate I earn from qualifying purchases.