How to Quickly Add to Calendar From Any App
Here is a guide on how to quickly add Calendar events from any app on your iPhone with iOS 10.
In iOS 10, Apple again is trying to grow its internal ecosystem between applications and enable you to seamlessly interact with them without necessarily leaving the app you are using. One of the prime apps that benefits from this is the iOS Calendar.
By being able to quickly add events and reminders to your Calendar, you will be in a much better position to not miss any upcoming plans.
How to Quickly Add to Calendar From Any App
Here are the different ways you can interact with your iOS Calendar.
Watch the above video to learn more about using your Calendar within other apps.
Using Calendar in Messages
One of the most common uses of the Calendar app is within our message threads in the Messages application. We frequently make plans with our friends and family and often will text dates and locations and even use words like "dinner" or "date night" and Messages will underline these.
These underlined statements imply that you are able to add these as calendar information. For example if you invite someone to dinner at a particular restaurant at a certain time, Calendar will be able to gather this information into a new event for you.
Tapping the underlined sections will open a new event window where you can quickly add this information to your Events and not miss it.
Using Calendar in Mail
In addition to Messages, Mail also yields plenty of functionality for Calendar. In addition to highlighting similar words and phrases, it will also detect attachments like concert ticket PDF files, wedding invitations and any other rich data that it can utilize to help you add events to your calendar.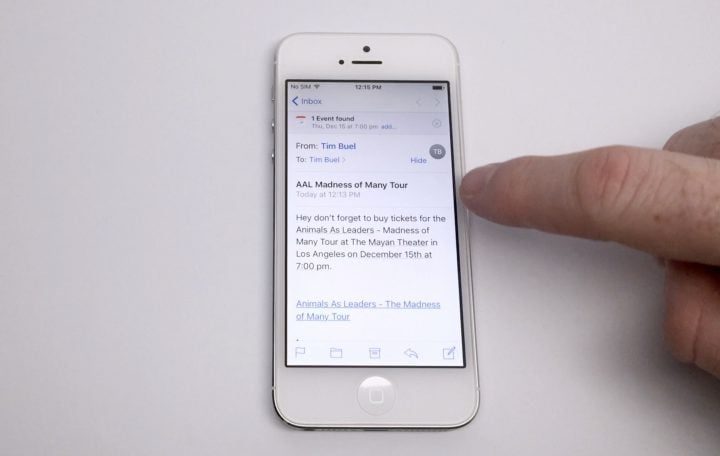 When you receive an automated response from Ticketmaster regarding your upcoming concert, you often will receive a PDF attachment and Mail will notify you above the message if it can access this information.
Much like Messages, tapping any of these items will open another window to Add and Event to the Calendar.
Using Calendar in Other Applications
Now that you are familiar with the way iOS utilizes event detection to help you plan your month, you can be on the lookout for these underlined phrases or times in other applications as you use your iPhone.
One of my other uses is in my Notes application. I tend to journal or jot down ideas in there and often times I will date something or note a time and the underlined phrasing will appear, enabling me to Add this Event to the Calendar if I so please.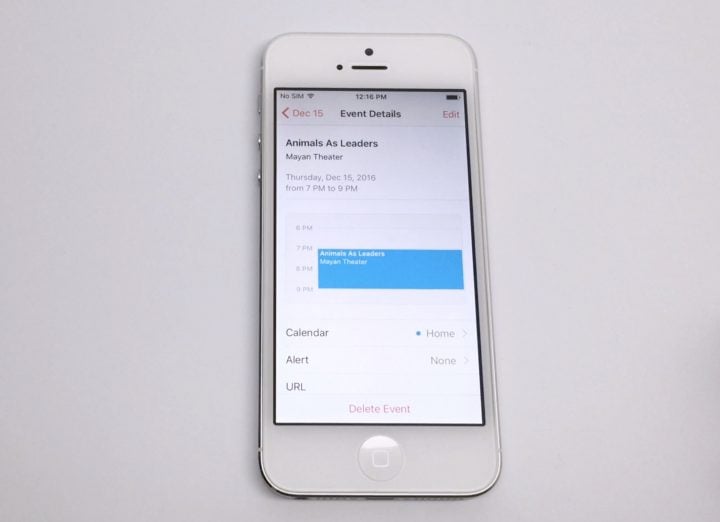 Other Apps that definitely enlist support of the iOS Calendar integration are Safari, Maps (if making reservations with Yelp or OpenTable), Reminders and more.
Plenty of third-party applications can be utilized with Calendar as well and it is best to experiment with your most used apps to see where you can find these features to benefit your daily usage!
What's New in iOS 11.4.1
What's New in iOS 11.4.1
The iOS 11.4 update added Messages in iCloud and AirPlay 2, but it also brought issues along with it. The iOS 11.4.1 update keeps these long anticipated features and includes fixes for some iOS 11.4 problems.
Specifically the iOS 11.4.1 update;

Fixes an issue that prevented some users from viewing the last known location of their AirPods in Find My iPhone.
Improves reliability of syncing mail, contacts and notes with Exchange accounts.
This update also includes other bug fixes and security upgrades. It's possible that this update includes a fix for bad iOS 11.4 battery life.
Messages in the Cloud allows you to backup your iMessage conversations to the cloud just like you back up your notes, contacts and photos. This means they are backed up in case something happens to your phone, but that's not all.
Messages in the Cloud syncs deleted messages and threads across your iCloud devices. This means everything will show up the same across your Apple devices. With this in place you should see the same conversations everywhere, all of the time.
This also backs up the photos and attachments in the cloud so you have more room on your iPhone or iPad. When you get a new device all of the messages sync to that device so you don't lose anything.