How to Turn on AT&T WiFi Calling on iPhone
Learn how to use AT&T WiFi Calling on iPhone to make calls in areas with poor signal strength or to make phone calls internationally without expensive fees. We'll show you how to turn on AT&T WiFi Calling on iOS 9 for your iPhone and explain how it works.
AT&T WiFi calling allows you to talk when you don't have a good connection to AT&T. The system will automatically switch over to WiFi calling when your phone doesn't have a connection to the AT&T network.
With AT&T WiFi calling on the iPhone with iOS 9 or iOS 9.3, you can make calls, text and use Visual Voicemail — just like when you are connected to AT&T networks. The other users you are calling or  texting do not need to be on AT&T and they do not need to have WiFi calling enabled.
You can use AT&T WiFi calling from pretty much any WiFi network. When AT&T first rolled this out it was limited to the U.S., but with iOS 9.3 or higher users can make calls to U.S. numbers from overseas or outside of the U.S. without paying extra.
If you call an international number from AT&T WiFi Calling on iPhone you will pay an International Long Distance fee, even if you are in that country calling a number located next to you.
There is no extra charge for AT&T WiFi calling on iPhone for domestic calls and texts, but if you make international calls you will pay the current rate.
You can now use NumberSync to make calls using your same number from Apple devices over cellular or WiFi networks.
When you make a call on AT&T WiFi you will see AT&T WiFi in the status bar next to the WiFi icon on your iPhone. If there is a HD Voice connection the call will switch to it when you leave WiFi, but this may not always happen.
How to Turn on AT&T WiFi Calling
You can use this guide to turn on AT&T WiFi calling on your iPhone with iOS 9 or higher. AT&T added new calling options with iOS 9.3, so you may need to update to that or higher even if you already use AT&T WiFi Calling on iPhone. . If you have not upgraded to iOS 9 yet, you can see what's new in iOS 9.3 and use this guide to upgrade to the latest version.
AT&T WiFi Calling only supports the iPhone 6s, iPhone 6s Plus, iPhone 6 and iPhone 6 Plus with iOS 9 or higher installed. If you have an iPhone 5s or older device you cannot use this feature.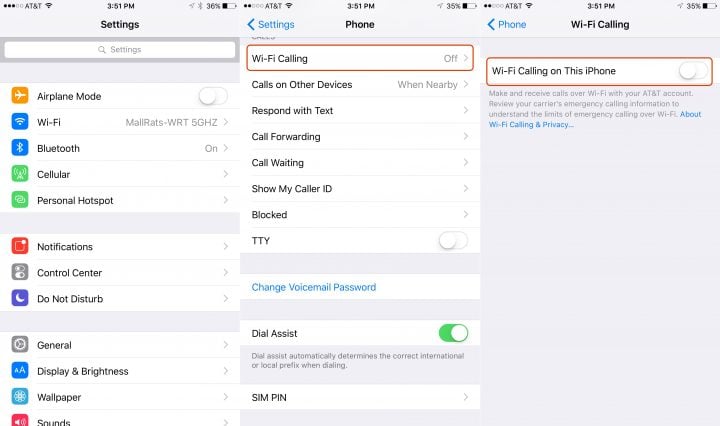 Go to Settings -> Phone -> WiFi Calling.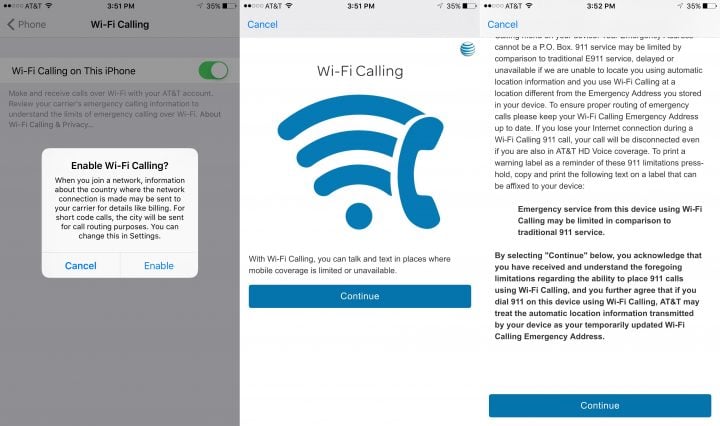 On the next screen tap Enable, then Continue and if you agree to the terms on Continue again. 
On the next screen confirm your address. This is what AT&T will use for E911 service if your location is unavailable. Enter it and then Verify. Then choose to Use this Address.
If all goes right, you will see the message that WiFi calling will be available in a few minutes. If your account isn't set up right, you may see a message that says,
"Oops! We Can't turn on Wi-Fi Calling for your account. Thinks this message is a mistake? Ask the person who can make account changes to call us. The Number is 800.331.0500."
We've reached out to AT&T to find out exactly what the issue is, but it may be related to your account settings. If possible, call AT&T directly. We will update with information when available.
What's New in iOS 9.3 & iOS 9.3.5
Night Shift for iPhone Promises Better Sleep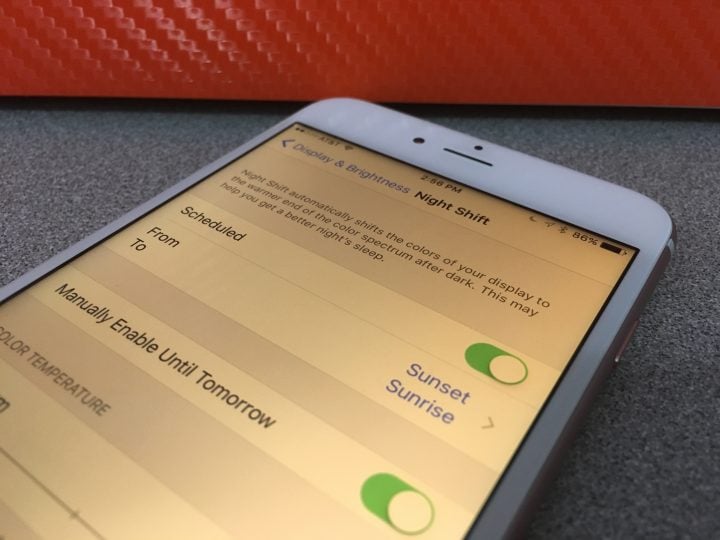 The free iOS 9.3 update adds Night Shift. With Night Shift the iPhone uses your iPhone's clock and your location to automatically shift the colors to a warmer, less blue, mode so that it is easier on your eyes. In the morning the display automatically returns to normal.
iOS 9.2 does not include any features to adjust the warmth of the display to make it easier to fall asleep after using your iPhone.
One of the biggest reasons to jailbreak the iPhone for the past several years has been for access to f.lux. This tweak adjusts your iPhone or iPad display to deliver a warmer light at night so that it is easier to fall asleep after using your iPhone or iPad.
Here's how to use Night Shift in iOS 9.3 to get a better night of sleep.
This is important because using bright blue light at night can interrupt your circadian rhythms, making it hard to fall asleep. This is part of why you may lay down exhausted but are unable to sleep after wasting 20 minutes on your iPhone or iPad in bed.

As an Amazon Associate I earn from qualifying purchases.