How to Turn on Verizon WiFi Calling on iPhone
Apple and Verizon just delivered an update that allows users to turn on Verizon WiFi calling on the iPhone. This will let you make calls and receive calls on WiFi so that you don't miss out when you are in poor coverage. We'll explain what Verizon WiFi calling is and how you can set it up on your iPhone running iOS 9.3 or higher.
Once you set up Verizon WiFi calling on iPhone you can make calls over WiFi, like when you are in a building with poor signal strength, which allows you to stay connected. Unlike FaceTime Audio, you can use WiFi calling to reach any phone number on any carrier or device, and even home phones.
There is no additional charge to use Verizon WiFi calling. It simply uses your existing phone plan to make the call. One of the major benefits is that you can call U.S. numbers free of charge — even when traveling internationally, as long as you make them over WiFi.
You'll need a monthly Verizon plan as pre-paid plans do not support WiFi calling on Verizon at this time. To use this you will need an iPhone se, iPhone 6, iPhone 6 Plus, iPhone 6s or iPhone 6s Plus. You will need to turn on Advanced Calling on your iPhone, which will require you to login to your account or to call Verizon to add Advanced Calling.
Making a WiFi call on Verizon does not use your plan data, but it will use the WiFi data at about 1MB per minute for audio and 6-8MB for a video call.
How to Set up Verizon WiFi Calling on iPhone
You can set up Verizon WiFi calling on iPhone without going to a Verizon Store or without calling to change your plan if you already have HD Voice enabled. Sometimes HD Voice is also known as Advanced Calling 1.0.
You can see if you have this already turned on by logging into your Verizon account, clicking on Manage My Account and then on Change Features. Next click on Add Advanced Calling.
Once that is set up you need to follow a few simple steps on the iPhone to turn on WiFi Calling.
Tap on the Settings app on your iPhone home screen. next tap on Phone in the Settings menu. Then tap on Wi-Fi calling.
On the next screen you will set up an Emergency Address and confirm that you understand how this works.
Toggle Wi-Fi Calling on This Phone to On. Read the pop up warning and if you agree tap on Enable. Enter an emergency address that will show up for 911.
In order to allow Voice Calls over the Internet Verizon must allow 911 calls and include an address. This is the address that 911 will get if you call 911 over WiFi and are unable to provide an address to the operator. This does not change your billing address.
What's New in iOS 9.3 & iOS 9.3.5
Night Shift for iPhone Promises Better Sleep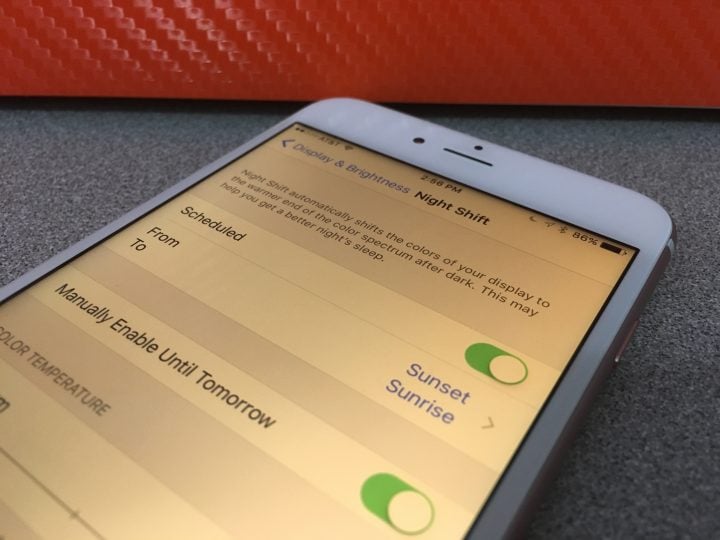 The free iOS 9.3 update adds Night Shift. With Night Shift the iPhone uses your iPhone's clock and your location to automatically shift the colors to a warmer, less blue, mode so that it is easier on your eyes. In the morning the display automatically returns to normal.
iOS 9.2 does not include any features to adjust the warmth of the display to make it easier to fall asleep after using your iPhone.
One of the biggest reasons to jailbreak the iPhone for the past several years has been for access to f.lux. This tweak adjusts your iPhone or iPad display to deliver a warmer light at night so that it is easier to fall asleep after using your iPhone or iPad.
Here's how to use Night Shift in iOS 9.3 to get a better night of sleep.
This is important because using bright blue light at night can interrupt your circadian rhythms, making it hard to fall asleep. This is part of why you may lay down exhausted but are unable to sleep after wasting 20 minutes on your iPhone or iPad in bed.

As an Amazon Associate I earn from qualifying purchases.