How to Use Apple Music Lyrics
Here is a guide on how to use Apple Music Lyrics.
Apple Music is a newer feature to Apple products, giving customers the ability to stream and download music directly from the massive iTunes library right to their Music app on their iOS devices.
When we want to learn the lyrics to a song we are especially enjoying while using Music, we usually have to navigate to Safari and do a quick Google search for lyrics.
With iOS 10, Apple wants to bring the full music experience to the user by now providing a Lyrics feature to Apple Music.
How to Use Apple Music Lyrics
Here are the steps you take to access Lyrics within Apple Music.
Watch the above video to learn how to read the Lyrics to songs in Apple Music.
Access the Lyrics Feature
While using Apple Music in iOS 10, you will see your current song being played in a smaller banner at the bottom of the screen. Tapping this will reveal the full screen card of the song and allow you to access additional features.
In addition to the Cloud download and Airplay options you will notice three dots on the right lower side of the screen. Tapping this will reveal multiple options for that given song including Download, Delete from Library, Add to Playlist and Share options.
There should also be a tab included now for Lyrics. Tapping the Lyrics text will open a new window very similar looking to the Notes application and you will see the lyrics for your current song display in front of you.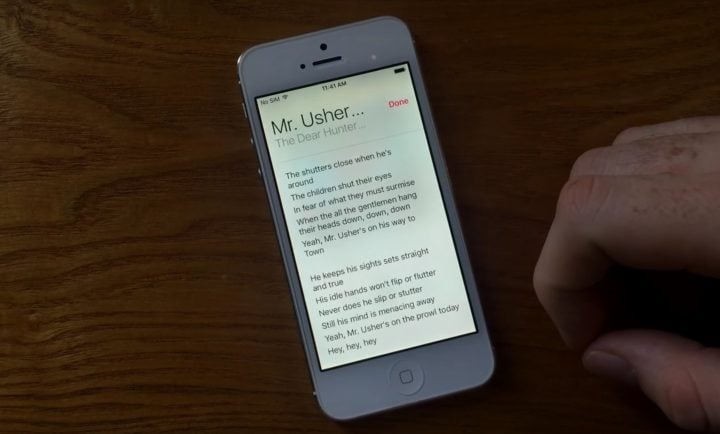 There are still going to be songs you may find that don't have lyrics inputted yet but Apple is quickly rolling out Lyrics for all songs available and you should be able to sing along soon.
You are also able to access Lyrics by scrolling down on the Now Playing card. Instead of hitting the three dots you scroll down to the Up Next list and it now shows Lyrics above that.
This is a great new addition to the Apple Music service and is sure to be utilized by users everywhere who want to play karaoke to their favorite tunes.
What's New in iOS 11.4.1
What's New in iOS 11.4.1
The iOS 11.4 update added Messages in iCloud and AirPlay 2, but it also brought issues along with it. The iOS 11.4.1 update keeps these long anticipated features and includes fixes for some iOS 11.4 problems.
Specifically the iOS 11.4.1 update;

Fixes an issue that prevented some users from viewing the last known location of their AirPods in Find My iPhone.
Improves reliability of syncing mail, contacts and notes with Exchange accounts.
This update also includes other bug fixes and security upgrades. It's possible that this update includes a fix for bad iOS 11.4 battery life.
Messages in the Cloud allows you to backup your iMessage conversations to the cloud just like you back up your notes, contacts and photos. This means they are backed up in case something happens to your phone, but that's not all.
Messages in the Cloud syncs deleted messages and threads across your iCloud devices. This means everything will show up the same across your Apple devices. With this in place you should see the same conversations everywhere, all of the time.
This also backs up the photos and attachments in the cloud so you have more room on your iPhone or iPad. When you get a new device all of the messages sync to that device so you don't lose anything.

As an Amazon Associate I earn from qualifying purchases.