How to Write Handwritten Messages in iOS 10
Here is a guide on how to write handwritten messages in iOS 10.
When we are writing messages to our friends and loved ones, we often want to include some sort of personalization. There have always been ways to add emojis or pictures by copying and pasting yet now with iOS 10, Apple has included the ability to write handwritten notes within the Messages app!
This can be a very fun addition to the usual Messages threads that gives a personal touch to the person you are messaging. You are able to access this handwritten menu during the writing of any message thread and send them at the tap of a button, personalizing your note for your friend.
How to Write Handwritten Messages in iOS 10
Here are the steps to take in order to send handwritten messages in the Messages app.
Watch the above video to learn how to write handwritten messages in iOS 10.
Writing in Landscape
When you open a Message thread in iOS 10, you are able to ordinarily switch your iPhone to landscape view in order to get a larger keyboard space and additional typing tools. The default now however is to reveal the handwritten screen from which you can select various pre-loaded messages and draw your own.
Using your finger to draw on the open white space will allow you to sign or write anything you desire as long as it fits within the window guidelines of two screens total. The receipting will then see your handwritten message unfold before them stroke for stroke.
This is great for adding signing your name, saying I love you, or just adding a little cartoon for your message. If you do not wish to default to this feature, tapping the keyboard icon in the bottom right hand corner to return to your usual landscape view of your keyboard.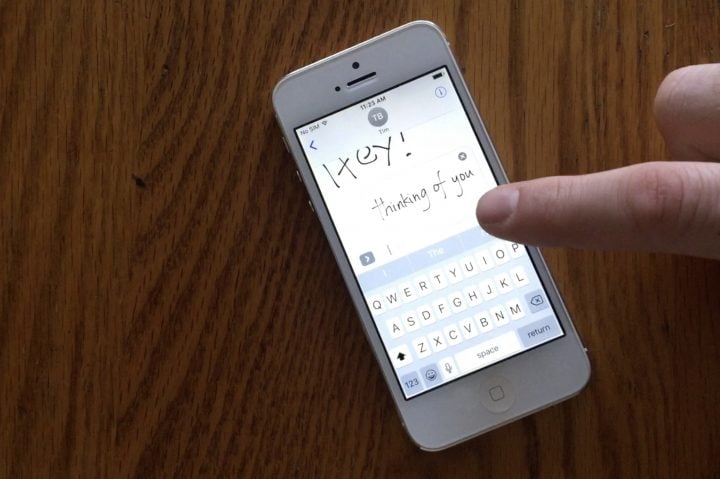 In addition to Digital Touch, this is one of the new features that Apple has inserted into the Messages app that provides another way to connect with our loved ones on a more personal level.
Handwritten messages will likely be a feature that many users ignore yet it will give those that enjoy a more personal touch a better tool in which to do so.
What's New in iOS 11.4.1
What's New in iOS 11.4.1
The iOS 11.4 update added Messages in iCloud and AirPlay 2, but it also brought issues along with it. The iOS 11.4.1 update keeps these long anticipated features and includes fixes for some iOS 11.4 problems.
Specifically the iOS 11.4.1 update;

Fixes an issue that prevented some users from viewing the last known location of their AirPods in Find My iPhone.
Improves reliability of syncing mail, contacts and notes with Exchange accounts.
This update also includes other bug fixes and security upgrades. It's possible that this update includes a fix for bad iOS 11.4 battery life.
Messages in the Cloud allows you to backup your iMessage conversations to the cloud just like you back up your notes, contacts and photos. This means they are backed up in case something happens to your phone, but that's not all.
Messages in the Cloud syncs deleted messages and threads across your iCloud devices. This means everything will show up the same across your Apple devices. With this in place you should see the same conversations everywhere, all of the time.
This also backs up the photos and attachments in the cloud so you have more room on your iPhone or iPad. When you get a new device all of the messages sync to that device so you don't lose anything.

As an Amazon Associate I earn from qualifying purchases.