10 iMessage Tips & Tricks for iOS 8
We'll show you how to be an iMessage master in iOS 8 so that you can communicate faster and better with your iPhone, iPad and even your Mac. This guide will walk you through the new iMessage and text features on the iPhone and iPad running iOS 8, iOS 8.1 and iOS 8.1.1.
Apple delivered several essential iMessage features in iOS 8 that make it easier to use this service as your main way to communicate with friends, family and co-workers. You'll need iMessage to make use of these features, so some times when you text an Android or other phone user not all the options will appear.
Apple does finally add the ability to respond to text messages from your Mac, and there are plenty of other exciting additions.
You don't need to spend any money on apps or jailbreak your iPhone or iPad to make this work, everything is built-in to the iPhone and iPad with iOS 8 and recent iOS 8.1 and iOS 8.1.1 updates. This is available as a free update for the iPhone 4S and newer and the iPad 2 and newer as well as the iPod touch 5th generation. You will need the free OS X Yosemite update for one of these features, but the rest will work no matter what computer you have.
Keep reading to learn how to use iMessage like a pro on iOS 8.
iMessage Tips & Tricks for iOS 8
Use these iMessage tips and tricks that Apple added in iOS 8 and other updates to make your messaging experience easier and much better in iOS 8 and iOS 8.1.
Do Not Disturb for a Single iMessage Thread
If you need to keep an iMessage thread quiet, you can turn on Do Not Disturb for just one message thread. This will mute the notifications for that thread, be it individual or group, and allow you to keep doing what you want. When you do this, you don't need to turn off the other notifications. It's really handy for muting a noisy friend or group while you are working.
Go to the message -> Tap on Details -> Turn on Do Not Disturb. When you are done, just turn  it off. You will still see the messages and can respond, but you won't get notifications until you turn this off.
People in the group will not know that they are on Do Not Disturb. One catch is that this may still continue to send notifications to a car entertainment system, so be on the watch out for that.
Leave a Group Message in iOS 8
If you are in a group message on iOS 8, you can leave that group without the other members knowing, but you won't get the messages and they won't simply stay on the iMessage server waiting for you. There is not a way to re-join an iMessage group as far as we know.
Open the group message -> tap on Details -> then Leave this Conversation.
You will not see this option if there is someone using text messages or if someone is on iOS 7.
Share Your Location in an iMessage on iOS 8
Apple makes it easy to share your location with someone by iMessage. This works for an individual or for a group iMessage thread.
Open the message -> tap on Details -> Share my Location. 
From there, you can choose to share for one hour, until the end of the day or indefinitely. This is different from sharing your current location. The current location option is handy for someone to see where you are now.
Rename a Group iMessage Thread
You can change the name of a group iMessage thread on the iPhone or iPad running iOS 8. This will change the name for everyone in the group and across all devices on iOS 8. This means other people in the group will see the name of the group, so don't accidentally rename a group that includes a boss to, "annoying people" or something like that.
Open the group message -> tap on Details -> At the top tap on Group Name and enter the new name -> tap done.
You can go back and change it later and other members of the group can also change the name.
See all the Photos in a Conversation
When you are in a conversation in iMessages for iOS 8, you can quickly look through the photos that you sent back and forth without scrolling through all the conversation.
Go to the message -> Tap on Details -> scroll to the Attachments section -> Tap on one to scroll through like photos. 
This works with text messages as well as iMessage and in groups. You may see some attachments routinely deleted as the iPhone looks to save space.
Send an Audio Message in iOS 8 Messages
The new Messages app in iOS 8 lets you send an audio message to other people, as a short audio attachment that plays when they lift the iPhone to their head or when they open the app.
Open the message and tap on the microphone icon on the right side and hold down to record a message. If you need to cancel the message slide to the left. Slide up to send the message.
Send a Video Message in iOS 8
In iOS 8, you can also quickly send a video message to someone. Tap and hold on the camera icon to the left side of the text area. Slide right to take a video or up to take a photo. This will send as soon as you are done with it, so keep that in mind before tapping and holding this icon.
Check Text Messages on a Mac, iPad or 2nd iPhone
With iOS 8 you can check your text messages on your Mac, iPad or a second iPhone. Most users will love seeing and replying to text messages on their Mac or iPad, but if you carry a second iPhone for work, you can set the iPhone to forward text messages to your second iPhone so you never miss a message.
Go to Settings -> Messages -> Text Forwarding -> Toggle on and then enter the six digit code shown on the second device to confirm that you want this to happen. Here's a more detailed walkthrough.
Block an iMessage or Text
When you get iMessages or text messages from someone you don't know or simply don't want to talk to ever, you can block their contact or phone number very quickly. You can do this rom a message or from the Blocked section.
Go to Settings -> Messages -> Blocked -> Add New. This is where you can bulk type in new contacts or numbers to block, and you can also unblock someone from this screen. You can also block someone by going to the bottom of their contact card in the Contacts app.
Set up Custom Vibrations and Texts
Apple includes a handy feature that lets you configure a custom vibration alert and custom ringtone for a contact. Go to Contacts, find the contact you want and then tap on Edit. Next, you need to scroll to Text Tone and Vibration. Tap on Vibration and then on Create New Vibration. From here, you tap on the screen to create a new vibration alert that you want for that contact.
Back on the Edit screen you can tap on Text Tone and then select a new one. You can also use this link to buy additional text tones.
Configure a new tone and vibration for frequent contacts so you know who is texting without taking the iPhone out of your pocket or looking at the phone.
Check out the rest of the new iOS 8 features in the slideshow below and our gift guide.
What's New in iOS 8
iOS 8 vs iOS 7 Walkthrough - Home Screen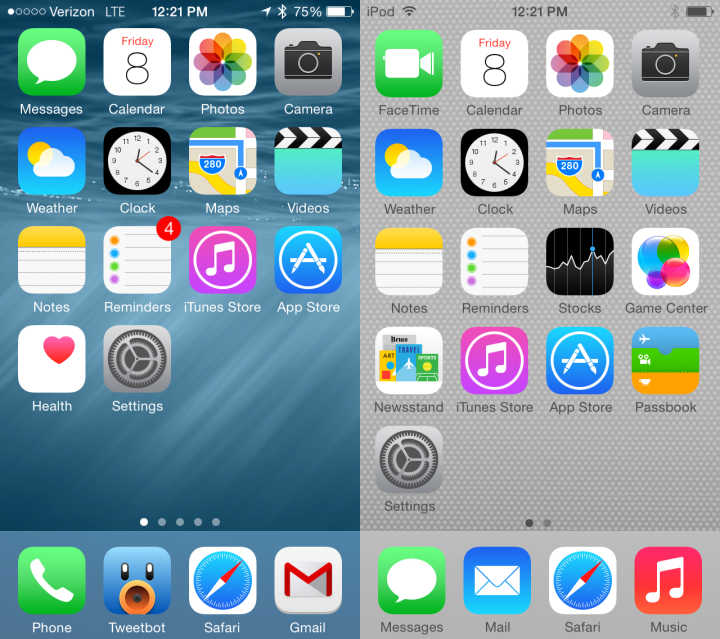 We start our iOS 8 vs iOS 7 walkthrough with the iPhone home screen, which is where you'll start your iOS 8 experience after an update this fall.
These screens are incredibly important as you see them anytime you turn on the iPhone or need to choose an app to launch. There is no way around using them, so Apple needs to make sure they work just right.
As you can see in the iOS 8 vs iOS 7 comparison above, there is no change between the home screen in the new iPhone software. Apple changed the status bar and some other small visual changes in iOS 7, but there are no updates for iOS 8.
We could see Apple change the home screen slightly for iOS 8 for the iPhone 6. The new iPhone will feature a larger 4.7-inch display with a higher resolution. This is something Apple may use to add more icons to the screen. Or they could stick with the current layout, it's tough to tell.

As an Amazon Associate I earn from qualifying purchases.