iOS 8.1.3 Update Pushed, Release Still Likely in January
As users wait for the iOS 8.1.3 update to arrive with bug fixes for lingering iOS 8 problems Apple passed over a rumored release date in favor of more testing.
Roughly two months after the iOS 8.1.2 update arrived, rumors emerged from two sources suggesting the iOS 8.1.3 release was imminent due to Apple retail employee testing of the new update, but after a week of expectations and advice Apple delivered another test version.
After a sloppy iOS 8 release that delivered a number of iOS 8 problems still remaining and one iOS 8 update that completely shut down cell phone connectivity for iPhone 6 and iPhone 6 Plus users Apple is testing even smaller updates widely ahead of a public release.
A report late last week outlined Apple's new iOS 8.1.3 update that is still on track with a new build shared to Apple retail employees on Friday January 16th. MacRumors shares this news, including details that this version of the iOS 8.1.3 release is a newer version of the update. This indicates Apple is still identifying and fixing bugs or other problems in iOS 8, iOS 8.1.2 and possibly in the iOS 8.1.3 update itself.
In the report we also learn that this is a minor update designed to fix bugs, but not deliver new features or design changes to the iPhone and iPad. Apple did not offer release notes to the employees and there is no iOS 8.1.3 release to developers.
Over the past three weeks traffic from devices running iOS 8.1.3 increased to multiple websites including Gotta Be Mobile. You can see a spike in traffic over the last two weeks in the graph below.
Apple is already testing a larger iOS 8.2 beta that is in the hands of developers. This update is tied to the Apple Watch, including a companion app that will allow users to change some Apple Watch settings from the iPhone. We don't expect the iOS 8.2 release until Apple shares more information about the Apple Watch release date and price. Users should expect to see the iOS 8.2 update arrive with Apple Watch support and other bug fixes in March based on Apple Watch rumors.
With the new version in the hands of Apple employees the iOS 8.1.3 release date may arrive for the general public by the end of January.
Users who want to prepare for the iOS 8.1.3 release date can take action with a list of 7 things to do before the iOS 8.1.3 update arrives. This includes cleaning up your device, backing it up, reading recent iOS 8.1.2 reviews and other important preparations to ensure a smooth update.
Although it may be tempting to install the update as soon a the iOS 8.1.3 release arrives, there are several reasons to wait a few days, or longer, before upgrading your iPhone, iPad or iPod touch. While you wait, you can learn more by checking out five things you need to know about the iOS 8.1.3 update for iPhone, iPad and iPod touch. The update is coming to the iPhone 4s and newer, iPad 2 and newer and the iPod touch 5th generation.
What's New in iOS 8
iOS 8 vs iOS 7 Walkthrough - Home Screen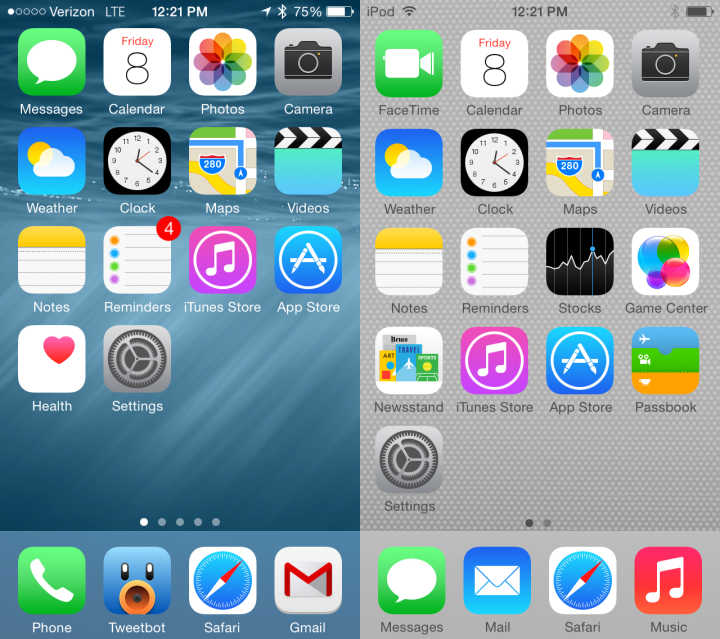 We start our iOS 8 vs iOS 7 walkthrough with the iPhone home screen, which is where you'll start your iOS 8 experience after an update this fall.
These screens are incredibly important as you see them anytime you turn on the iPhone or need to choose an app to launch. There is no way around using them, so Apple needs to make sure they work just right.
As you can see in the iOS 8 vs iOS 7 comparison above, there is no change between the home screen in the new iPhone software. Apple changed the status bar and some other small visual changes in iOS 7, but there are no updates for iOS 8.
We could see Apple change the home screen slightly for iOS 8 for the iPhone 6. The new iPhone will feature a larger 4.7-inch display with a higher resolution. This is something Apple may use to add more icons to the screen. Or they could stick with the current layout, it's tough to tell.