iOS 8 Update: 5 Things You Need to Know This Weekend
The new iOS 8 update arrived this week bringing the same software found on the iPhone 6 to the iPhone, iPad and iPod touch. The iOS 8 release arrived in the middle of the week with excitement and a fair share of problems. With the right guide you can avoid most of these issues for a trouble free iOS 8 update this weekend.
Apple announced the free iOS 8 update in June with a focus on adding new features and catching up to Android with third-party keyboards, iOS 8 widgets and the ability to answer calls and send texts from your iPad or Mac. Add on a better Messaging app, Group messaging add ons, a new Health app and more. The iOS 8 update also adds Family Sharing so everyone in your family can use the same apps, movies and music.
iOS 8 is available as a free download for the iPhone 5s, iPhone 5c, iPhone 5, iPhone 4s, iPad Air, iPad 4, iPad 3, iPad 2, iPad mini, iPad mini Retina and iPod touch 5th generation.
Before you start the iOS 8 update this weekend, check out these iOS 8 update tips, guides and important information you need to know for a successful update.
There are Still Long iOS 8 Update Times
The iOS 8 update will still take a while to complete. We don't expect to see the incredibly long six to 20 hour iOS 8 download times, but if you are going to update from your phone you can still count on an hour or so to complete and prepare the iOS 8 download.
Read: How Long Will the iOS 8 Update Take?
You Don't Need to Install the iOS 8 Update
Even when Apple sends an alert that there is an iOS 8 update you don't need to install it. iOS 8 is full of features and security fixes, but it's not something you have to install to keep using the iPhone or iPad.
Sometime soon you may need iOS 8 for some app updates, but if you are using an older device, use special apps for work or use an iOS 7 jailbreak you don't need to install iOS 8.
Read Our iOS 8 Upgrade Guides
You can update to iOS 8 over the air, without connecting to a computer, but it's not the easiest way right now. Here's how to update iOS 8 using WiFi and your device and through iTunes. If you can, iTunes is the best option this weekend as downloads are faster and there is less chance of something going wrong during the download.
If you don't have enough free space on the iPhone or iPad you can use this guide to update to iOS 8 without deleting your files. In case iOS 8 download times are still long you can use this guide to upgrade without the wait.
There are other important things you need to know about the iOS 8 update and what you can do to fix any potential problems.
If your iOS 8 update fails you can use this information to restore in iTunes to fix the problem. Just make sure you backup before you update.
Read iOS 8 Reviews Before Upgrading
No iOS update is perfect, so you should make sure to read our iOS 8 reviews before you update. You can still downgrade from iOS 8 to iOS 7 for a limited time, but soon that will not be an option. Here's how iOS 8 performs on our devices.
We'll be working on full iOS 8 reviews as we use each of these devices more during the coming days.
Hold Off on iOS 8 for iPhone 4s & iPad 2
You need to make up your own mind, but the iPhone 4S is not a great fit for iOS 8 and neither is the iPad 2. Both of these devices are older and don't do as well with the new update.
We're already hearing complaints about iOS 8 iPad 2 problems from many users, and benchmarks show that the iPad 2 is slower than on iOS 7.
The iPhone 4s performance is not the greatest and iOS 8 feels cramped on the 3.5-inch screen. You can check out this article for details on where you'll notice the speed issues.
What's New in iOS 8
iOS 8 vs iOS 7 Walkthrough - Home Screen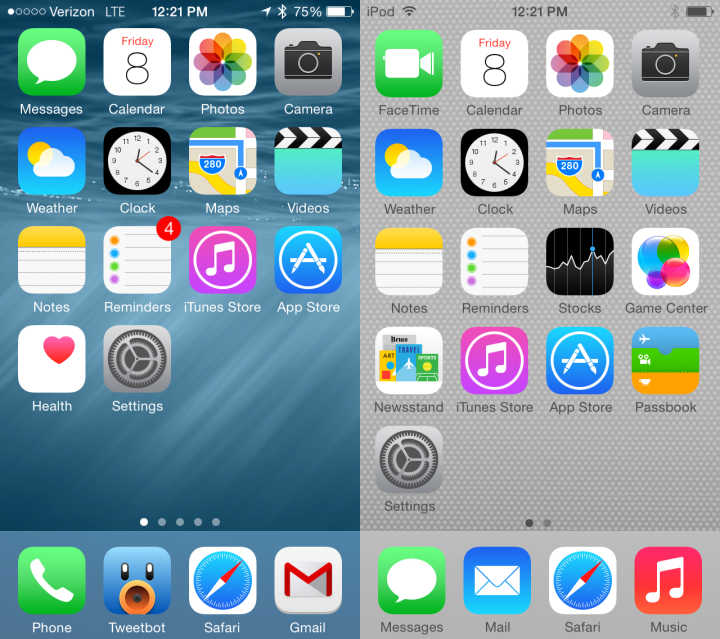 We start our iOS 8 vs iOS 7 walkthrough with the iPhone home screen, which is where you'll start your iOS 8 experience after an update this fall.
These screens are incredibly important as you see them anytime you turn on the iPhone or need to choose an app to launch. There is no way around using them, so Apple needs to make sure they work just right.
As you can see in the iOS 8 vs iOS 7 comparison above, there is no change between the home screen in the new iPhone software. Apple changed the status bar and some other small visual changes in iOS 7, but there are no updates for iOS 8.
We could see Apple change the home screen slightly for iOS 8 for the iPhone 6. The new iPhone will feature a larger 4.7-inch display with a higher resolution. This is something Apple may use to add more icons to the screen. Or they could stick with the current layout, it's tough to tell.

As an Amazon Associate I earn from qualifying purchases.