iOS 9.2.1 vs iOS 9.2: What's New in iOS 9.2.1
Here's a look at what's new in iOS 9.2.1, with a comparison to iOS 9.2 when possible, so that you know what you get if you install the latest iOS 9 update on your iPhone, iPad or iPod touch. This short list of features will help you decide if iOS 9.2.1 is worth installing on your device.
The iOS 9.2.1 release date arrived on January 19th at 1 PM Eastern and it is a relatively small update with focused fixes. You can download iOS 9.2.1 right to your iPhone, or you can use iTunes to upgrade.
There are no visual changes to iOS 9.2.1 if you are upgrading from an earlier version of iOS 9, but if you decide to finally upgrade from iOS 8 or older you will see a new look.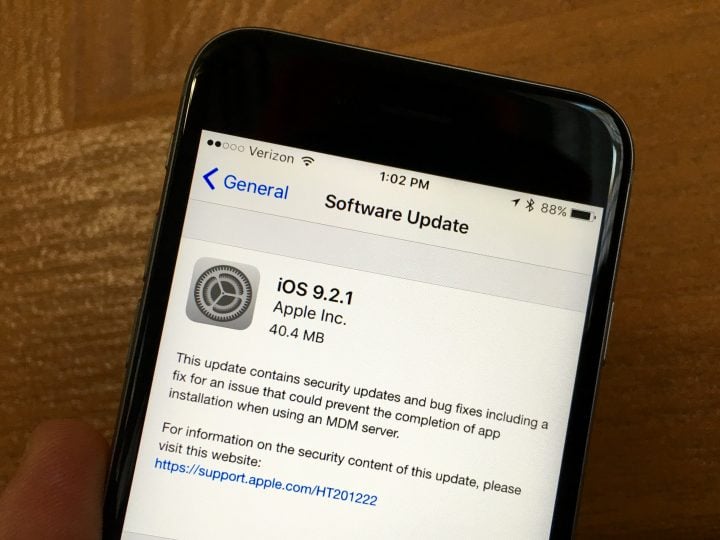 iOS 9.2.1 is a small update and many new iPhone and iPad features are coming with the iOS 9.3 update that Apple is also working on right now. You can read about what's new in iOS 9.3 to see more about a new night mode, security in Notes and other important changes coming later this year.
A major part of the iOS 9.2.1 update is bug fixes for iPhone problems. At the current time this doesn't appear to include a fix for an iPhone 6s battery life bug that Apple addressed in a recent support document.
The iOS 9.2.1 change log lists the following information about what is new in iOS 9.2.1.
Security Updates that Apple has yet to outline.
Bug Fixes
Fix for issue that could prevent the completion of app installation when using an MDM server.
That's really all that there is in iOS 9.2.1 according to Apple. It is possible that there are very important fixes for iOS 9.2 and iOS 9 problems. The update reportedly fixes many frustrating iOS 9.2 problems in enterprise.
I am surprised that iOS 9.2.1 release took this long to push out. big problems on enterprise side for iOS 9.2 users, who unhappily waited.

— Will Strafach (@chronic) January 19, 2016
The iOS 9.2.1 update is free to download and it works on any device capable of running iOS 9 or iOS 8. Before you install iOS 9.2.1 you should take these steps on your iPhone or iPad.
It is possible to skip the iOS 9.2.1 update, and there some reasons to avoid installing the update on day one, including the potential for iOS 9.2.1 problems.
While there are not a lot of changes in iOS 9.2.1, we may learn more about the specific bug fixes in the coming days as users install the update and discover things that work more reliably on iOS 9.2.1 than on iOS 9.2.
If you want to see new Phone and iPad features you can look at what's new in iOS 9.3. Apple announced the iOS 9.3 beta that is available for developers and for the general public as an early preview. If you don't want to install the iOS 9.3 beta you can see the new iOS 9.3 features below.
What's New in iOS 9.3 & iOS 9.3.5
Night Shift for iPhone Promises Better Sleep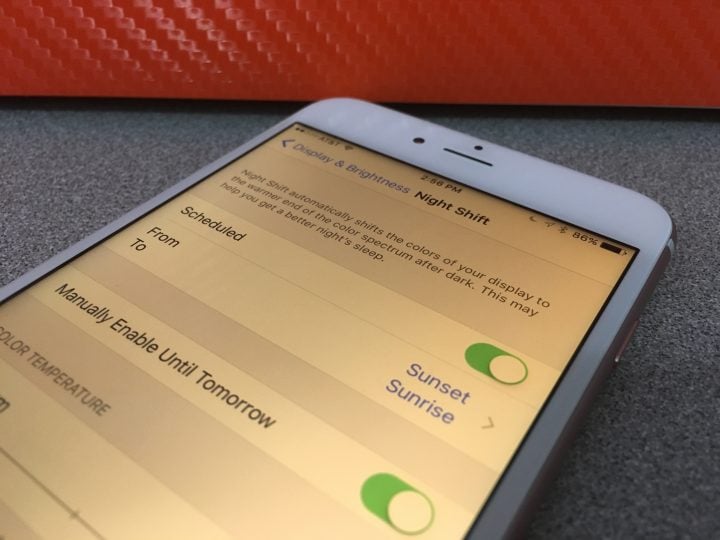 The free iOS 9.3 update adds Night Shift. With Night Shift the iPhone uses your iPhone's clock and your location to automatically shift the colors to a warmer, less blue, mode so that it is easier on your eyes. In the morning the display automatically returns to normal.
iOS 9.2 does not include any features to adjust the warmth of the display to make it easier to fall asleep after using your iPhone.
One of the biggest reasons to jailbreak the iPhone for the past several years has been for access to f.lux. This tweak adjusts your iPhone or iPad display to deliver a warmer light at night so that it is easier to fall asleep after using your iPhone or iPad.
Here's how to use Night Shift in iOS 9.3 to get a better night of sleep.
This is important because using bright blue light at night can interrupt your circadian rhythms, making it hard to fall asleep. This is part of why you may lay down exhausted but are unable to sleep after wasting 20 minutes on your iPhone or iPad in bed.

As an Amazon Associate I earn from qualifying purchases.