iOS 9 Release: 5 Key Details Emerge
A flurry of new iOS 9 release details have emerged today thanks to the release of a brand new iOS 9 beta for developers. The public iOS 9 beta release date remains missing in action.
Last week, Apple's Eddy Cue confirmed plans to release a brand new iOS 9 beta this week. And as promised, Apple today released a new iOS 9 beta 3 for developers.
The third version of the iOS 9 beta comes with several notable changes though it did not arrive alongside the first public iOS 9 beta, another update that Apple's promised for July. Those in the Beta Software Program it seems will have to wait.
Today's iOS 9 beta 3 release is a big one and it comes with a number of new details for current iOS 9 beta testers and those who are looking forward to the public iOS 9 release date this fall. Among them, Apple's brand new Music application, some big time changes to the way folders work, and Apple's News application.
Apple Music
The iOS 9 beta 3 brings several significant changes but maybe the biggest is the addition of Apple's new Music platform that arrived with iOS 8.4 last week.
This is the full blown Apple Music service that Apple announced at WWDC and released at the end of June. This is the first time that iOS 9 beta testers have had legit access to the new Music app and its services and it comes at a perfect time for Apple and those in looking to test the public iOS 9 beta.
iOS 9 users will now be able to access the streaming music, Beats 1 Radio, and Apple Connect. And there's a good chance that iOS 9 beta users will run into the same Apple Music problems that iOS 8.4 users ran into in the week after the update's release.
For more on Apple Music, take a look at the most important things we think you need to know about Apple's ambitious new platform. We've also put together a series of tips and tricks that will help you master the new application and its various moving parts.
Folders on iPad
Another big change that iOS 9 testers didn't see coming was a change to how apps in folders are organized on the iPad.
Instead of the 3 x 3 arrangement that we get with iOS 8, iOS 9 features a 4 x 4 arrangement. What this means is that iPad users will now be able to feature 16 apps per folder page.
Apple's rumored to have a much larger 12-inch iPad up its sleeve for later this year and while rumors are inconclusive, we could see the company release it alongside the iOS 9 or shortly after its release in time for the holidays.
Screenshot & Selfie Folders
The iOS 9 beta 3 also delivers two new folders inside the Photos app that will be perfect for those of you that love to take screenshots and selfies.
This new screenshot folder does exactly what you might think it would do. It automatically stores screenshots taken with the iPhone, iPad or iPod touch. This is handy for those of you that are constantly searching for screenshots of old conversations or screenshots of other details important for your records.
The selfie folder takes the photos that you shoot with your device's FaceTime camera and moves them into a convenient Selfie folder.
News App
At WWDC, Apple took the time to detail a brand new News application that will curate stories based on your interests. Before today, the application had not been available in the iOS 9 beta.
We're hearing that the News application is only available to those in the United States though that could certainly change as the iOS 9 beta progresses.
Smaller Changes & iOS 9 Beta Problems
There are a number of smaller changes in iOS 9 beta 3 that future iOS 9 users should be aware of. According to MacRumors, iOS 9 beta delivers improved two-form authentication, a small change to Music settings that allows you to stream the highest music quality over a cellular connection, and search now lists Siri suggestions.
iOS 9 beta 3 reportedly no longer allows users to take a picture with the volume buttons and it appears that a toggle to shut off Apple Connect is now gone. We expect to hear about other changes as we the days pass after developers have had more time to dig into the software.
iOS 9 still has a long way to go before it's released and iOS 9 beta 3 users have made that abundantly clear as they track down bugs and issues. The iOS 9 beta 3 is riddled with problems and we expect to see more problems emerge in the weeks ahead. This is, of course, the point of the beta.
This is something that prospective public iOS 9 beta users will want to keep in mind as we push into the month of July toward a release. As for the rest of you, the iOS 9 update will likely be far more stable come the fall. A specific iOS 9 release date remains out of reach but we expect to see rumors emerge in the buildup to August and September.
iOS 9 vs iOS 8: What's New in iOS 9
iOS 9 vs iOS 8 Walkthrough - Home Screen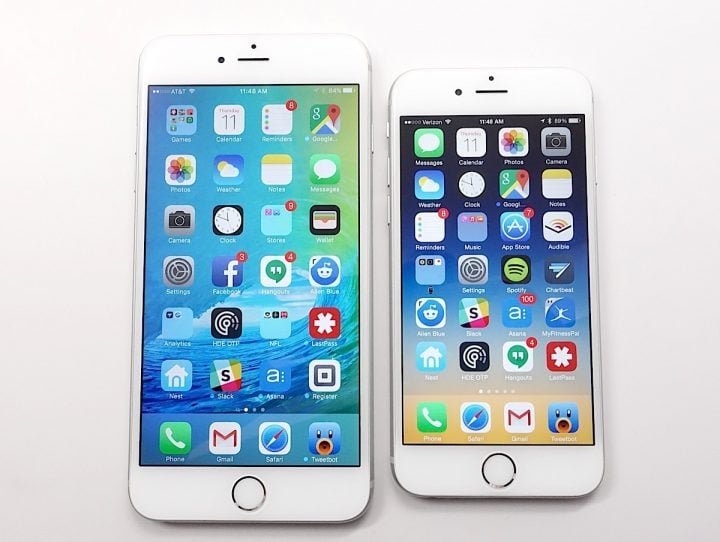 The image above shows that the iOS 9 home screen looks very much like the one on iOS 8. This is not surprising, but you will notice one major change to this screen.
The new iOS 9 font on the home page carries over through settings and apps. It's surprising how much the look of the system can change with a small tweak to a new font.
From the home screen you can now swipe left to a new search screen, and you can still swipe down to Spotlight from any of the home screen pages.
When you upgrade you will also see options to add iCloud Drive to your home screen.
Apple adds two new default iOS 9 apps that you cannot delete. Find iPhone and Find Friends apps now come with the iPhone by default. You can hide them in a folder, but you cannot delete the apps. The Find My iPhone app is a very good addition, while Find My Friends is still not as widely used.