iOS 9 Release Date & Feature Video Roundup
The iOS 9 release date arrives in just a few weeks with amazing new iOS 9 features as a free update for the iPhone, iPad and iPod touch.
Apple focuses on a number of important iOS 9 features in this upgrade, putting final touches on tools you use daily as well as revamping popular options and adding support for new iPhone and iPad features that are overdue.
The iOS 9 release is a combination of key upgrades to the user experience, small design changes and major apps and features. While iOS 7 delivered a new look and iOS 8 offered features commonly found on Android phones, iOS 9 feels like a fresh upgrade focused on making the iPhone and iPad a better device.
In iOS 9 Siri plays a larger role not only as a voice assistant, but as the power behind predictive tools, we see new public transportation options and finally split-screen multitasking on the iPad Air 2.
After using iOS 9 for months we still don't know all the new iOS 9 features as Apple does an amazing job of keeping some of these secret until the event on September 9th.
Apple normally saves some of the upgrades as exclusive iOS 9 features for the new iPhone and new iPad. We'll likely see more iOS 9 features on September 9 that will only be available on the iPhone 6s and iPhone 6s Plus.
Here's a look at the new iOS 9 features, the likely iOS 9 release date and the most likely iOS 9 release time.
iOS 9 Features Video
The iOS 9 video below shows the new iOS 9 features and design changes on the iPhone and iPad. We use the iPhone 6 Plus and the iPad Air 2 to highlight these new features. Apple will not likely remove any features shown in this video, but the company is still working to deliver the final iOS 9 download so things may change slightly. Our 13-minute iOS 9 video walks you through what's new in iOS 9 and discusses the possible iOS 9 release date.
iOS 9 Release Date
While there is no official iOS 9 release date yet, Apple's schedule for holding a new iPhone event and then offering up new software allows us to help you plan for the iOS 9 release date and time.
Apple will not make any iOS 9 release date announcement before the Fall 2015 Apple Event on September 9th. This event is where the company will show off several devices and will announce more information about iOS 9, including the iOS 9 release date.
Over the past months developers and regular users tested iOS 9 through a variety of beta releases, which means that the company is ready and developers are ready for the new software. Do not expect a long delay between this event and the start of iOS 9 downloads.
We may see an iOS 9 GM or final beta arrive soon after the event. This option usually allows users to install the final version of the software without registering with Apple.
Count on the iOS 9 release date on September 16th. This is two days before we expect the iPhone 6s release date. Apple traditionally sticks to this schedule, which allows users to upgrade to the new software.
Expect the iOS 9 release time at 10 AM Pacific, 1 PM Eastern on September 16th. Don't plan on a midnight iOS 9 release time.
Users should expect some problems downloading the iOS 9 release on day one as millions of users attempt to download it at the same time. You may want to wait a day or two for the demand to slow.
iOS 9 Device Compatibility
Not every iPhone or iPad is compatible with iOS 9, but Apple is offering it to any device that can run iOS 8. This is a change from earlier releases, which often dropped the oldest devices. Here is a list of the iOS 9 compatibility by model.
iPhone 6 Plus
iPhone 6
iPhone 5s
iPhone 5c
iPhone 5
iPhone 4s
iPod touch 5th Gen
iPod Touch 6th Gen
iPad Air 2
iPad Air
iPad Mini Retina
iPad mini
iPad mini 2
iPad mini 3
iPad 4
iPad 3
iPad 2
Some of the older devices will not get all the new iOS 9 features, which is to be expected as Apple must work to deliver good performance on devices with less power and some features require hardware that the older iPads and iPhones don't have.
iOS 9 Features
As our iOS 9 video shows, there are a lot of exciting new iOS 9 features this year.
Apple is making a big deal about the predictive nature of the phone and the ability to learn your habits so that it is ready to help you with common tasks faster. Siri plays a role in this, even when it isn't an audible one. There are also changes to search on the iPhone and iPad that will allow you to search not just the iPhone, but also the apps and content you have inside apps.
Apple fixes some iOS 8 annoyances like difficulty knowing if shift is on or off. In iOS 9 the keyboard letters are in caps when you are using shift.
iOS 8 made it easier to find out which apps used your battery life, and in iOS 9 battery life is improved overall — and there is a new low power mode that allows users to quickly extend iPhone battery life three hours.
The images below take you to other new iOS 9 features for the iPhone and iPad that will help you understand what's new in iOS 9.
iOS 9 vs iOS 8: What's New in iOS 9
iOS 9 vs iOS 8 Walkthrough - Home Screen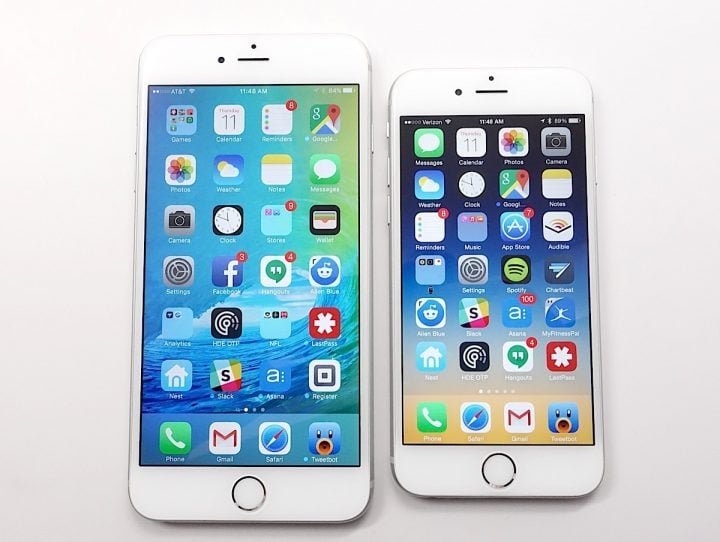 The image above shows that the iOS 9 home screen looks very much like the one on iOS 8. This is not surprising, but you will notice one major change to this screen.
The new iOS 9 font on the home page carries over through settings and apps. It's surprising how much the look of the system can change with a small tweak to a new font.
From the home screen you can now swipe left to a new search screen, and you can still swipe down to Spotlight from any of the home screen pages.
When you upgrade you will also see options to add iCloud Drive to your home screen.
Apple adds two new default iOS 9 apps that you cannot delete. Find iPhone and Find Friends apps now come with the iPhone by default. You can hide them in a folder, but you cannot delete the apps. The Find My iPhone app is a very good addition, while Find My Friends is still not as widely used.