iOS 9 Release Hope Keeps Users Up for Midnight
The iOS 9 release date is September 16th, and users who are accustomed to Apple's late night events for the iPhone 6s pre-order are already planning for a midnight iOS 9 release time.
It's natural to assume that the iOS 9 release date will include a midnight release for the iOS 9 download. Apple offers a midnight start for iPhone 6s pre-orders and it is common for major games and releases to include a midnight release event, but there is a very good chance that anyone staying up until midnight for the iOS 9 release is wasting time.
Apple already confirmed the iOS 9 release date, but the company did not announce the time. Apple normally leaves this wide open until they start the downloads.
Even with Tim Cook on the Late Show with Stephen Colbert tonight, Apple's normal schedule suggests an iOS 9 midnight release is out of the question. Furthermore, if Apple planned a midnight iOS 9 release, it would likely start at 12:01 AM Pacific, 3:01 AM Eastern — which means users waiting up for midnight on the East coast will be out of luck.
We found a number of users on Twitter who are already planning to download the iOS 9 update at midnight.
https://twitter.com/trevorwuvsyou/status/643856709639925761
Staying up till midnight so I can get the iOS 9 update

— Na$ty K8 (@hey_itspauly) September 15, 2015
https://twitter.com/ErineRenee/status/643864146820395008
https://twitter.com/1M5__/status/643803982020808704
https://twitter.com/Moutaz_Cule/status/643745502282911744
https://twitter.com/hzqrshd/status/643742511710625792
Based on all the previous major iOS releases, the iOS 9 release time is going to arrive at 10 AM Pacific, 1 PM Eastern on September 16th.
Given the potential for long download times, server problems and other errors that come with huge demand for updates like iOS 9, there is little incentive for Apple to offer a midnight iOS 9 release time to users.
If you are already up, you can use this list of 10 things to do before you install iOS 9 to get ready for the iOS 9 release during the late morning or early afternoon. We also share our iOS 9 release date tips to help you avoid issues and experience a smoother upgrade.
We expect the iOS 9 update will take about half an hour to download and install for most users, but this has the potential to take longer during the first several hours of availability.
While you wait you can read our iOS 9 review to see how the new features perform and what we think about the overall iOS 9 update.
The slides below walk through what's new in iOS 9 and showcase how iOS 9 compares to iOS 8.
iOS 9 vs iOS 8: What's New in iOS 9
iOS 9 vs iOS 8 Walkthrough - Home Screen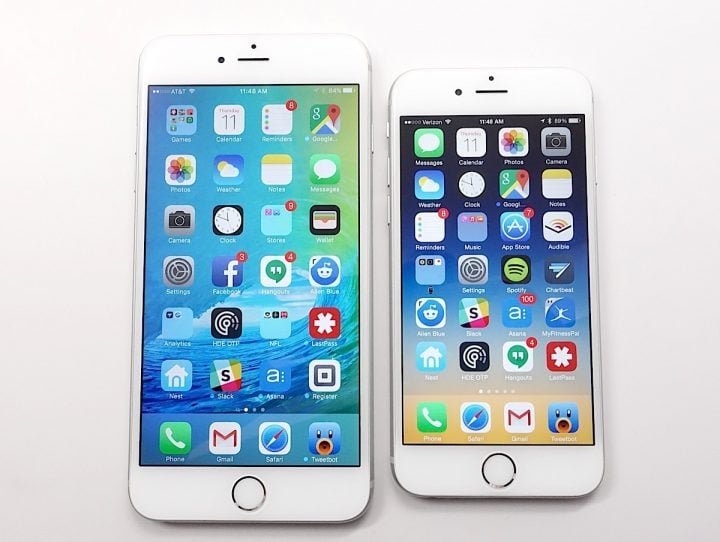 The image above shows that the iOS 9 home screen looks very much like the one on iOS 8. This is not surprising, but you will notice one major change to this screen.
The new iOS 9 font on the home page carries over through settings and apps. It's surprising how much the look of the system can change with a small tweak to a new font.
From the home screen you can now swipe left to a new search screen, and you can still swipe down to Spotlight from any of the home screen pages.
When you upgrade you will also see options to add iCloud Drive to your home screen.
Apple adds two new default iOS 9 apps that you cannot delete. Find iPhone and Find Friends apps now come with the iPhone by default. You can hide them in a folder, but you cannot delete the apps. The Find My iPhone app is a very good addition, while Find My Friends is still not as widely used.

This article may contain affiliate links. Click here for more details.